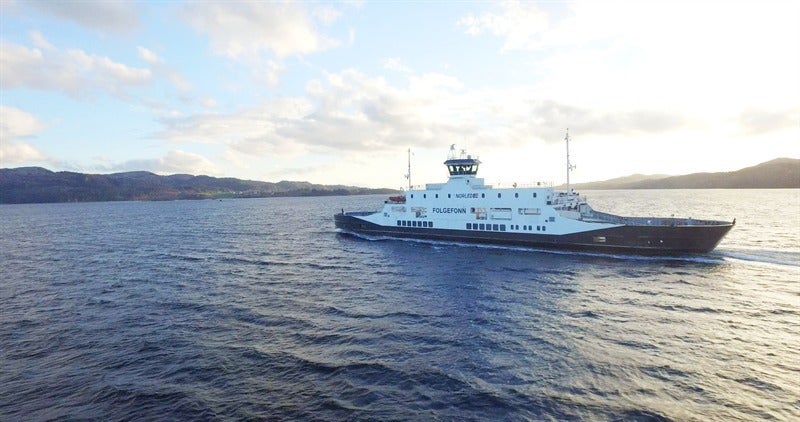 Wärtsilä has completed a further round of test procedures of its automated dock-to-dock technology on the Folgefonn ferry in the presence of the Norwegian Maritime Authority (NMA).
The 85m-long Norled-owned Folgefonn was initially used to test the Wärtsilä autodocking solution earlier this year.
Equipped with hybrid propulsion and a wireless shore connection, the vessel is fully electric and features other Wärtsilä innovations.
The latest testing was carried out for full dock-to-dock capability. The autonomous operation was used uninterruptedly for the complete route and covered all three ports the ship services.
Wärtsilä Voyage Solutions vice-president Joonas Makkonen said: "This represents a huge step forward in validating automated shipping solutions, and an important progression within our Smart Marine programme.
"We continue to lead the way in developing the 'intelligent' products and systems needed to move the marine industry towards a new era of super-high efficiency, safety, and environmental sustainability."
"This represents a huge step forward in validating automated shipping solutions."
The next-destination berth was selected by the operator. The operation started after selecting the sail option, which authorises the autonomous vessel controller.
During the test, the ferry was able to leave the dock, manoeuvre out of the harbour and sail to the next port of call. It moved through the harbour entrance and docked alongside the terminal.
A series of tracks and waypoints that guide the ship to the next destination were used to control the vessel navigation.
The autonomous controller is based on Wärtsilä's existing dynamic positioning system and is capable of controlling the vessel's speed and position on the pre-defined track.
GNSS is used as the primary sensor, while a Wärtsilä Guidance Marine CyScan AS is being tested as a secondary position sensor for the approach to the berth.
Both Wärtsilä and Norled secured grants from investment fund Innovation Norway for testing of the auto-docking technology.