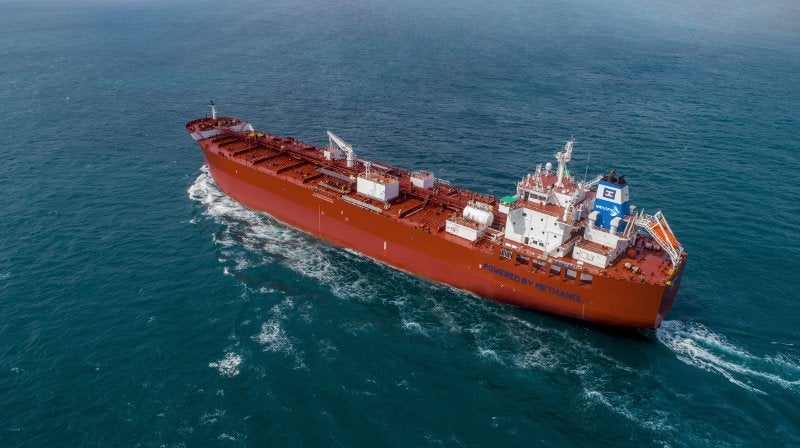 Marine transportation firm Waterfront Shipping Company has added two new methanol-fuelled 49,000 deadweight tonnage (dwt) vessels to its fleet.
The new vessels are powered by the second-generation of MAN B&W ME-LGIM two-stroke dual-fuel engines that are capable of running on both methanol and conventional marine fuels. The ships were built at Hyundai Mipo Dockyard in South Korea.
The ships, named Mari Couva and Mari Kokako, have joined the seven existing methanol-fuelled vessels of Waterfront Shipping.
Waterfront Shipping president Paul Hexter said: "We are very excited by the performance of our first seven methanol-fuelled vessels that have proven the safety and reliability of the technology.
"With this second generation of vessels, we will benefit from innovative technological advances that will continue to optimise performance and efficiency.
"On an energy-equivalent basis, methanol is cost-competitive over energy price cycles and we see significant value creation opportunities from using a methanol flex-fuel engine.
"We are proud that approximately 40% of our fleet will be powered by methanol-fuel technology by the end of the year."
Waterfront Shipping will replace its older ships with the two vessels. The company also expects to take delivery of two more methanol-powered vessels by the end of this year.
In 2016, it added the first two methanol-powered ships, which have logged in 10,000 running hours.
Mari Couva and Mari Kokako meet the International Maritime Organisation's (IMO) Tier III emission regulations without requiring exhaust gas after treatment.
Waterfront Shipping is a wholly owned subsidiary of Methanex Corporation and Marinvest/Skagerack Invest (Marinvest).
Marinvest chairman Patrik Mossberg said: "It is important that we share our experiences and make the industry aware that methanol is a well-proven, simple-to-adopt solution, offering compliance with IMO 2020 regulations and provides a pathway to meeting IMO 2030 and 2050 CO₂ emission targets."