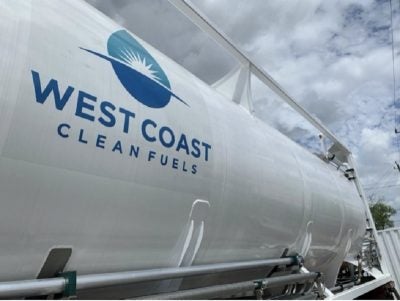 The US-based West Coast Clean Fuels (WCCF) has finalised delivery service agreements to develop, permit, oversee and operate end-to-end clean fuel supply chains for two decarbonised maritime ship operations.
These projects, which are said to be the first of their kind, include one ocean-going and one port-related operation at two California ports.
From Q1 2022, the company will supply hydrogen to the first fuel cell-driven ferry, owned by Switch Maritime, in the US.
Initially, WCCF will deliver hydrogen for shipyard sea trials in Bellingham and then for passenger operations in San Francisco Bay.
During the same quarter, WCCF will initiate fuel delivery operations for two new liquefied natural gas (LNG)-powered container vessels that will be operated by Pasha Hawaii Holdings in the Port of Long Beach.
To start these fuelling operations, the company commenced permitting processes in 2019.
Furthermore, it began investing in fuel delivery equipment and improved its commercial relationships with key industry partners.
In a statement, WCCF said: "WCCF has designed the initial supply chains based on smaller delivery volumes for the first vessels under contract, with the ability to scale using larger or different equipment as demand for clean fuel in West Coast ports increases."
The company is collaborating closely with Switch Maritime to develop a hydrogen fuelling solution for Sea Change, the company's 70-foot, 75-passenger ferry.
Said to be the first hydrogen fuel cell vessel in the country, Sea Change will sail in San Francisco Bay.
In partnership with upstream partners, WCCF will provide nearly 50,000kg of green hydrogen to the Sea Change annually.
Meanwhile, at the Port of Long Beach, WCCF will supply 78 million gallons of LNG to M/V George III and M/V Janet Marie.
These two Pasha Hawaii operated newbuild container vessels will sail between the US West Coast and Hawaii.