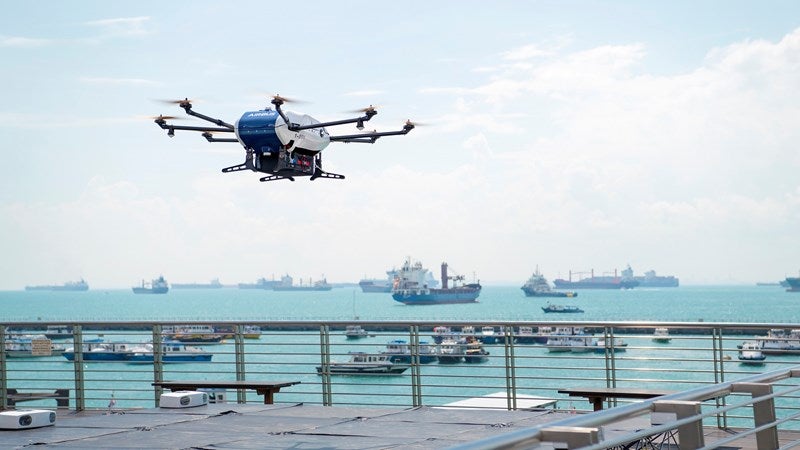 Wilhelmsen and Airbus are set to launch a trial of the world's first commercial drone deliveries to vessels at anchorage.
The launch of the shore-to-ship Singapore pilot project marks the first deployment of drone technology in real-time port conditions.
As part of the trial, the Airbus Skyways drone lifted off from Marina South Pier in Singapore carrying 3D-printed consumables from Wilhelmsen's onshore 3D printing micro-factory and navigated autonomously along pre-determined 'aerial-corridors' in its 1.5km flight to Eastern Working Anchorage.
After landing on the deck of the Swire Pacific Offshore's (SPO) anchor-handling tug supply (AHTS) vessel, M/V Pacific Centurion, Airbus Skyways deposited its 1.5kg cargo before returning to its base.
Wilhelmsen Ships Agency Commercial vice-president Marius Johansen said: "The now-proven, seamless operation of drone deliveries from shore-to-ship, in one of the world's busiest ports, proves the hard work, investment and faith we, and indeed our partners, placed in the Agency by Air drone delivery project over the past two years was not misplaced."
"Delivery of essential spares, medical supplies and cash to Master via launch boat, is an established part of our portfolio of husbandry services, which we provide day in and day out, in ports all over the world."
SPO was involved in the detailed final preparation and operational testing of the drone and provided its AHTS vessels.
"Today's accomplishment is a culmination of months of intense preparation by our dedicated team."
Prior to the official launch of the shore-to-ship commercial drone delivery, SPO's M/V Pacific Rapier has also facilitated the earlier pre-trial session in Singapore waters.
Airbus signed a memorandum of understanding (MoU) with Wilhelmsen Ships Service in June for conducting the 'shore-to-ship' delivery of goods using a drone at the Singapore port.
Airbus Skyways lead Leo Jeoh said: "Today's accomplishment is a culmination of months of intense preparation by our dedicated team, and the strong collaboration with our partner, as we pursue new terrain in the maritime industry."
For now, the ongoing pilot trial will focus on offshore supply vessels at anchorage 1.5km from the pier and flights will be limited to this distance for the time being prior to extending the range to as far as 3km from the shore.
The trail is facilitated by the Maritime and Port Authority of Singapore (MPA) through the interim use of Marina South Pier as the launching and landing point for Airbus' delivery drone.
The Civil Aviation Authority of Singapore is also working with Wilhelmsen and Airbus for the safety of the trials.