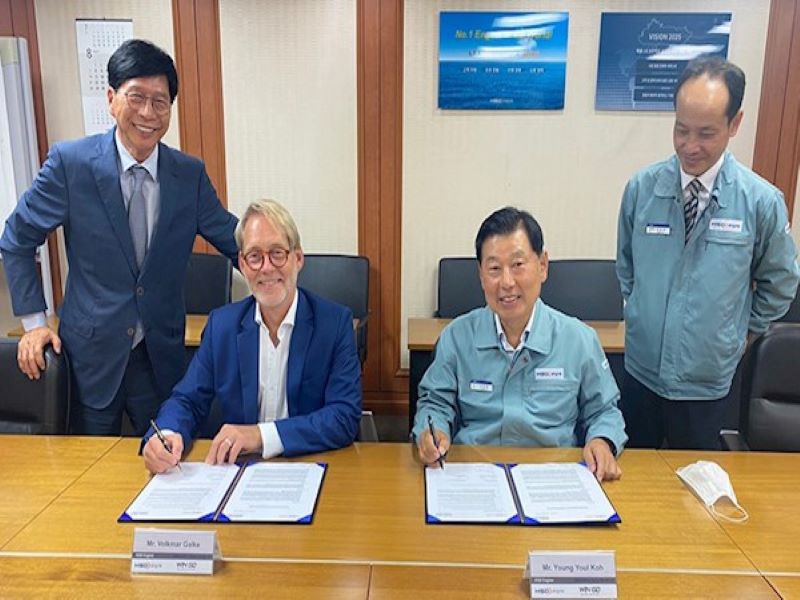 Switzerland-based power firm Winterthur Gas and Diesel (WinGD) has collaborated with South Korean engine builder HSD Engine for the development of methanol-powered two-stroke engines.
Under the Joint Development Project (JDP), the entities will focus on advancing the development of WinGD's methanol-fuelled big-bore engines.
The partnership aims to design an engine that can operate on carbon-neutral green methanol by 2024.
The new engine is expected to help shipowners achieve IMO's 2050 target of net-zero emissions with their next generation of ships.
WinGD will be responsible for overseeing combustion and injection research, as well as exhaust after-treatment requirements and engine concept design.
Besides offering support on cost-effective manufacturing and assembly, HSD Engine will be responsible for providing engine testing capabilities and delivering fuel supply and exhaust after-treatment systems.
The JDP will target some of the largest engines in the WinGD portfolio, including the X92 and X82, which are feasible for larger and ultra-large container vessels for operating on green methanol.
WinGD R&D vice president Dominik Schneiter said: "With new fuels, new materials are needed, and manufacturers' involvement in design is critical to ensure that engines can be produced at reasonable costs and in a reasonable timeframe.
"HSD is well-known as a high-class engine builder that will be able to support WinGD in delivering the methanol-fuelled two-stroke engines that our customers will be seeking for their vessels in the near future."
In June this year, WinGD announced its plan to join forces with Hyundai Heavy Industries' (HHI) Engine Machinery Division (EMD) for the development of a two-stroke engine that can run on ammonia.