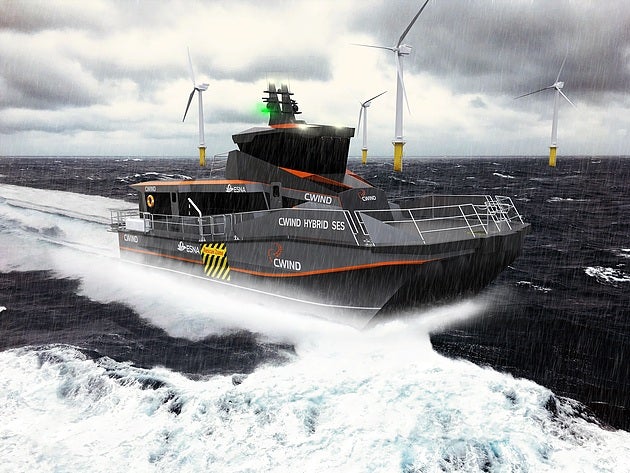 UK-based aluminium vessel builder Wight Shipyard Co (WSC) has received a contract from offshore wind service provider CWind to build a hybrid surface effect crew transfer vessel (CTV).
According to the contract, WSC will be responsible for the construction and delivery of the hybrid surface effect ship (SES).
The new vessel will operate from the Dutch port of Vlissingen and serve the 752MW Borssele 1 and 2 offshore wind farms.
It will able to handle 2m-wave height in heavy seas and to reduce fuel burn and CO₂ emissions.
WSC CEO Peter Morton said: "We have built a reputation in the fast ferry arena and commercial marine sector.
"But this a world first, building a hybrid SES for crew transfer. Building greener vessels has been an integral focus for some time now so we are well placed to lead this step-change in Crew Transfer Vessels."
The contract follows the signing of a long-term charter contract agreement by CWind with Ørsted for the delivery of SES.
As part of the deal, Orsted will charter the hybrid-powered SES from mid-2020 as a CTV.
Norway-based ESNA is the designer of the hybrid SES crew transfer vessel. It will be powered by 1,600kW diesel engines, which can be battery-boosted up to 1,500kW.
The 22m-long vessel will have a beam of 8.9m, forward deck space of 30m² and a maximum speed of 38k.
With 24-passenger capacity, the vessel features two catamaran hulls with the area between the hulls closed by flexible rubber fingers in the bow and an inflated rubber bag in the stern.
CWind engineering director Martyn Drye said: "We embarked on the design of this revolutionary project last year, which utilises new technology to meet industry drivers for improved performance and reductions in carbon emissions.
"WSC has been great to work with during the pre-contract stage and have embraced the new technology for this vessel."