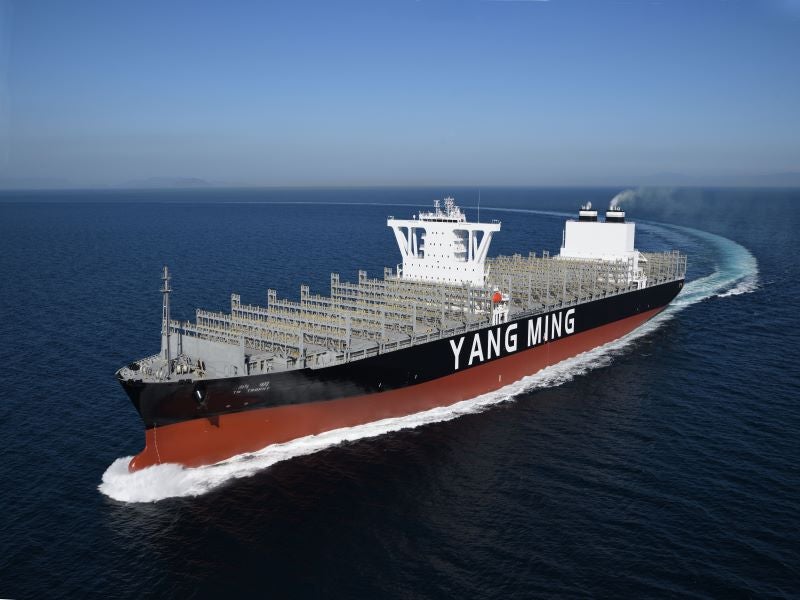 Taiwanese container shipping firm Yang Ming Marine Transport has taken delivery of a new container vessel, called YM Trophy.
The 11,000 twenty-foot equivalent unit (TEU) container vessel, which is chartered from Shoei Kisen Kaisha, was constructed by Imabari Shipbuilding.
YM Trophy will operate on Yang Ming's Trans-Pacific route, PS6, to deliver a better transport service between Asia and the south-west Pacific.
Through long-term charter agreements with ship owners, Yang Ming ordered 14 11,000TEU container vessels to boost its mid to long-term operational efficiency.
YM Trophy is the tenth in the series of vessels. It comes with a nominal capacity of 11,860TEU and features 1,000 plugs for reefer containers.
With a capacity to travel at a speed of up to 23 knots, the ship has a length of 333.9m, width of 48.4m and draft of 16m.
The containership has several environmental features, including scrubbers, water ballast treatment plant and alternative marine power system.
The twin-island design of the ship provides improved loading capacity and navigational visibility, while the optimisation of its ship hull form enhances energy-saving efficiency and minimises overall emissions.
In a statement, Yang Ming said that 'the ship can manoeuvre during berthing or departure more easily with shorter length and beam'.
The new dimensions will also help the ship to call at major ports across the world and travel through the new Panama Canal with no restriction, said the company.
The new ship, along with its sister ships, will operate on the PN2 and PN3 Trans-Pacific North-West routes, as well as the SA3 Far East-South America and Trans-Pacific South-West route PS6.
Yang Ming also noted that the port rotation for the first voyage of the new vessel on PS6 is Qingdao – Ningbo – Pusan – Los Angeles – Kobe – Qingdao.
Recently, Yang Ming announced plans to order five new liquefied natural gas (LNG) driven containerships.