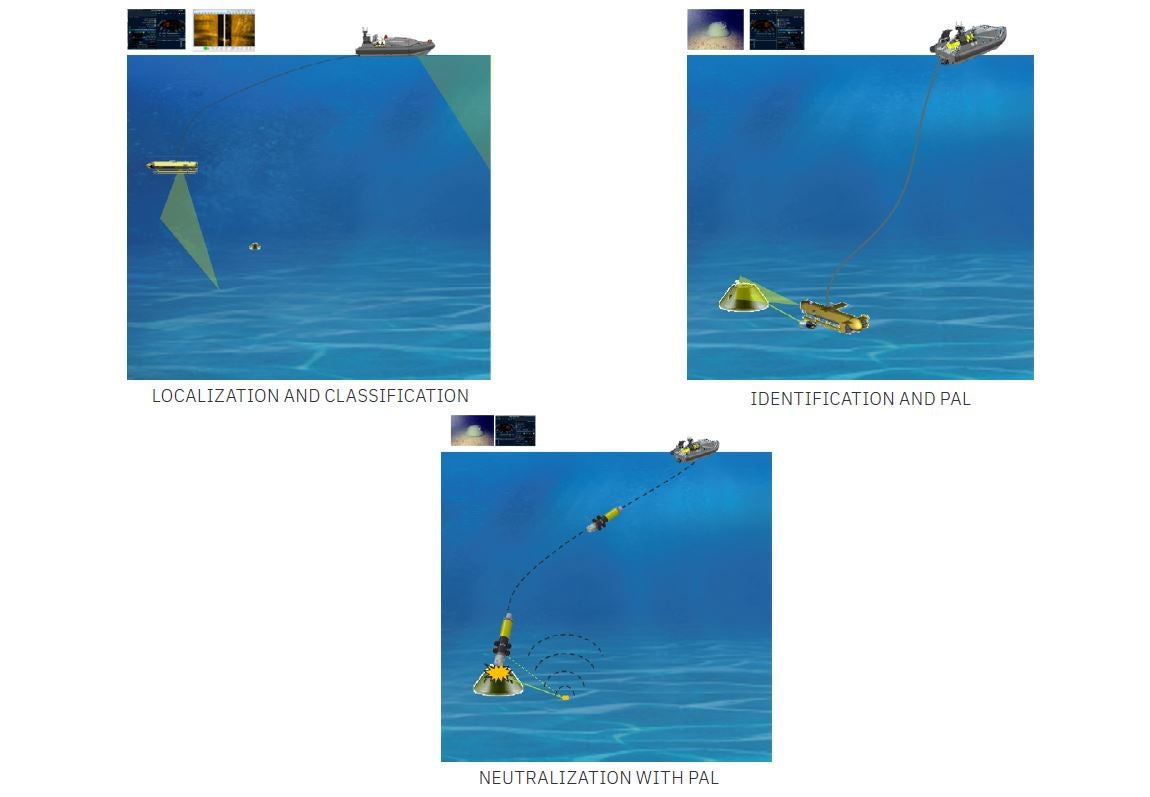 Hunterwater is a lightweight, compact, and effective unmanned system for minehunting. It applies an innovative, all-in-one approach to the search, identification, and automatic neutralisation of underwater mine threats.
L3Harris' Hunterwater is a new generation minesweeping system created to perform the complete standoff minehunting operating cycle, by means of a lightweight and simple-to-use unmanned Mine Countermeasure Module (MCM). It allows performing MCM operations in total safety, using a modular Unmanned Surface Vehicle (USV) system of compact dimensions and characterised by reduced operational costs.
Features
The Hunterwater system is a USV that manages the onboard robotic set (MCM Kit) by means of the launch and recovery system (LARS). The MCM Kit includes the following robotic units:
A hybrid remotely operated vehicle and sidescan sonar (ROVSCAN) mine countermeasure module is capable of performing site survey, identification, and precise acoustic localisation (PAL) of the threats. It also deploys multiple markers that allow mine neutralisation.
A disposable compact acoustic guided vehicle (VGA), featuring precise automatic target reacquisition with acoustic arrays.
This component is capable of performing autonomous countermine mission by direct target reacquisition.
The system can also be used, in addition to the independent mission capability, for multiple/parallel search and identification operations, in conjunction with other USV systems and/or autonomous underwater vehicles (AUVs), such as L3Harris' IVER4.
MCM kit characteristics
The ROVSCAN combines typical functions of an ROV with those of a sidescan sonar, allowing for the search, identification, and localisation of targets. It operates both towed and tethered scanning. It also features:
Base payload: storage for four acoustic markers
Laser-pointers for target-precise positioning
Multibeam imaging sonar and an HD camera
Benefits
Long-range standoff operation from mothership (>5nm, according to the communication link)
Rapid transit to the operating area and endurance in continued mission
Low impact for ship installation and launch and recovery system unit
Direct scalable effort and redundancy with coordinated multiple units
Easily transportable by means of a single 40ft ISO container for a complete minehunting USV system
Low-cost disposable VGA (mine-killer) for mine countermeasure