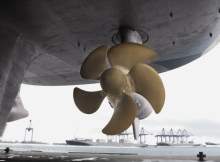 Environmentally-friendly high-performance biodegradable gear oils
Klüber Lubrication's EG 2 series non-toxic gear oils are:
Compliant with requirements for Environmentally Acceptable Lubricants as defined in Appendix A of the 2013 Vessel General Permit
Readily biodegradable lubricants with a biodegradability of ≥ 60% acc. to OECD 301 F after 28 days
Made using >90% of renewable raw materials and have the European ECO label
Suitable for the lubrication of ships' gearboxes, particularly for thrusters and rudder propeller gears
Compliant with DIN 51517-3, CLP requirements
Highly scuff-resistant: protecting gear teeth reliably against fretting damage even at high-peak loads
Able to offer high micropitting-resistance acc. to FVA 54 GFT ≥10, which offers sufficient protection to gears that are subject to high loads and would normally be susceptible to this type of damage
Most standard NBR and FKM elastomers of the leading propeller and steering shaft seal manufacturers are resistant to and approved for use with Klüberbio EG 2 oils, preventing leakages and impurities.