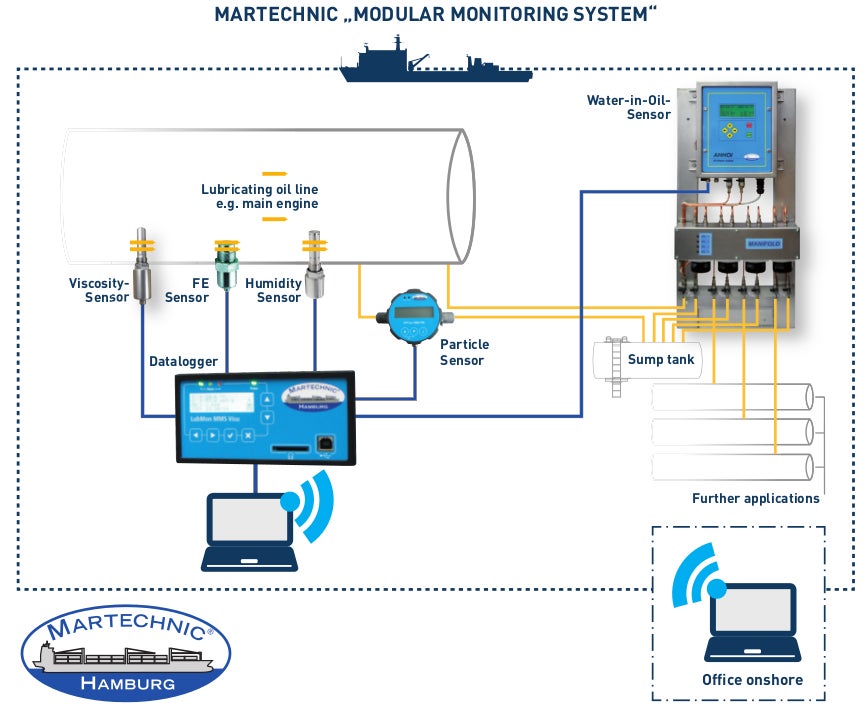 In order to provide continuous and comprehensive assessment of the quality of lubricating and hydraulic oils, Martechnic® has created the MT Modular Monitoring System; an assembly of various sensors that measure different oil parameters in real-time mode.
The advantageous feature of the system is the possibility to install either all available sensors as a complete set (Viscosity Sensor, Humidity Sensor, Particle Sensor, FE Sensor and Water-In-Oil Sensor) or to choose the required sensors in accordance with individual application characteristics. Correspondingly, customisation of the monitoring system allows effective measurement of the oil properties that are crucial for a particular oil system. In turn, this enables optimisation of investment cost for the sensor technology.
Owing to its modular design, the MT Modular Monitoring System is suitable to apply for all aggregates. After installation of the system and integration of the selected sensors into the engine system, the data on the continuously measured parameters is transferred to the special processing unit DATALOGGER, stored and then evaluated. Irrespective of the selected combination of sensors, a software system for data recording and read-out is provided.
By measuring the relative parameters, the oil system can be monitored for the presence of water and the saturation degree of the oil, contamination with insoluble or metal particles, and the degree of wear debris based on the analysis of ferromagnetic particles, as well as the current viscosity value.
Consequently, the continuous multifaceted verification of the oil quality provides immediate detection of any occurring changes in the oil condition. It intends to extend the useful life-time of the oil as well as maintenance intervals, which are determined following the practice of condition-based maintenance.
The key benefits of the MT Modular Monitoring System include:
Continuous multifaceted oil monitoring
Plug and play
Customised to any application
Real-time comprehensive results
Advanced warning function
Improved maintenance practices
Martechnic will be showcasing its products at the East Med Marine and Oil and Gas...