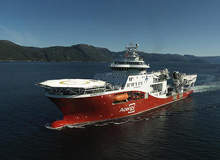 The Seven Havila is the most advanced diving support vessel (DSV) ever built by Havyard Group's shipyard Havyard Leirvik. Designed to fit the advanced saturated diving vessel system, it is specifically built for saturated diving operations.
In September 2007, Acergy signed an agreement with Havila Shipping for a new-build diving support vessel for northern Europe operations.
In February 2011, Seven Havila (formerly Acergy Havila) was delivered from the Havyard shipyard to a subsidiary of Havila Shipping and then sold to Acergy Havila (50-50 joint venture between the subsidiaries of Havila Shipping and Subsea 7).
The vessel will be on a 10-year bareboat charter from Acergy Havila to an indirect subsidiary of Subsea 7.
Design and construction
Seven Havila was specifically designed for efficient diving operations in harsh environments. The CAD/CAM system form Foran was used for the engineering of the project.
"Seven Havila offers very high standard accommodation for 120 personnel."
The ship design incorporates an ice-class hull and class-3 dynamic positioning system. The vessel features a 1,050m² of main deck area with strength of 10t/m².
Integration of advanced diving system in the vessel was the most challenging in the project as it extends over large areas and the whole ship is designed and built around these systems.
Since safety is extremely important for a diving support vessel, the shipyard highly focussed on quality assurance (QA) and hazard elimination safety (HES) during the construction period. The highest attention was given through the whole process to minimise hazards to the people involved in the construction of the vessel and to the crew and divers working on the vessel in operation.
Ship systems
Seven Havila is equipped with fully computerised dual redundancy dive control system. The system includes individual diver monitoring system, heave compensated bell handling system and two 24 man hyperbaric lifeboats. It is fully certified for Norwegian operations.
The observation class remotely operated vehicle (ROV) onboard can operate at maximum depths of up to 500m. A large ROV hangar is provided on starboard side and a ROV control room is fully integrated in the vessel.
"Seven Havila was specifically designed for efficient diving operations in harsh environments."
The ship features a Kongsberg K-POS DP 21 dynamic positioning system with back-up K-POS DP11. The reference system includes two taut wires, two DGPS/Seapath 200 sensors, two HiPAP 500 acoustic systems and a fanbeam laser system. The vessel also includes two 4.8m x 4.8m diving moonpools.
Seven Havila utilises ship administrative solutions such as Shipadmin Captains Secretary 2.1, Shipadmin FleetManager 2.1 and Shipadmin Gangway Security.
Equipment
Located on the port side main deck is a 250t main crane supplied by MacGregor. Equipped with active heave compensation (AHC), it can operate up to a water depth of 2,000m (single fall).
An auxiliary 40t crane fitted on the C-deck, port side features a 5t auxiliary hoist. Both the cranes comply with 'Red Book' standards and are certified for man-riding.
Aircraft facilities
A raised helicopter deck located in the forward part of the ship can support the operations of a single Sikorsky S-92 medium-lift helicopter. The helideck is equipped with environmental, meteorological and vessel data system.
Propulsion
Seven Havila is powered by diesel electric propulsion system consisting of eight 2,188kW Caterpillar 3516C HD engines and eight 2,100kW SES MJR560 gen sets.
The propulsion also integrates two 3,500kW main azipull (AZP 120) thrusters, three 1,500kW Rolls Royce UL-2001 FP retractable azimuth thrusters (two forward and one aft) and two 1,500kW Rolls Royce TT-2400 tunnel thrusters.
Accommodation
Seven Havila offers very high standard accommodation for 120 personnel. The accommodation facilities are divided into 28 single cabins and 46 double cabins.
The Sky lobby and gymnasium on top deck are provided with recreational area for crew and other personnel.