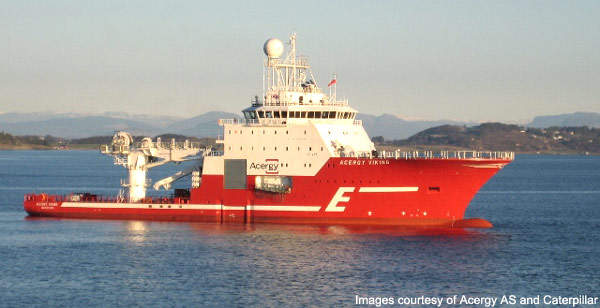 The ship at sea under operations.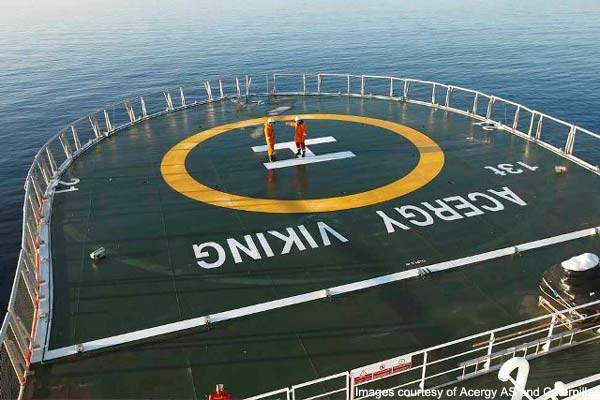 The helicopter deck.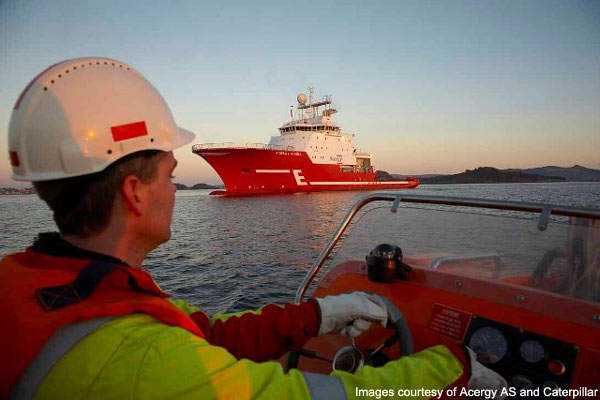 The ship is powered by a diesel electric system.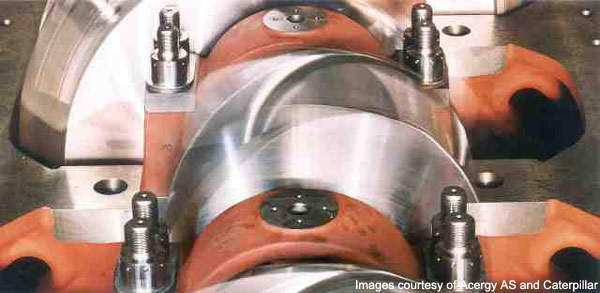 The main generator diesel engines are four PI 8M25.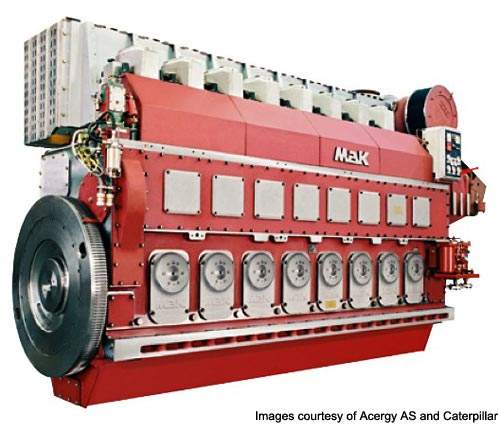 The marine diesel generator engines.
The Acergy Viking is a new generation multi-purpose survey, inspection maintenance and repair (IMR) and light intervention ship, which was launched in late 2007.
The Viking is a DP2 vessel with an overall length of 97.6m, a moulded breadth of 19.6m, a deadweight of 3,500t and a maximum draft of 7.2m. Fitted with an ice-class hull, the ship has been designed to achieve the highest environmental standards while maintaining a fast transit speed of 18kt.
The ship is owned by Eidesvik Shipping AS and chartered by Acergy AS and was constructed at the Norwegian shipyard Flekkefjord Slipp & Maskinfabrikk AS. The prefabrication, mounting and outfitting works on the hull and superstructure was performed at CRIST Sp. z o.o in Gdansk, Poland, and at FSM, Norway.
EQUIPMENT
The Acergy Viking has a deck space of 750m² and is equipped with 100t heave compensated crane (10m AHC knuckle boom crane rated to 2,000m), two passive anti-heeling tanks, a 1200m³/hr ballasting pump, a 49m² moonpool, a survey remotely operated vehicle (ROV) in hangar with a heavy-duty side launch system, multibeam echosounder and a number of other survey sensors to support major works such as IMR, ROV light intervention, pipeline inspection and survey work.
The deck strength for work purposes is 5t per square metre. There is also a helicopter deck with a 21m diameter for medium weight helicopters such as the S92.
ROV SYSTEM
In September 2006, Schilling Robotics provided a new ultra heavy-duty ROV system for the Acergy Viking. The new system called the UHD 09 is based on the standard Schilling Robotics UHD system, but includes features that enhance operational efficiency.
The system is rated for 3,000m operation and was supplied without a tether management system (TMS). The vehicle has been specifically configured to support high-speed, low noise, free-flying survey systems.
"The ship can accommodate a total of 60 people in single cabins."
ENGINES AND PROPULSION
The main engines on the vessel are diesel and the propulsion system is electric. The main generator diesel engines are four PI 8M25 manufactured and supplied by Caterpillar Motoren GmbH & Co KG (2200kW).
The emergency generator diesel engine is a 6CTA-8.3-D(M) manufactured and supplied by Cummins Inc. The propulsion thruster azimuths are PAZP 120 FP Rolls Royce Marine AS – Propulsion Ulsteinvik (2 x 3500 kW Azipull thrusters aft, 1 x 1200 kW Azimuth thruster retractable forward 2 x 1500 kW tunnel thrusters forward). There is a retractable manoeuvrable azimuth thruster arrangement.
ACCOMMODATION
The ship can accommodate a total of 60 people in single cabins. There is one hospital/medical room, three lounges, an internet cafe, a fully equipped gymnasium, one off-line room of 90m², one on-line room of 55m², five offices of 12m² and a conference room of 60m².