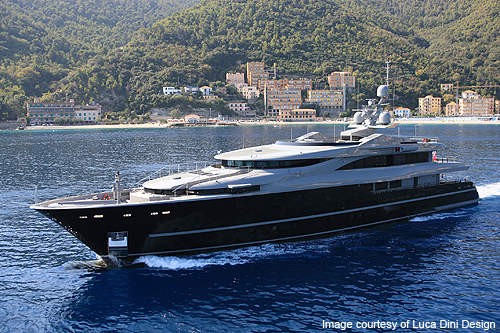 Admiral 54 has a black hull and military-looking grey superstructure.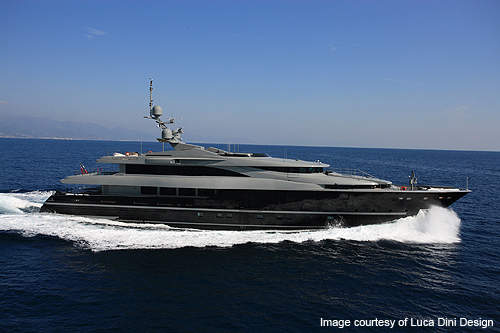 The yacht can cruise at a maximum speed of 18kt.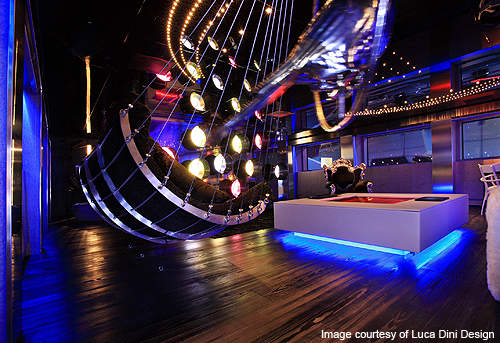 Light designing has been done by Massimo Marzorati.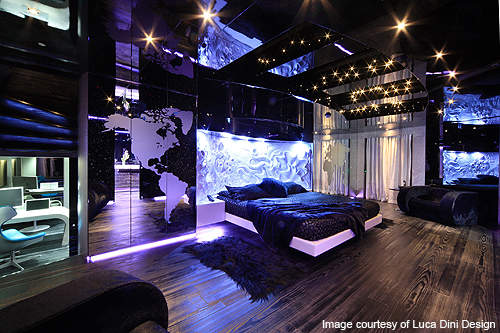 The owner's suite is located on the main deck.
Admiral 54, Sea Force One was launched with much fanfare in front of 500 guests in Genova in July 2008. It is a 54m mega-yacht designed by AMY, which is a joint venture between T. Mariotti of Genoa shipyards and Cantieri Navali Lavagna (CNL).
In 2009, Admiral 54 won the Judges Commendation award at the World Superyacht Awards in the best displacement motor yacht of 500gt to 1,299gt category. The yacht was awarded for its prominent and unique modern-art interior creation.
The Admiral 54 is ABS (American Bureau of Shipping) and RINA certified. It also carries RINA's Green Star notation and secure yacht certification. The secure yacht certification means that the yacht is equipped with CCTV networks, additional lighting, anti-intruder devices, portable metal detectors, digital locking devices and master key systems.
Design
The yacht has a length of 53.80m and beam of 10.50m. Its maximum draft is 2.90m and displacement is 722t. Maximum height of the yacht is 3.68m.
Unique hull design of the yacht allows it to cruise at a service speed of 15kt and maximum speed of 18kt.
"The Admiral 54 also has a fully fledged home cinema and a disco bar."
The interior designing was done by Luca Dini Design. The interior furniture of the yacht, such as the hammock sofa hanging from chains, the folding-back chairs  and the canopy-effect bed, were designed by the ship owner.
Light designer Massimo Marzorati has applied both natural and artificial light to achieve special lighting effects as desired by the owner.
The whole yacht is illuminated at night time due to its interior and deck lighting systems.
Construction
The hull of the Admiral 54 is made up of steel and its superstructure is made largely using light aluminium alloy. While 17 steel blocks were used for the hull, seven aluminium blocks were required for the superstructure. These pre-engineered blocks, with ready piping and cabling, were craned to a place and then welded together.
Its black hull is crowned with a military-looking grey superstructure. The fibre optic illumination in the saloons provides a unique night visibility of the keel. The stern of the yacht has been built in such a way that the deck, when open, acts as a terrace over the sea.
The main deck features a black painted raw wood floor, grey coloured briar-wood finished walls, stain-finished steel uprights and bright black roof.
The yacht's professional kitchen, capable of serving up to 100 people, is fitted with central burners and two ovens.
Accommodation
Admiral 54 is designed to accommodate ten passengers in five cabins, spread over three decks, and up to 12 crew members.
"Admiral 54 is designed to accommodate ten passengers in five cabins."
The owner's suite located on the main deck is spacious and is installed with folding terraces, offering outside view.
The bathroom is facilitated by a tub made of pietra luna slate and a shower.
The bathroom's wall and cabinets are built with broken mirror mosaic pieces.
Located on the upper deck, the living room features a black fur ceiling-mounted swing, a large white leather pouf and white fur sofa.
The entire living area is designed in such a way that it becomes a cinema room, which can be activated by pressing a button on the remote control.
Facilities
The sundeck of the yacht has a spacious relaxation area, and features a jacuzzi and sushi bar. The upper deck houses a gym and wide dining room capable of serving up to 30 people.
The Admiral 54 also has a fully fledged home cinema and a disco bar, which offer on-board entertainment to the guests.
Entertainment facilities include extensive DVD / CD library, 3m home cinema in the main saloon, 2.5m home cinema in the owner's suite, iPod docks, a fully fledged video and music DJ console and internet access.
On-board tenders and toys include a Pascoe Shuttle 6.2, a Sea-Doo Speedster, a Sea-Doo Jet-ski, a Sea Bob Cayago VX2, two one-person Sea Kayaks, fishing equipment, snorkelling equipment, water skis and water toys.
Ship engine
The Admiral 54 is equipped with two Caterpillar 3516B engines, which are capable of generating 4,520hp. The yacht also has two 200KW Caterpillar generators and an 80KW emergency generator.