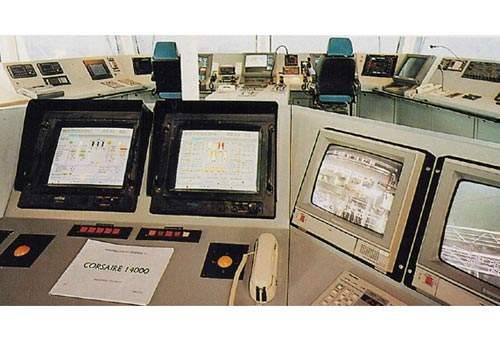 Bridge on the Aeolos Kenteris.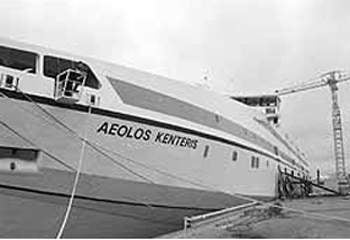 The Aeolos Kenteris in port.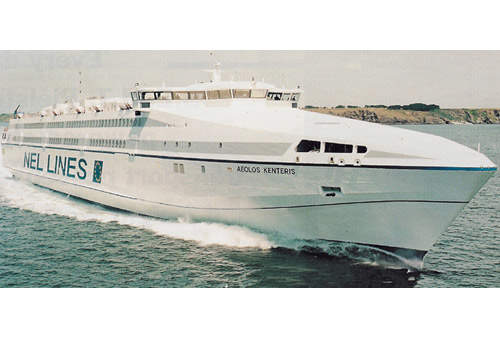 The Aeolos kenteris in sea trials.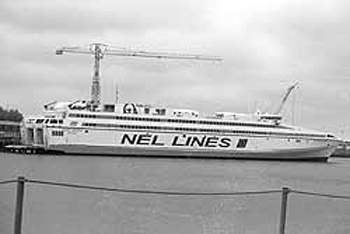 The Aeolos Kenteris loading from the stern.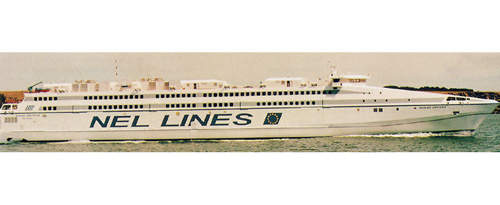 The Aeolos Kenteris sailing to Pireas.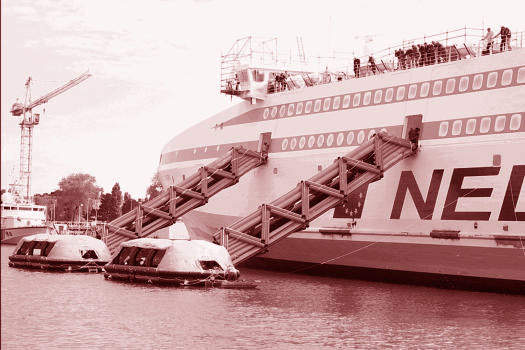 Timed evacuation of the Aeolos Kenteris.
The Aeolos Kenteris (now renamed as Red Sea I) is a Corsair-type ferry that was built at Alstom Leroux Naval's yard at Saint-Nazaire (Loire-Atlantique) and completed at Lorient (Morbihan) in 2001. The ferry was operated by NEL Lines on the Piraeus-Chios-Lesbos route until 2006, when it was chartered to Pictor Shipping SA (subsequently sold to Pictor Shipping SA in 2007 by the Maritime Co of Lesvos). The ferry now runs on the Safaga to Jeddah route and is operated by Namma Lines.
The vessel has an overall length of 140m and a length of 126m between the perpendiculars. It has a beam of 21.8m and a maximum draught of 3.62m. Its maximum deadweight of 1,300t makes it one of the largest monohulls in the fast ferry market (gross tonnage is 6,882t). It is designed to operate in a sea state corresponding to a significant wave height of 6m without any voluntary speed reduction.
The designers opted for a deep-V shaped hull. It is constructed from AH 36 high tensile steel. The superstructure was built of a lightweight aluminium alloy and attached to the steel structure by bi-metal joints.
Passengers
The ship can accommodate up to 1,742 passengers and has five main lounges. There are also two business-class lounges on the upper deck with seating for 450 passengers.
Behind the forward tourist lounge is a bar lounge, which contains a 140 seats with an equivalent amount behind the business lounge. There is also an extensive food area behind the main tourist-class lounge.
Vehicles
The vessel can accommodate 442 cars (with average dimensions of 4.5m by 1.8m and an average weight of 1.1t). It can also carry 80 motorbikes. In total, the ferry has a capacity of 360 lane metres.
The vehicles are accommodated on three garage decks. Garage access is permitted via two weathertight stern doors/ramps.
Access to the upper levels from the main deck is by means of two aft internal slewing and hoistable ramps. This gives access to seven garage areas allowing accommodation for lorries and coaches underneath. It can accommodate coaches up to 20t or lorries up to 32t.
The vehicles can also gain access via two slewing and hoistable access ramps. The clear height for main garage deck is 2.7m, 2m on the upper garage deck, and 1.9m on the lower hold.
Propulsion and power
At the centre of the ship is a 66.2MW CODAG propulsion plant. This is arranged in two engine rooms, which are separated by a watertight compartment.
Power is derived from twin MTU-packaged GE LM2500+ gas turbines, which are each rated at a maximum 25,000kW at 3,600rpm. Each turbine is linked to a two-stage Renk BS 210 gearbox, reducing the turbine speed from 3,590rpm to 423rpm. These each drive a Kamewa 200 511 steerable and reversible waterjet.
There were also two Pielstick 20PA6B STC engines, which each generate an output of 8,100kW at 1,050rpm. Each of these is linked to a Renk AUSL 72-reduction gearbox linked to a seven-bladed Kamewa 140 511 steerable and reversible waterjet. There are also two electrically-driven bow thrusters for fine movement.
The Aeolos Kenteris has a service speed of more than 42kt assuming a 650t deadweight, with all main diesel engines running at 90% MCR and gas turbines running at 95% MCR. At this rate, the fuel consumption equates to 13.7t/hr (total power output of 56,200kW). The fuel tanks can store 360m³ of marine diesel.
To maximise stability, there are three devices; at the front there is T-foil measuring 13m²; on the sides, there are two pairs of fins measuring 3.5m² and, lying perpendicular to the hull, are two dynamic trim-fins, each with an area of 13.4m².