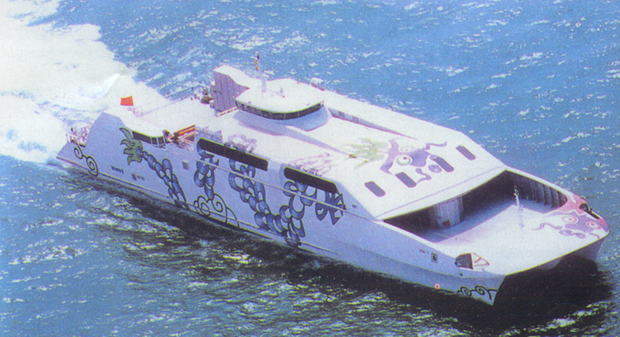 Afai 08.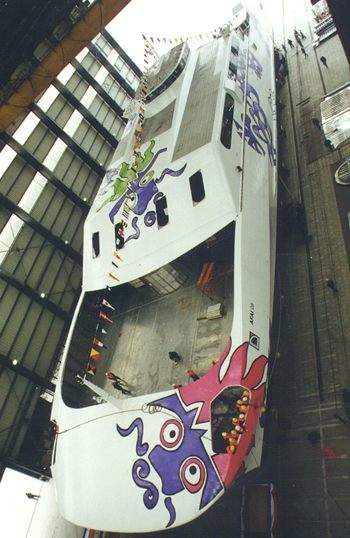 The Afai 08 K-50 series Fast Ferry measures around 80m in length.

The Afai 08 K-50 series Fast Ferry, was built as a joint venture between Afai Ships Limited and Incat of Australia.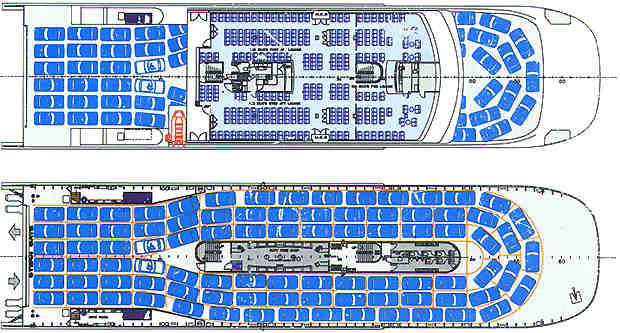 The diagram shows the Afai 08 K-50 series Fast Ferry Tier 2 plan and the Tier 1 plan.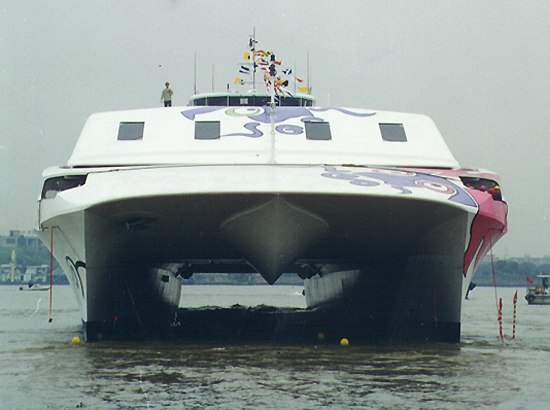 Each hull is divided into eight vented, watertight compartments by transverse Bulkheads.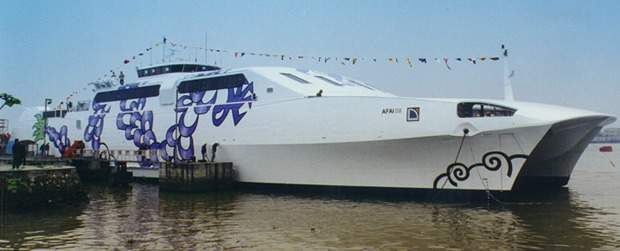 The ferry is anchored by a galvanised steel super high holding power type anchor.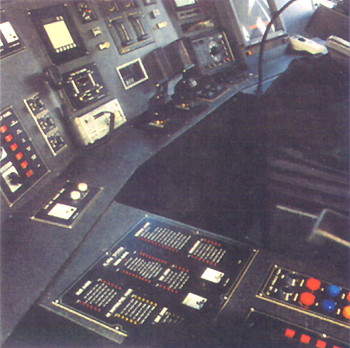 K50 series controls.
The Afai 08 is an 80m, high-speed, aluminium catamaran ferry for transporting passengers and vehicles. The construction of Afai 08 in July 1998 was a joint venture project between Incat Tasmania and Afai Ships of Hong Kong. The ship, one of two K50 class catamarans, was built at Afai's Shipyard in Panyu, China.
DESIGN
The hull is 80.1m in length, with a beam of 19m and a draught of 2.16m. It has a maximum speed of 47 knots. The ferry can accommodate 400 people and 89 vehicles. Each hull is divided into eight vented, watertight compartments divided by transverse bulkheads. The two hulls are connected by two groups of major beams and a series of minor beams. The passenger accommodation and wheelhouse is supported above the vehicle deck on anti-vibration mounts.
One compartment in each hull is prepared as a long-range fuel tank, with a central wash bulkhead and additional strengthening on each of the end bulkheads. Fuel filling is at mid-length along the vessel, port and starboard, via a valved filling main, sized to allow a flow rate of 36m³/h, fitted in save all with 'Kamlock' type connections. Fuel tank gauging software forms part of the control station monitoring system.
An hydraulically operated trim tab is hinged at the aft end of each hull. A Maritime Dynamics active aft ride control system controls the trim tabs to maximise passenger comfort. The hulls are built with a structural abutment to receive optional, forward bolt on T- foils.
PROPULSION
The vessel is powered by four Ruston 16 RK 270 marine diesel engines, developing 5,500kW each. These feed four Kamewa S8011 steerable, reversible waterjets with direct coupled transmission. The ferry has four Kamewa 80 SII waterjet propulsion units fitted, two in each hull. Each jet is configured for steering and reversing. The hydraulic power source is provided by a pump from the inboard engine of each hull, together with two electric motors driving separate pumps. All pumps are variable displacement axial piston pumps.
The vessel has two 230kW (nominal) marine, brushless, self-excited alternators, continuously rated with a 10% for one hour overload capacity. Each alternator and switchboard can be isolated from the other.
AUTOMATION AND CONTROL
A David Clark system allows communication between the wheelhouse, anchor area, port and starboard ante rooms, port and starboard jet room, as well as two stations in each engine room and one in each fuel bunker station. All stations will have a siren and strobe for bridge calling indication. It will include two headsets with noise attenuating dual muffs and mouth enclosing microphone switch, and two single muff headsets with boom microphone.
Navigation aids include a Magnavox MX 200 DGPS system, a Kelvin Hughes Nucleus II 5000 Autotrack X Band 10kw and 5kw radars, a Skipper DGS101 Echo sounder, a Walker 4040 Speed/Distance log and a DHR 220 Remote search light. It has a JRC JAX 9A Weather Fax, a C-Plath Naviplot VS Autopilot, a C-Plath Navigat X Gyro compass and a C-Plath Jupiter (transmitting) magnetic compass.
The ferry has a GMDSS station to meet requirements for sea areas one and two, a Hunsun 2100 control unit TXl 6MHz to 30MHz Rx 100KHz to 30MHz station, a Hunsun 2130 Transmitter 1.6 30Mhz, 24vdc supply, a Hunsun 2110 antenna tuner unit, a Hunsun 2074 loudspeaker with volume switch, a Hunsun 501 2,182kHz watchkeeping receiver 24vdc, two Hunsun 2047 full duplex VHF radio telephones, a Hunsun N420 24/1~ vdc power supply unit, three Hunsun 3110 hand held transceivers, a Locata 402A 400MHz EPIRB and two Graseby 16 stabilisation systems.