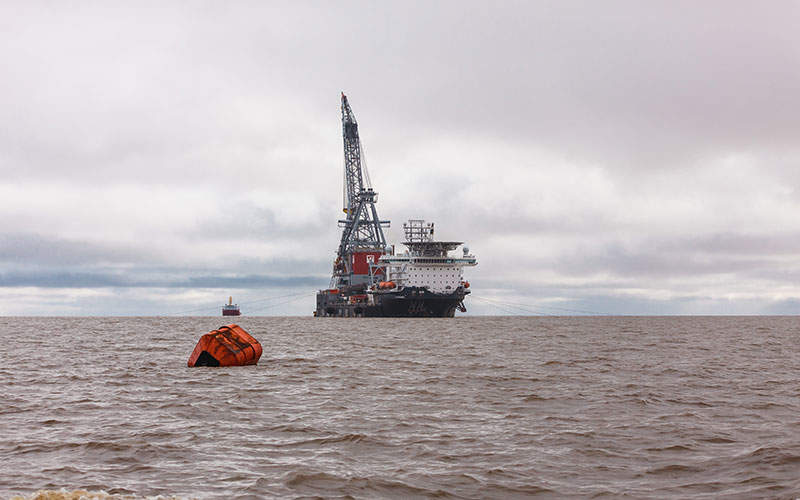 The vessel has been designed to operate in the Arctic seas, even at temperatures as low as -50°C. Image: courtesy of Gazprom Neft.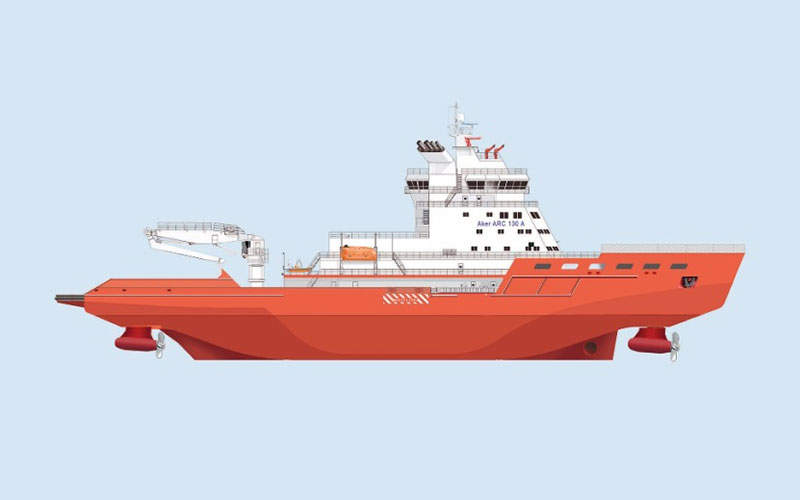 Alexander Sannikov is being constructed by Vyborg Shipyard. Image: courtesy of Aker Arctic Technology.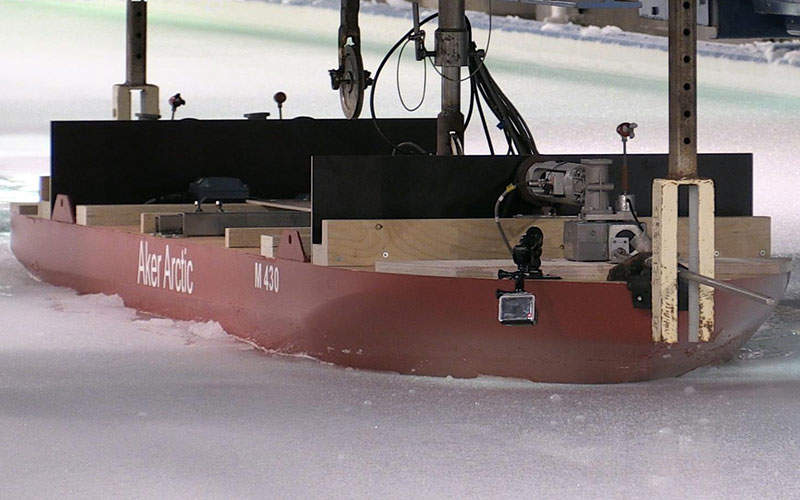 The vessel successfully passed the initial model trails in the ice basin in August 2015. Image: courtesy of Vyborg Shipyard PJSC.
Alexander Sannikov is a diesel-electric icebreaker designed by Aker Arctic Technology being built by Vyborg Shipyard on a special order. The vessel was named after the departed head of oil refining directorate Gazprom Neft. The keel laying ceremony of the vessel took place on 3 November 2015.
The ice-class vessel is one of the two icebreakers ordered by Gazprom Neft for operation at the Vorota Arktiki (the Arctic Gate) crude-loading terminal of the Novoportovskoye oil field in the Gulf of Ob, which lies in the Yamalo-Nenets Autonomous Region. Both the vessels will be delivered to the owner by 2018.
The Novoportovskoye field, which is expected to begin commercial production in the first quarter of 2016, is operated by Gazprom Neft's subsidiary, Gazprom Neft Novy Port.
Aker Arctic provided the conceptual design for the icebreaker, while the construction contractor is Vyborg Shipyard.
Design details of Alexander Sannikov icebreaker vessel
The conceptual design for the Alexander Sannikov is an enhancement over the Aker ARC 130 icebreaker concept, which was originally developed for the Finnish Transport Agency. The new design, named Aker ARC 130A, includes more powerful propulsion and enhanced ice strengthening.
The vessel is designed with a double bottom hull with triple sides, and will have an overall length of 121.7m, waterline length of 106.9m, beam of 25m and design draught of 8m. It will be classified by the Russian Maritime Register of Shipping and will carry icebreaker-8 class notion and dynamic positioning-2 (DP2) systems.
As per the operational requirements in Arctic seas, the vessel is designed to operate in thick consolidate brash ice, while maintaining excellent manoeuvrability in all ice conditions. It is capable of moving forward continuously, even at temperatures as low as -50°C, and is capable of breaking ice at a 2m level, with a snow cover of 30cm.
The pilot design of the vessel has been successfully tested in the initial model ice trails in the ice basin in August 2015.
Facilities
Besides icebreaking, the vessel is also designed to perform rescue, oil spill containment and fire-fighting operations, and to carry goods. It can accommodate approximately 35 persons onboard, and includes a cargo deck for carrying up to eight 20ft containers.
An active heave compensated offshore deck crane with a capacity of 25t and height of 27m will be provided onboard. The vessel will also feature a helicopter deck for a Mi-8.
Four monitors and a water screen are fitted to ensure fire-safety. Medical facilities, including a hospital, a treatment room and an isolation cabin have also been included.
Alexander Sannikov propulsion details
The propulsion system includes two 7,500kW thrusters at the stern and a 6,500kW thruster in the bow, resulting in a combined propulsion power of 21.5MW. Four generators and one back-up generator will be installed onboard.
"Medical facilities, including a hospital, a treatment room and an isolation cabin have been included on-board the vessel."
The propulsion power is 40% less than that needed by Taymyr, a Russian nuclear icebreaker.
Performance of the ice-class vessel
Alexander Sannikov will cruise at a speed of 16kts in open waters, whereas the speed will reduce to 2kts while icebreaking in front or astern the vessel. It will operate at a speed of 4kts in brash ice, measuring 7m with 50cm consolidation.
The vessel will operate on low-speed marine diesel oil (LSMDO), and has an endurance of 30 days.