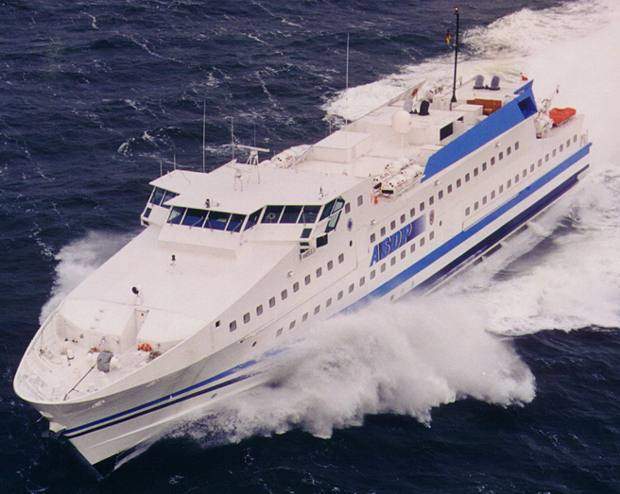 The 70m monohull Ambulu is the largest passenger-only fast ferry built to date.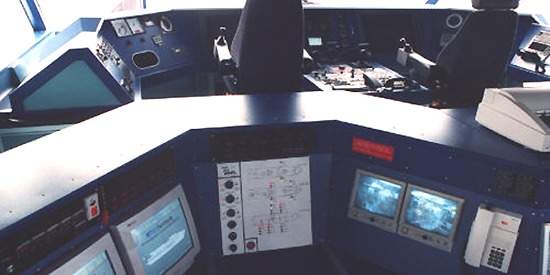 Ambulu is equipped with sophisticated control technology, including engine controls and displays within the cockpit.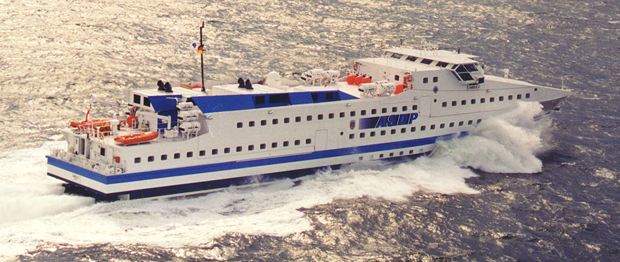 Two MTU auxiliary diesels type 12V 185 TE52 provide electricity on-board.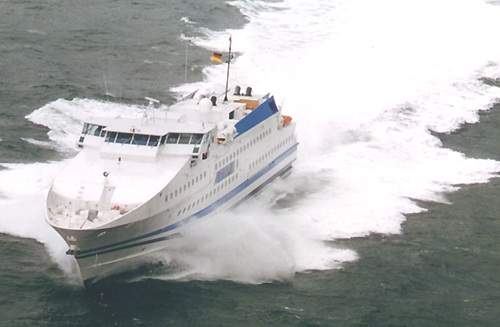 The 69.8m-long hull type is a deep-vee monohull with a parallel wedge-shaped stern and sprayrail.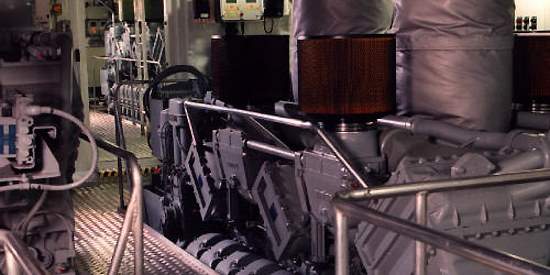 Propulsion is provided by four KaMeWa 900 waterjets (two steerable jets and two booster jets).

The Ambulu has a cruising range of 650nm.
Ambulu is the first fast ferry to be built by Germany's Bremen-based company, Fr Lürssen Werft. She is also the first in a series of five monohulls for the Indonesian state-owned company ASDP (Angkutan Sungai Danau dan Penyeberangan).
Delivered in May 1998, Ambulu has been designed to meet the Indonesian government's requirement for high-speed vessels capable of transporting 1,000 passengers over distances of up to 500nm.
The vessels are deployed mainly on routes between the Indonesian islands of Java and Kalimantan and Sulawesi. Ambulu flies the Indonesian flag and has Germanischer Lloyd classification.
Ferry design
The 1,450gt vessel has an overall length of 69.80m with a beam of 10.4m and a draught of 2m. She can carry a total of 925 passengers over three decks and has a crew of 30.
The main passenger entrance is situated amidships port and starboard on the main deck. The passenger saloons have both smoking and non-smoking sections, and the two lower decks (one of which is reserved for economy class passengers) have aircraft-style seating arranged in rows of threes and fours.
The lower deck has 158 seats; 69 in the forward saloon and 89 in the midships saloon. These two compartments are sealed with watertight doors. The main deck has a total of 428 seats; 217 forward and 211 aft. There is a shop/kiosk amidships.
The upper deck has more spacious seating for a total of 339 passengers; 118 in the forward first class area and 221 in the second class saloon aft. There is another shop/kiosk between the two lounges. All the passenger areas have air conditioning.
Each passenger is limited to 20kg of luggage, which is loaded at the bow on the main deck and stored in luggage rooms on the main and lower deck. The passenger saloons are equipped with overhead lockers for lighter items.
There is a separate crew area behind the wheelhouse on the upper deck with an office, mess room, recreation room, shower and toilet and first aid station.
Vessel propulsion
Ambulu is powered by four MTU 16V595 TE 70L diesel engines developing 3,805kW at 1,825rpm and is the first fast ferry to have this type of main engine. The engines are housed in two compartments, both monitored by closed circuit TV cameras.
"Three additional liferafts and a rescue boat are also stowed at port and starboard on the upper deck, and there is a Hi-Fog fire extinguishing system."
One unit in each compartment powers a Kamewa 90 SII waterjet and the other a Kamewa 90 BII Kamewa booster jet through Lohmann & Stolterfoht gearboxes and Geislinger composite shafting. The vessel has a service speed of 38 knots.
Auxiliary power is provided by 524kVA generators powered by twin MTU 12V183TE52 diesels as well as a MTU 6R099TA51V emergency generator.
Ambulu is equipped with a Vosper 300 series stabiliser system which is used fully only at speeds below 28 knots. Above this speed, the vessel is able to maintain good levels of stability in moderate seas and the 2m fins can be centred and locked in place. The stabiliser system is powered by a 30kW power pack. A bow thruster increases the manoeuvrability of the vessel.
Automation and control
All systems in the engine room are controlled from a console on the bridge. The integrated bridge was designed by Lürssen and is equipped with adjustable seats fitted with joysticks on the armrests for the captain and first officer.
The vessel has four RFD marine evacuation systems. Inflatable chutes, each with a capacity for 250 passengers, are stowed at four main emergency disembarkation points that are located on each side of the lower and main decks.
Three additional liferafts and a rescue boat are also stowed at port and starboard on the upper deck, and there is a Hi-Fog fire extinguishing system.