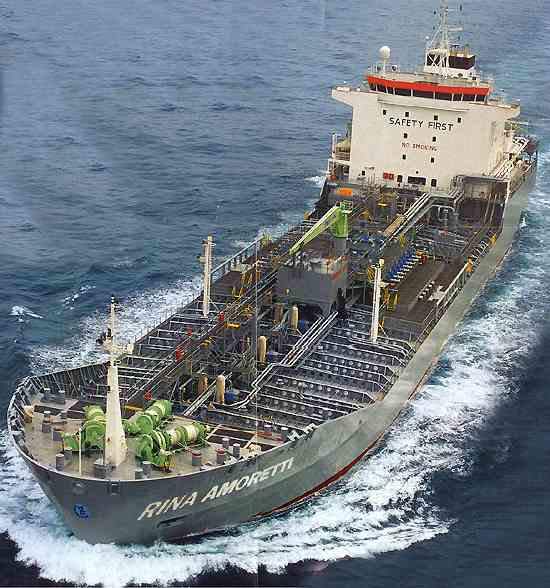 The Rina Amoretti is a 12,000tdw, 400m³ double hull tanker.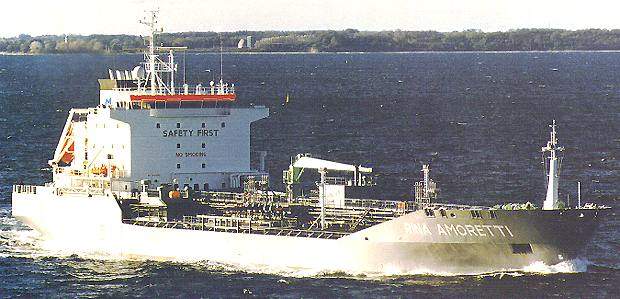 The Rina Amoretti on sea trials.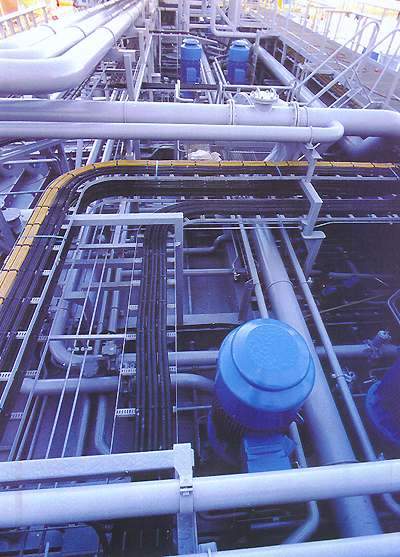 The valve and pipework system.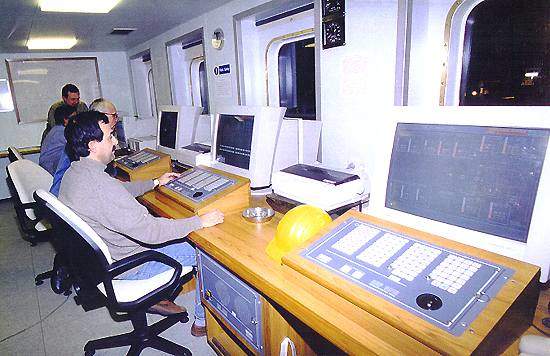 Rina Amoretti incorporates an integrated computer system for cargo and ballast monitoring.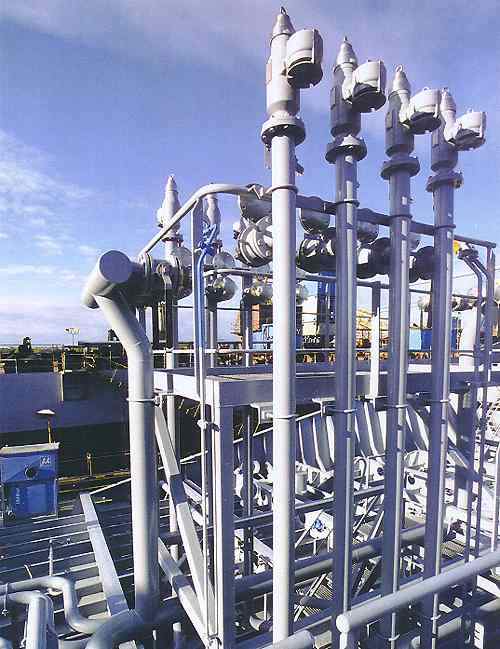 The cargo export system.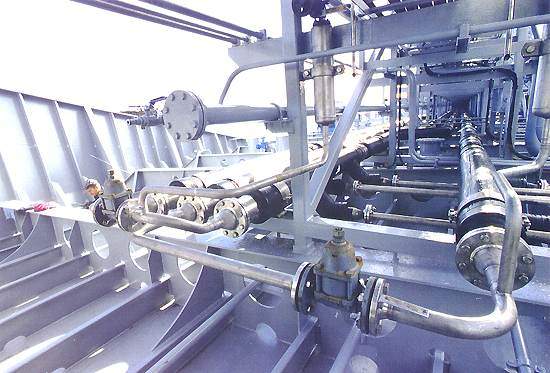 Much of Rina Amoretti's pipework has been fabricated in stainless steel.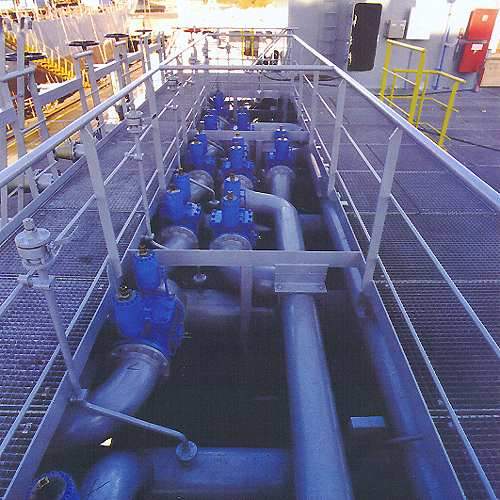 The valve manifold system.
The Rina Amoretti is a 12,000tdw, 400m³ double Hull Tanker for Chemicals IMO type 2 and oil products. It was built by Lindenau GmbH, of Germany, for the Italian company, Marichem Europe.
DESIGN
The ship has a maximum length overall of 120m, a maximum draft of 8.38m and a speed of 15.5 knots at a draft of 8.38m. This gives a ship's hull with a very unusual length to beam ratio and a relatively high block coefficient.
The vessel is designed of mild steel with double shell, double bottom and cargo deck in a longitudinal framing system and the fore and aft ship in a transverse framing system.
The main deck has knuckle camber, however all other decks are without camber or shear.
CARGO SYSTEMS
The vessel has a gross tonnage of 9,850gt (net tonnage of 3,812nt). The hold is divided into 14 tanks, giving a very high flexibility in respect to the number of cargoes transported simultaneously. These have a total capacity of 16,050m³. The two slop tanks (350m³) give a total cargo tank capacity of 16,400m.
All cargo tanks have a smooth bottom ceiling and walls. Longitudinal and vertical cargo tank bulkheads are vertically corrugated, the stiffeners of the deck are facing outside the tanks. All cargo tanks are coated with epoxy, Sigma Phenguard.
All cargo pipes and fittings in the cargo tanks are of stainless steel. Stainless steel heating coils are located in all cargo- and slop tanks maintaining cargo temperature 70°C.
All cargo pumps are made of stainless steel, with variable speed control (0rpm to 1,800rpm) by frequency converters. There are six manifolds on the main deck and three manifolds for stern discharge, allowing the vessel to load/discharge between one and six cargoes simultaneously into different tanks.
If requested, all 14 tanks can be loaded with one cargo at the same time.
PROPULSION
The vessel is driven by a MaK 8M 552 C engine generating 6,000kW at 500rpm. It is linked to an IF 380 500/130rpm reduction gear, with combined PTO/PTI and multi disk clutch couplings. The tanker has a variable pitch propeller of Ni-AI-Bronze. The four-blade propeller has a diameter of 5mm.
Power is produced by three Yanmar M220 AL-EN gen sets, each producing 882kW / 1,000kVA at 900rpm. There is also a combined shaft generator/ electric drive motor, producing 1,500kVA/1,200kW. The Emergency diesel generator produces 266kW/310kVA power at 1,200rpm.
The vessel is steered using a balanced full spade rudder with COSTA-Bulb. There is also a 550kW electric bow thruster with CP-propeller and a 450kW electric stern thruster with CP-propeller.
AUTOMATION AND CONTROL
The ship is equipped with a Kongsberg Norcontrol integrated automation system allowing: alarm monitoring, power management and control of auxiliaries system; cargo and ballast handling control system; control system for main engine, telegraph, interlocking of clutches etc.
The Norcontrol DataChief-2000 System is linked via serial-line or LAN with other systems including the Tank Radar System (Saab Marine), Ship's Administration System (Amos Link, SpecTec) and Proteus Valve Control (Navalimpianti).
The Proteus Valve Control System acts on 185 valves via mimic pictures on the workstations for cargo tank, washing and ballast operations.
Navigation and communication systems include: two ARPA Radars (1 X-Band, 1 S-Band), integrated navigation system, with route planning and chart digitising system, Gyro compass and auto pilot, echo sounder, speed log 2 DGPS, Loran C, route recorder, watch alarm system, radio station according to GMDSS A3 incl. Satcom B+C, weather fax and two VHFs, six portable VHF for ship use.