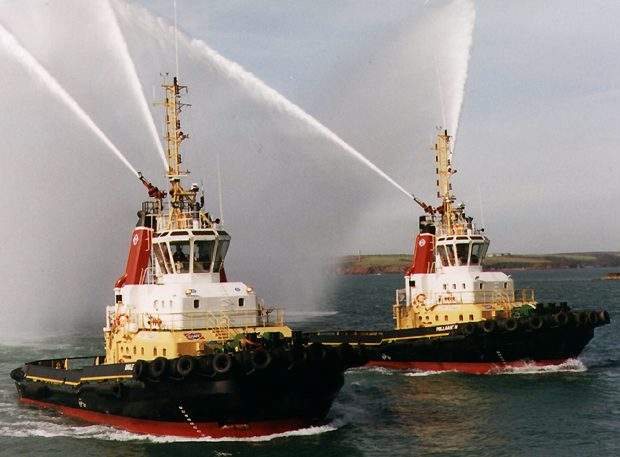 The Anglegarth and sister ship Millgarth.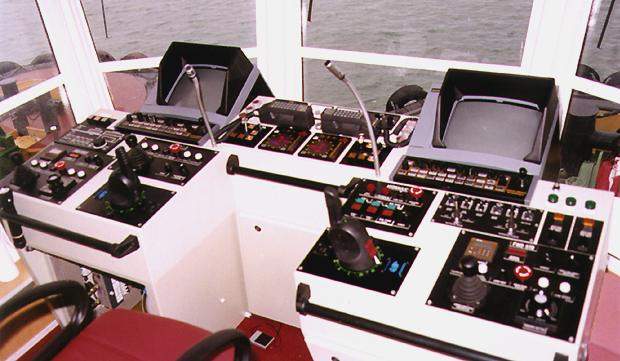 The Anglegarth wheelhouse is equipped with sophisticated control systems.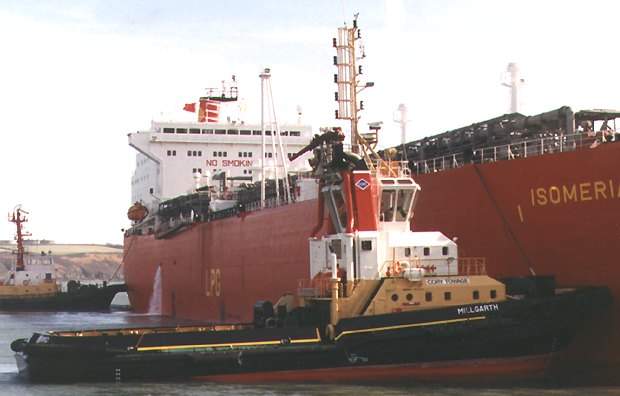 Anglegarth's sister ship Millgarth positioned to hold the Isomeria tanker.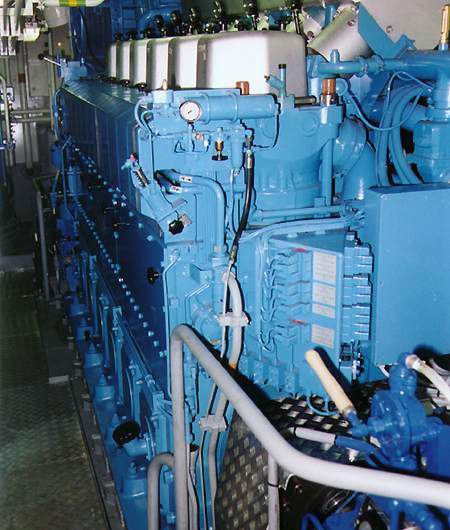 Anglegarth's main propulsion system consists of two Stork 6SW 28 engines, which provide a total power of 3,800bkW (5,095bhp) at 1,000rpm.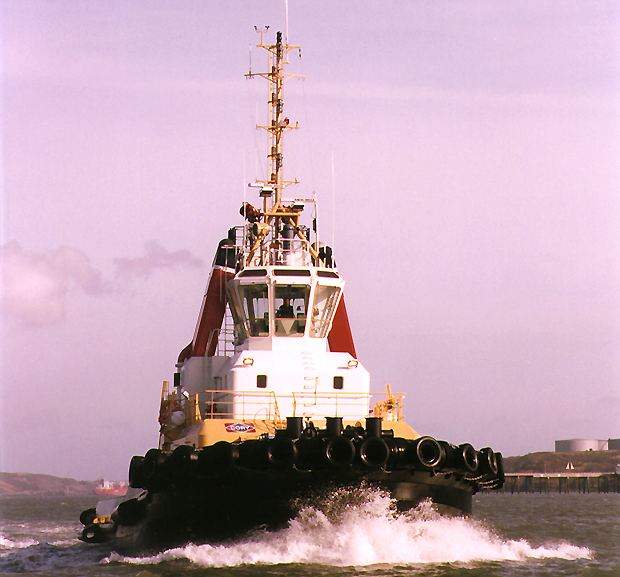 The bollard pull of the Anglegarth is 66t ahead and 60t astern. It has a top speed of 13.5 knots.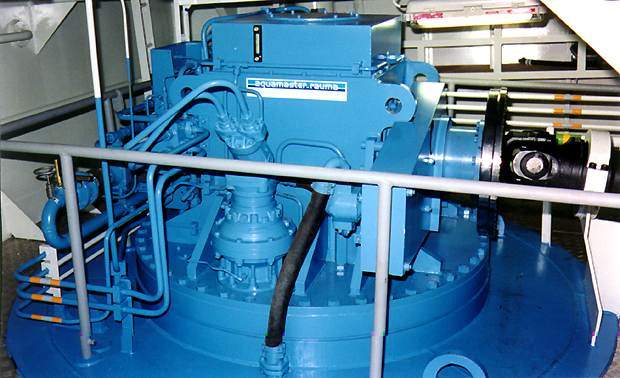 Anglegarth is equipped with an Aquamaster drive unit.
The Anglegarth tug was ordered from Damen Shipyards by Cory Towage in 1995, following the award of a contract by the Texaco, Gulf Oil and Elf refineries. Its basic functions are towing, mooring, escorting, fire fighting and pollution control. Along with its sister-ship, it ranks as one of the most powerful tugs of its type in the UK.
DESIGN
When opting for the Damen design, Cory Towage took into consideration views of the pilots, the oil refiners and the Milford Haven tug crews. Evidence of this input is shown in the employment of two individual foredeck towing winches instead of the usual double-barrelled single winch. There is also a single aft winch. These Aquamastar Rauma winches provide 15t pull, 150t br. The vessel has an Effer 14.500-25 deck crane with a lifting capacity of 14t/m. The bollard pull of the Anglegarth is 66t ahead and 60t astern.The Anglegarth has two 495kg Pool (High Holding Power) Anchors.
The Anglegarth has a length of 32.72m and a beam of 11.84m. Its depth at the sides is 5m and it has a 5.1m draught aft. It has a top speed of 13.5 knots.
The Anglegarth also has firefighting capabilities to Lloyd's Register's FiFi 1 standard, with two firefighting pumps made by Nijhuis and two Ajax de Boer 1,200m³/h fire-fighting monitors mounted above the wheel house. The port pump has a capacity of 1,200m³/h while that of the starboard unit is higher, at 1,500m³/h, as this also supplies the water drench system. In addition to the FiFi 1 requirements, about 30t of foam is carried in double bottom tanks to supply the monitors, which have a water throw of up to 120m.
The Anglegarth is one of the first tugs to be certificated by the UK Marine Safety Agency for oil recovery operations. For these duties Anglegarth is provided with dedicated double bottom tanks of 100m³ total capacity for the storage of recovered oil. For oil pollution control duties, provision has been made for the tugs to carry 1.5m diameter Rouland booms and a skid-mounted power pack, with other equipment carried including salvage pumps.
PROPULSION
Its main propulsion system consists of two Stork 6SW 28 six-cylinder diesel engines, providing a total power of 3,800bkW (5,095bhp) at 1,000rpm. Each engine drives an Aquamaster Azimuthing thruster mounted at the stern, the power being taken through Twin Disc MCD 3000 5HD slipping clutches clutch feeding a 2,600mm diameter propeller, to provide excellent control characteristics at low speed.
Coupled with the high degree of manoeuvrability available from the Damen ASD Tug design, its variable engine speed and thrust vectoring from the two stem-mounted Aquamaster Azimuthing propulsion units provides the tug master with very precise control of his vessel.
The electrical power is provided by two Cummins 6CTA 8.3G main gen sets providing 187kVA each. The harbour gen sets are Cummins 4B 3.9G and provide 35kVA.
AUTOMATION AND CONTROL
The wheelhouse contains two GMDSS area systems and two Racal Decca Bridgemaster C 180/4 Radar systems. There are both magnetic and KVH gyro compasses. It has a Koden KGP-98 DGPS positioning system and a Robertson AP 9 MK 11 Autopilot. The echosounder is a Koden CVS-106. Externally, there are two 1,000W Pesch searchlights and a Walker 2020 anemometer.
Communications are provided by two Skanti 3,000VHF radio telephones and a Skanti TRP 7201 SSB radio telephone. The Navtex receiver is a Lokata Navtex 2B.