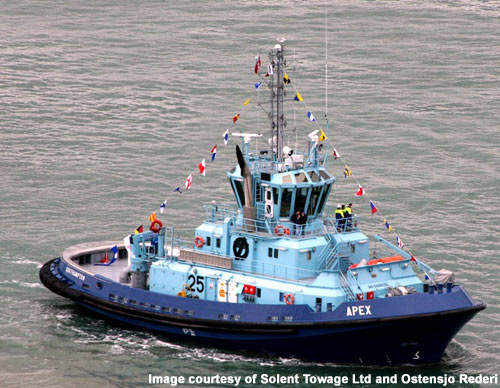 The Apex already has two sister ships in the Solent Fleet.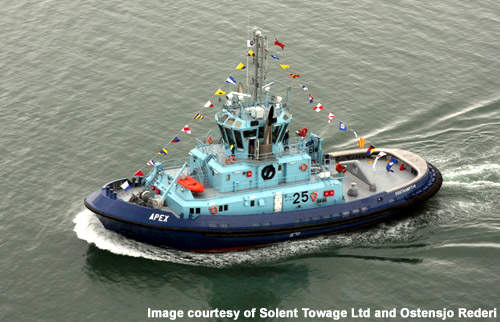 The tug is equipped with a Voith Turbo Fin for additional pulling power and manoeuvrability.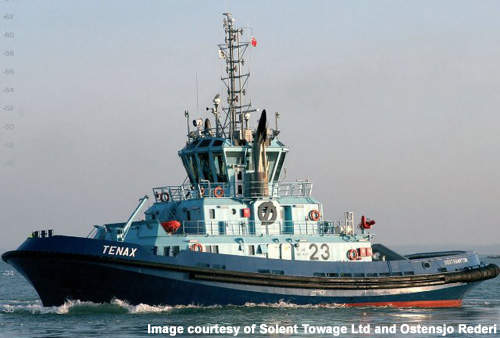 The vessel has been designed specifically for oil terminal duties.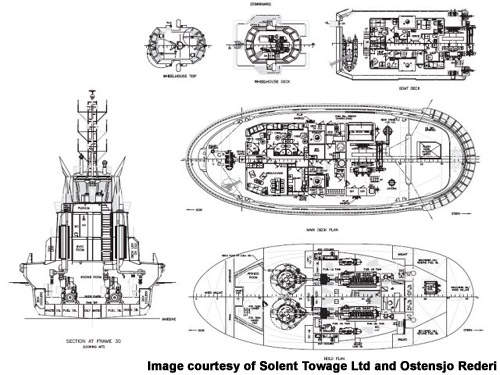 There are two Rolls-Royce diesel engines producing 6,850 bhp as the main propulsion.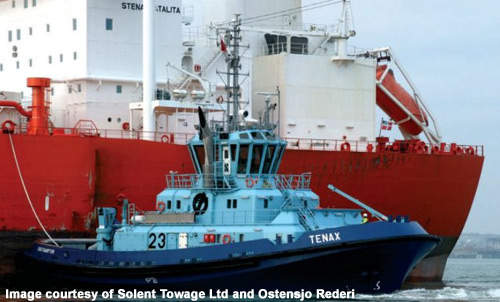 The ship was constructed at the Gondan Shipyard in Spain.
The Apex (801-Tug) is the latest tug to join the Solent Towage fleet at the Fawley oil terminal on Southampton Water, UK, where it will work alongside its sister ship, Phenix. Both the Apex and the Phenix are identical in design to the Tenax (flagship), which was delivered to the Fawley fleet in 2006.
Solent Towage Ltd is a subsidiary of Ostensjo Rederi of Haugesund, Norway, which has been responsible for towage and line handling services at the Esso refinery terminal at Fawley for over 15 years. The Fawley tug fleet normally includes Tenax, the stern drive tug Thrax, and tug workboats Asterix and Ibex. The Apex will join the Fawley tug fleet but it is likely that one tug from the fleet will be remanded to relieve the Ostensjo fleet in Norway and also spend some time in Ireland. Apex, Phenix and Tenax are all UK registered ships. Notation is 1A1 Tug Fire Fighter I OILREC E0.
Apex Construction
Apex, Phenix and Tenax are custom designed Voith tractor tugs constructed by Astilleros Gondan SA of Figueras, Asturias, Spain using a design produced by Robert Allan Ltd in conjunction with Carl J Amundsen.
The ships are powered by two Rolls-Royce Bergen (Rolls-Royce Marine AS) C25:33L8P main engines that can produce a total of 6,850 bhp to power a pair of five bladed Voith Schneider cycloidal propulsion units (32 R5/250-2). The tugs are fitted with the Voith Turbo Fin, which is a rotating cylinder device incorporated in the leading edge of the deep skeg designed to increase the amount of lift when the vessel is operating in the escort towing mode.
The Voith Turbo Fin ensures stable flow and increases lift by virtue of the larger angle of attack to the water, resulting in a significantly higher transverse forces. The steering force of a Voith tractor tug with Voith Turbo Fin is up to 25% greater than that of a conventional tractor. The increased steering force enhances the safety of ships carrying hazardous loads, such as oil tankers, when they are escorted by Voith tractor tugs in difficult waters.
In addition, these tugs have a static bollard pull of 67t and a maximum free running speed of 15k (maximum economy speed of 12k). Maximum steering forces, while operating in the escort towing mode at 10k are 150t and there is a similar figure for the maximum braking force.
Technical
The Apex has a gross tonnage of 643t, a deadweight of 445t and a net tonnage of 193t with a freeboard of 988t. The vessel has an overall length of 38.27m, a length between the perpendiculars of 33.27m, a load length of 33.27m, a beam of 14m, a mid depth of 5.40m, a maximum draught of 6.9m and a ballast capacity of 151m³. The port and starboard main generator diesel engines (D7A TA) were supplied by Deutz AG Werk Ulm. The electrical generators are two Volvo Penta type D7AT/TA, each producing 136kW. There are two Stamford generators operating at 400 V / 220 V-50 Hz.
Equipment
The towing equipment onboard the Apex includes double drum hydraulic type Karm as the towing winches. The pull force is 200t and the break force is 300t. The escort lines for the Apex are: 1 × 250m, 104mm Superline MBL 336 T and 1 × 30m, 68mm Steelite MBL 336 T. Deck equipment include a 10t capstan, a deck crane of 6.5t capacity at 10m and towing pins. The oil recovery equipment on-board includes: 1 × 250m Norlense 450 S oil boom and there is no oil skimmer installed.
For fire fighting there are two fire pumps each of 1,500m³/hour capacity at 150 mwc and a single water/foam monitor of 20,000m³ for the cargo/deck area. There are six cabins on-board the Apex with one ship's office, mess room, day room, office, galley, washroom and laundry. The ship has life saving approved equipment for six crew, a rescue boat for six and two × 12 inflatable rafts.