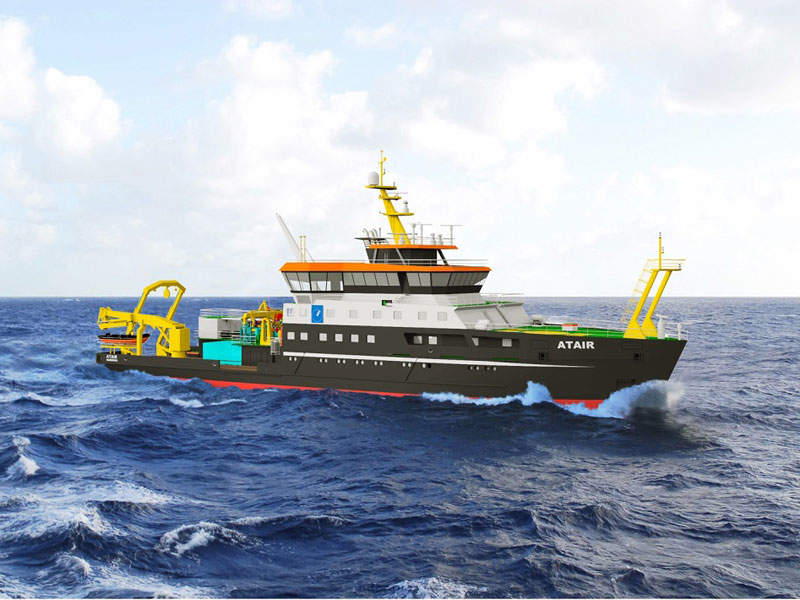 The Atair II research vessel is being built by Fassmer at its shipyard in Berne, Germany. Image courtesy of Wärtsilä.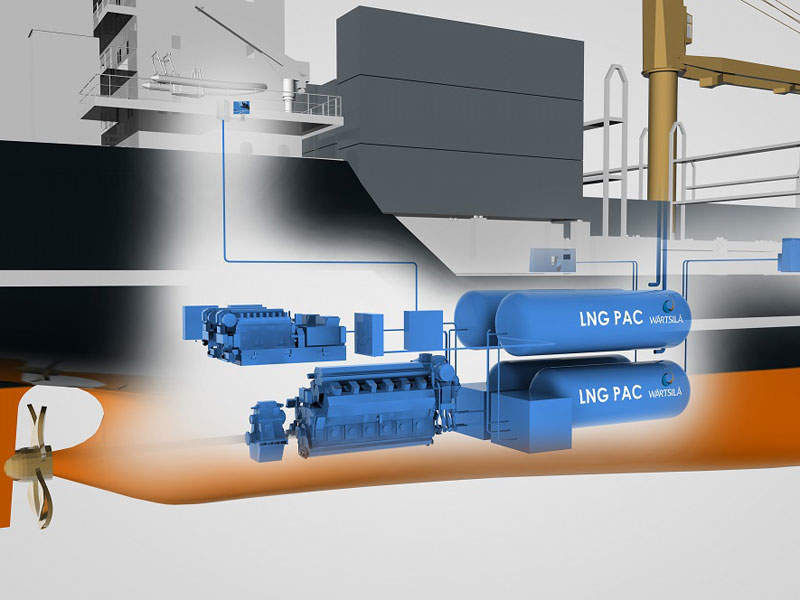 The research vessel will be equipped with Wärtsilä LNGPac fuel storage, supply and control system. Image courtesy of Wärtsilä.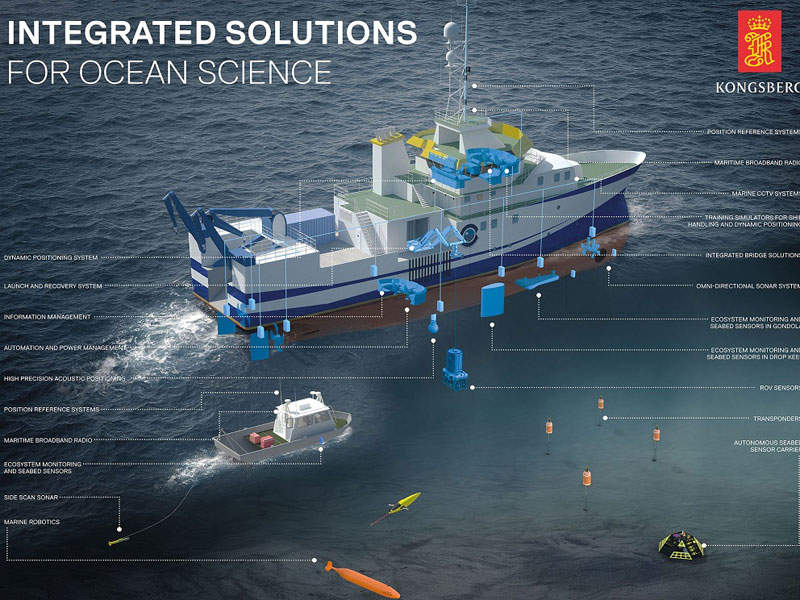 The ship will feature Kongsberg integrated solutions for research vessels. Image courtesy of Kongsberg Maritime.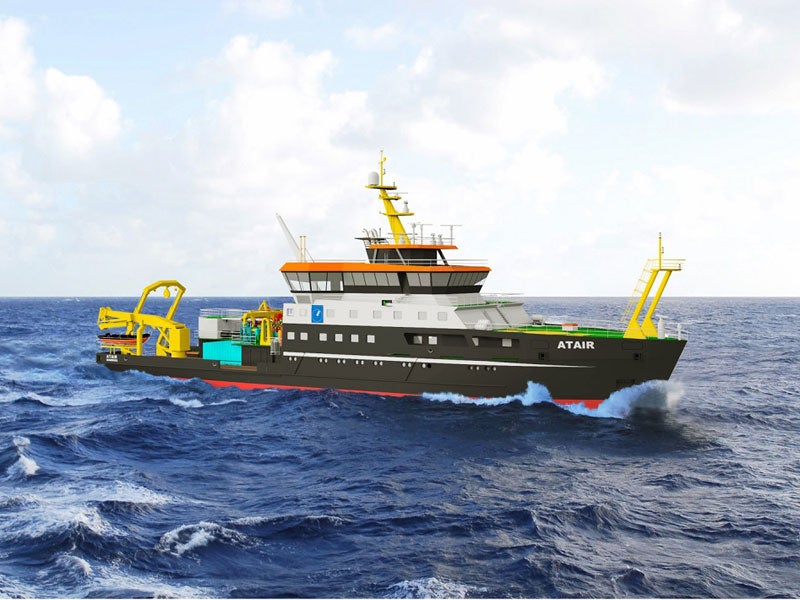 Atair II is a new research vessel under construction at Fassmer shipyard in Berne, Germany, for the Federal Maritime and Hydrographic Agency (Bundesamt für Seeschifffahrt und Hydrographie). The vessel is scheduled to enter service in 2020.
Atair II will replace the original Atair research vessel, which was introduced into service in 1987. It will be the world's first liquefied natural gas (LNG) powered research vessel owned by a government organisation.
The research vessel will conduct hydrographic surveys and wreck search operations, as well as marine environmental observations in the North Sea and the Baltic Sea. It will also perform technical testing of navigation and radar equipment.
Kongsberg was awarded an engineering, procurement, construction and installation (EPCI) contract for the vessel in May 2017. The contractual scope also includes the delivery and installation of electrical equipment, hydrographic systems, telecommunication systems, propulsion motor and cables.
Atair II design and dimensions
Atair II will be a mono-hull platform powered by dual-fuel propulsion system. The general planning for the optimisation of the design, concept visualisation and layout of the surveying and research equipment and systems was provided by TECHNOLOG Services.
"It will be the world's first liquefied natural gas (LNG) powered research vessel owned by a government organisation."
The vessel will have a length of 74m, beam of approximately 17m and a draught of 5m. It will be the biggest vessel in the BSH fleet. It will provide accommodation for 18 crew and 15 research personnel.
The research ship will receive DNV-GL SILENT class notation – SILENT R. Designed to be environment-friendly, the ship will have negligible impact on the marine environment and offer ideal conditions for the scientific work on-board.
Deck equipment and systems
The research vessel will feature a large work deck offering 200m² of space to accommodate a range of equipment and systems, including laboratories, an air pollution measurement station, a working crane and a scrollbar for geological activities on the seabed.
The work deck will also house containers and extensive diving equipment, as well as a diving chamber to support the research activities. The oceanographic winches and Triplex deck handling systems from MacGregor will also ensure safe and reliable operations.
The ship will also be equipped with Kongsberg hydrographic survey suite, including multi/single-beam echo sounders, a sonar, a side-scan sonar and a sub-bottom profiler for conducting hydrographic survey and wreck search.
The Kongsberg integrated solutions package will comprise a dynamic positioning (DP) system, position reference systems, integrated bridge solutions, maritime broadband radio and marine CCTV systems, launch and recovery systems, propulsion and thruster control, as well as navigation and ship automation systems.
Propulsion
The propulsion system will integrate two six-cylinder Wärtsilä 20DF dual-fuel engines, a six-cylinder Wärtsilä 20 engine, two exhaust cleaning systems, and a Wärtsilä LNGPac fuel storage, supply and control system.
The Wärtsilä 20DF engine can burn either conventional liquid marine fuels such as light fuel oil (LFO), heavy fuel oil (HFO) and liquid biofuel or LNG. It can switch between fuels without loss of power and speed. The engine will generate a maximum power output of 1,110kW.
The power-plant will consume high-quality diesel gas oil with sulphur content less than 0.1%, while the LNG tanks with a storage volume of 130m³ will ensure LNG-fuelled operational endurance of ten days.
Wärtsilä was contracted to deliver engines for the vessel in August 2017. The equipment is scheduled to be handed over to the shipyard in mid-2018.
The Atair II research ship will also comply with the stringent International Maritime Organisation (IMO) Tier III Nitrogen Oxide (NOx) emissions regulations and the US Environmental Protection Agency (US EPA) Tier IV soot particle emissions regulations. It will also meet the requirements of the 'Blue Angel' standards for eco-friendly ship design (RAL-UZ 141).