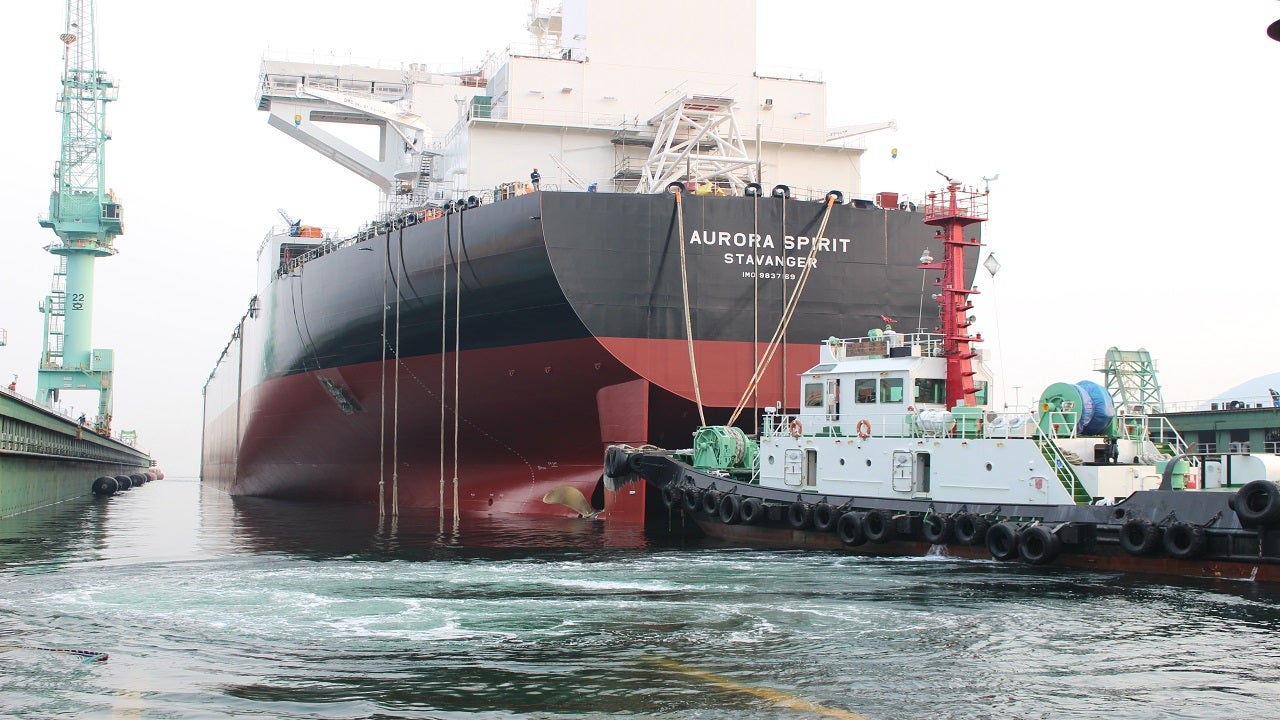 Aurora Spirit is the world's first liquefied natural gas (LNG) dual-fuel e-shuttle tanker. Credit: TeekayCorporation.
The ship was delivered to Altera Infrastructure in January 2021. Credit: TeekayCorporation.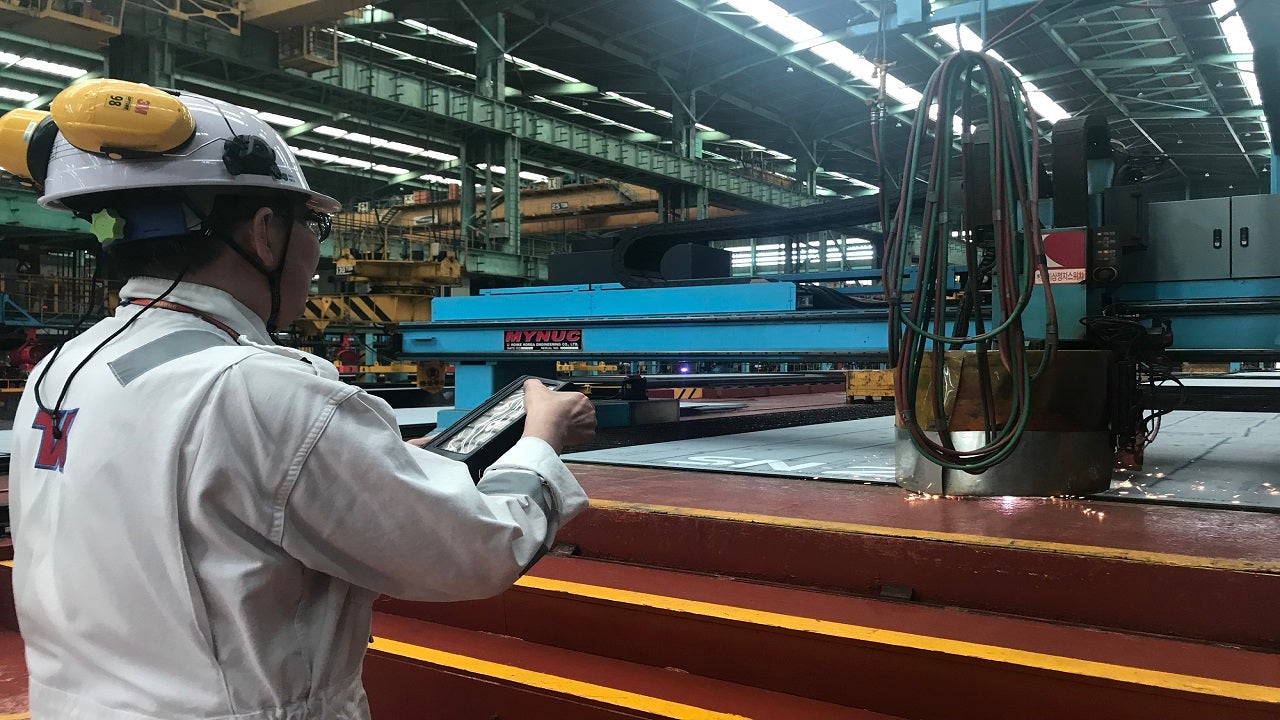 The first steel for Aurora Spirit was cut at SHI's Geoje shipyard. Credit: TeekayCorporation.
Aurora Spirit is the world's first liquefied natural gas (LNG) dual-fuel e-shuttle tanker and the cleanest vessel.
Built by Samsung Heavy Industries (SHI) in close co-operation with Wartsila Corporation (WRTAF), the 130,000dwt tanker is the first of six new-generation e-shuttle tankers being developed for Altera Infrastructure LP (formerly Teekay Offshore).
The ship offers improved energy efficiency and environmentally friendly options to improve its operational capabilities. It has been hailed as a pioneering vessel due to its flexible utilisation of different energy sources ensuring efficient operation.
Research and development for the e-shuttles began in 2016 and the company placed an initial order for two Suezmax-size, DP2 shuttle tankers in July 2017. An order was placed for two more tankers in November 2017. The vessels will join the company's fleet in the North Sea.
The steel cutting ceremony for the Aurora Spirit next-generation tanker was held at SHI's Geoje Shipyard in South Korea in July 2018. The vessel was launched from Samsung's G3 floating dock in March 2019 and was delivered to Altera Infrastructure in January 2021.
Aurora Spirit design and features
The ship's design is based on Wartsila's Smart Marine approach, which creates a connected ecosystem to optimise the safe transportation of goods and people with reduced waste and increased efficiency.
The Aurora Spirit vessel has a length of 177m, beam of 46m, and draft of 16.5m. Its gross tonnage is 90,000t, while the liquid cargo carrying capacity is 137,500m³.
The onboard ship performance monitoring system ensures smooth running. The tanker is equipped with battery packs for flexible power distribution and the prevention of blackouts.
Unlike a traditional propulsion system where the propeller is controlled by a combustion engine through its shaft directly linked to the propeller, Aurora Spirit's engines feed the on-board electric grid and excess power is stored in the batteries.
Aurora Spirit sustainability features
The vessel produces 47% lesser emissions and delivers approximately 50% fuel savings when compared to its diesel counterparts for providing environmental and economic benefits. It emits 85% lesser SOx, 98% lesser NOx, and 98% lesser particulate matter than the ships powered by conventional fuels while meeting the International Maritime Organisation's (IMO) goal of reducing carbon emissions.
The tanker features an emission capture system to capture volatile organic compounds (VOCs) released during loading and voyage. It mixes the VOCs with other fuel to reuse them as an alternative for powering the gas turbine and the main engine, avoiding the wastage of the gases.
It can capture 100t of such gases per trip, which is equivalent to 30%-40% of the total energy required by the ship. The elimination of VOC emissions from cargo is estimated to almost completely remove SOx and particulate emissions from the atmosphere while also reducing up to 88% of NOx emissions from the engines.
The dual-fuel system enables the Aurora Spirit shuttle tanker to run on LNG, VOC, and a few other potential greener alternatives in different combinations based on the ship's mission, as well as the cost and availability of each fuel.
Propulsion
Aurora Spirit is powered by gas-burning engines from Winterthur Gas and Diesel (WinGD) and Wartsila. Its Wartsila 34DF engines can operate efficiently on even an 80% load to produce power onboard.
The vessel is also equipped with a battery-powered propulsion system integrating the Corvus Orca Energy Storage System (ESS). Aurora Spirit's sea trials confirmed that its batteries offset the load on the engines.
The tanker features a power distribution system, which is part of Wartsila's Low Loss Hybrid (LLH) system. It uses batteries to save more fuel, achieve peak load shaving and provide redundant power.