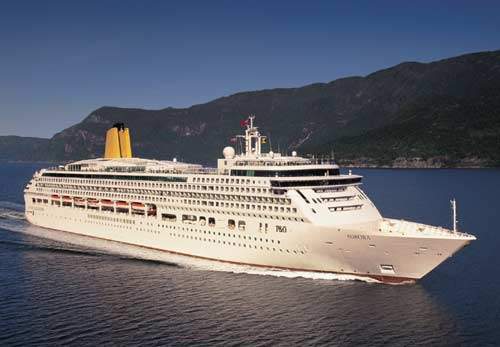 Built by Meyer Werft, the Aurora is the largest cruise ship ever to fly the British flag.
The Aurora leaving the shipyard on 18 January 2000.
The full height of the four-deck atrium is dominated by a magnificent Lalique-style water sculpture.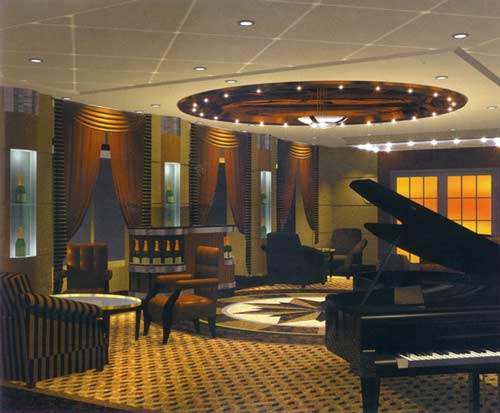 Design for Charlie's champagne bar.
Built by Meyer Werft in Germany, the Aurora was delivered to P&O Cruises in April 2000. The Aurora has an overall length of 270m and of 242.6m between perpendiculars. It has a moulded beam of 32.2m and a 33.6m maximum beam. Its draught is 7.9m. It has an air draught of 52m and a height of 115m. The Aurora has a gross tonnage of 76,152, a net tonnage of 40,037t and a deadweight of 64,450t.
Staterooms
The Aurora has a maximum passenger capacity of 2,290. It can accommodate 1,878 passengers in its 939 cabins, 69% of which are located outside. The total cabin break-down is: ten suites (accommodating up to 20 passengers), 20 de luxe cabins (40 passengers), 96 staterooms (192 passengers), 272 outside cabins with a balcony (544 passengers), 239 outside cabins (478 passengers), 280 inside cabins (560 passengers) and 22 disabled cabins (44 passengers).
Dining facilities
"Built by Meyer Werft in Germany, the Aurora was delivered to P&O Cruises in April 2000."
There are two dining rooms on deck 6 – the medina and the alexandria – with windows on all three sides. These have a capacity for 550 and 520 passengers respectively.
Above, on deck 7, lies the 700-seat curzon theatre. Also on deck 7 is the champions sports bar, which can house 120 guests. The Anderson's bar (130 guests) leads out to Charlie's champagne bar, with its grand piano and detailed marble floor, and Carmen's lounge.
Entertainment
The raffles court at the upper level of the atrium provides seating for 70 people. Amongst other things, it contains the library, writing room and the 'cyber study' internet area.
Also on the same deck is the playhouse cinema, which can accommodate 210 passengers. On deck 12 you will find the orangery, able to seat 424 people for casual dining, while deck 13 includes a 300-guest 'crow's nest' cocktail bar and dance floor above the bridge. The crow's nest has windows on all three sides, looking out over the bow.
"The Aurora has a trial speed of 29kts and a service speed of 24 kts."
In a new departure, the vessel also includes a sky dome on the sun deck that allows the crystal pool to be converted from an outdoor to an indoor swimming pool. The pool has a depth of 1.3m. Two whirlpool spas complete the facilities. The crystal pool area has a full service bar. On the starboard side, just beyond the pool, lies the sidewalk café, offering fast food all day. The vessel also has two other swimming pools, one of which is reserved for families.
The vessel also has a health spa, gym and sauna. The gym has a centrally located, sprung wooden aerobics floor, with exercise machines on either side.
Propulsion
Electric power for the vessel comes from by four MAN B&W 14V 48/60 engines that produce 14,700kW each at 514rpm. The propulsion is provided by two STN AEG engines with an output of 20,000kW each, while working at 140rpm.
These engines drive two Kamewa propellers that are 5.8m in diameter, as well as three 1,500kW Lips bow thrusters and a Lips stern thruster with an output of 1,500kW. The Aurora has a fin stabiliser made by Fincantieri.
The vessel has a ballast water capacity of 3,700m³ and a heavy fuel oil capacity of 2,780m³. It carries 180m³ of marine diesel oil and 237m³ of lube oil. It can also carry 2,080m³ of fresh water.
Speed
The Aurora has a trial speed of 29kts and a service speed of 24 kts. It consumes 200t of IFO 700 fuel every 24 hours. It is flagged in the UK, with Southampton as its home port.