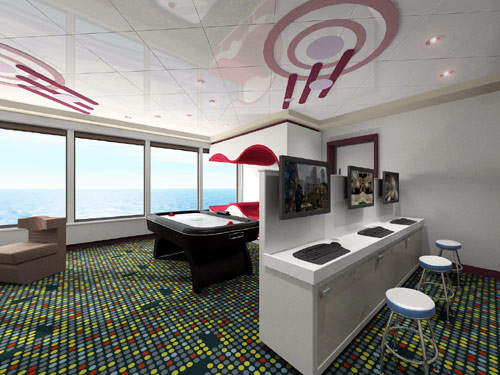 The Azura is P&O Cruises' latest liner.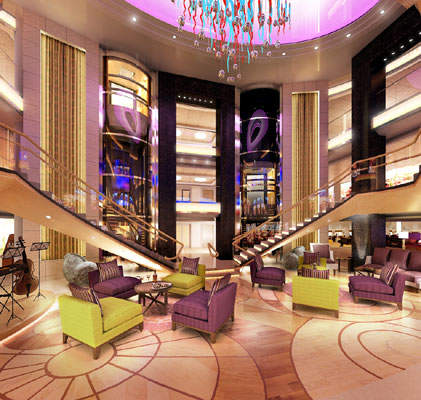 The atrium on P Deck.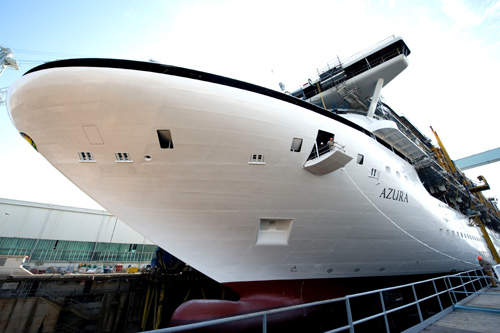 The Azura is scheduled to embark on its maiden voyage in April 2010.
P&O Cruise's Azura is the company's latest cruise liner. Built at the Monfalcone shipyard in Italy, the Azura is one of P&O's largest ships, boasting 14 public decks, 11 restaurants, five boutiques, four pools, two lounges and over 900 private balconies. It also features an outdoor cinema, a first for the company, along with an al fresco spa and single staterooms.
Maiden voyage
The Azura embarked on its maiden voyage in April 2010 from Southampton, UK, on a 16-night central Mediterranean cruise that included calls to Venice and Dubrovnik. After initial cruises in the Mediterranean, the Azura shifted to itineraries in Barbados from October 2010 to April 2011.
Design and construction
Fincantieri commenced the construction of the vessel in October 2008 at its Monfalcone shipyard in Italy. The vessel was launched in June 2009 and sea trials commenced in spring 2010. The ship's handover ceremony took place in March 2010.
The 116,000t vessel has an overall length of 290m and moulded breadth of 36m. The length between perpendiculars is 242.3m and draught is 8m.
Restaurants
The Azura has 11 dining options, including three main restaurants: Amber, Topaz and Jade. Sindhu, an Indian restaurant, offers a fusion of Indian and British cuisine by chef Atul Kochhar.
"The 116,000t vessel has an overall length of 290m and moulded breadth of 36m."
The Venezia is the Azura's main self-service restaurant, where food is available all day. The self-service Verona is also open throughout the day, serving pizzas, burgers and pasta. Deck 15 features the Poolside Grill and Pizzeria, which has ocean views.
The Glass House offers wines selected by sommelier Olly Smith. During the day, the Java coffee bar serves coffee, chocolates, tea and snacks while at night it serves pre-dinner drinks.
Fitness options
The sports court on the Sky deck has amenities for tennis, cricket, football, shuffleboard, quoits and golf. The ship's gym offers personal trainers and the latest techno-gym equipment.
The Thermal Suite spa provides natural skin treatments while the Oasis spa has rooms with ocean-view balconies. The Retreat is Azura's open-air spa that offers al fresco spa treatments.
Staterooms
The Azura has 1,557 staterooms, with 900 featuring private balconies. The rooms are equipped with a flat screen interactive television on which guests can view programmes as well as place orders.
The ship's superior deluxe staterooms have a sofa, chairs and a table and two televisions. The deluxe stateroom's bathroom includes a full-size bath, shower and vanity unit.
The Azura's single staterooms cater for single travellers and are a first for P&O Cruises. Family suites can accommodate up to six people, with space for two separate bedrooms. A private butler service is also available for family suite guests.
Spa staterooms are available on deck 15, adjacent to the Oasis spa.
Propulsion
The vessel is equipped with two 21MW Siemens electric motors that are driven by four 12,600kW Wartsila 12V46C and two 8,400kW Wartsila 8L46C medium-speed diesel generator sets. Two emergency generators are also available. The two six-bladed Wartsila FP propellers enable the vessel to achieve a maximum speed of 22kt.
For smooth manoeuvrability, the vessel is fitted with three 2,200kW bow thrusters and three 1,720kW stern thrusters.