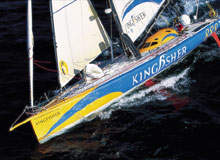 Ireland-based B9 Shipping, a subsidiary of B9 Energy Group, is developing carbon neutral coastal vessels that will be commercially viable in terms of price and performance in comparison with conventional oil-powered sea going vessels.
B9 Shipping plans to build a demonstrator vessel by 2012 to carry bio material to UK biomass power stations, which are scheduled to open the same year.
Green design
The ships will have a hydrodynamic hull and a flat pack of pre-cut steel that will be used in hull construction. The vessels will be made from sustainable materials using green technologies.
The growing focus on slow steaming in shipping to conserve fuel and reduce emissions will also help B9 to compete with conventional oil-powered vessels in cargo delivery schedules.
The ships are being developed in collaboration with several companies including Corus Steel, Rolls-Royce, Graig Investments, International Paints, Southampton University's Wolfson Institute and the Met Office. Graig Investments will provide guidance on ship design, building and financing.
The vessels will promote clean economic development by providing fossil fuel-free transshipment solutions. B9 Ships will support the UK biomass energy market by importing bio material from the Baltic nations to the UK. The vessels are expected to have an economic range of 1,000 miles.
Construction
"The vessels will be made from sustainable materials using green technologies."
The ships will initially be constructed in the north-east of England before being transferred to developing countries.
The construction will involve sustainable methods wherever possible. The steel plates used in the vessel will be created from recycled steel melted by the heat from torrefied wood, a process that does not release fossil carbon into the atmosphere. The ship's performance will be improved by using light construction materials to reduce its weight. The vessels will also use soft sails and a biogas-powered engine.
European steel producer Corus will supply the steel plates for the hulls of B9 Shipping's fleet. The biogas required for the vessels will be supplied by B9 Organic, a sister company of B9 Shipping. Paint will be supplied by UK-based International Paint.
Propulsion
The biogas-powered engine will provide 40% of its propulsion power. The remainder will be supplied by the soft sail system. The engines can also be operated with LNG in absence of biogas.