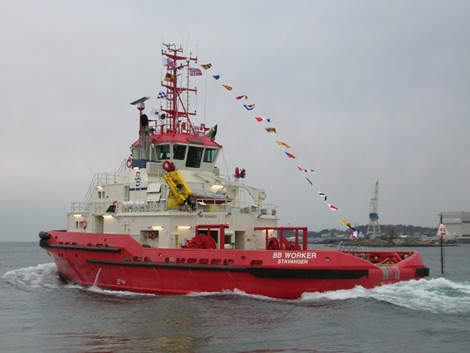 The BB Worker in operation.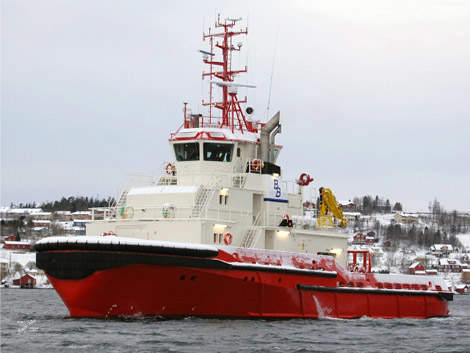 The tug is part of a fleet of five.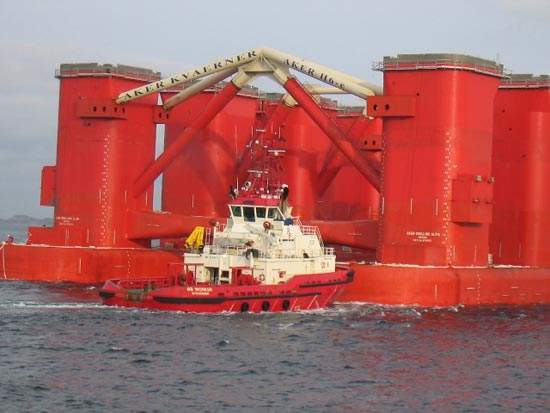 The tug has 90t bollard pull.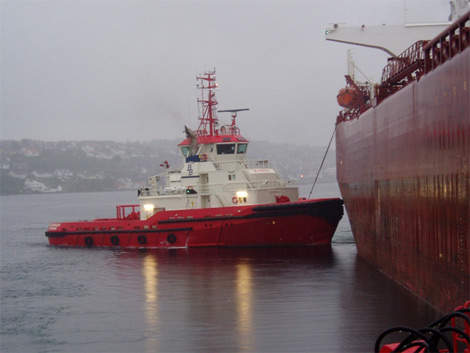 The tug will work at the Snohvit LNG terminal.
The BB Worker tug is one of five newly developed, highly sophisticated tug vessels operated by Buksér og Berging, the Norwegian tug and salvage company. The tugs were developed and outfitted by the Norwegian shipyard Moen Slip at Kolvereid in Norway.
The BB worker complies with Det Norske Veritas' rules for escort class notation. The BB Worker was part of an order for two tugs of similar design with the BB Worker producing a bollard pull of 90t and the tug 70t. The BB Worker can make a speed of 15kt.
OPERATIONS
The five new tugs (Bukser Hammerfest fleet) including the BB Worker (escort and ship handling tug) were required for a Statoil contract to provide ship handling, escort and mooring services at Melkoya LNG terminal in northern Norway near Hammerfest.
The BB Worker's first operation (December 2007) was the docking of the new Arctic Princess LNG tanker at the terminal. The fleet is headed by the fin-first Voith escort tug Boris, supported by Banak and Barentz, which are two purpose-designed azimuthing stern drive (ASD) tugs.
The two new tugs in the fleet are the BB Worker and BB Server. There are also two work tugs responsible for mooring at the terminal; Birk and Bork are 12.3m vessels of 450 bhp and 5t bollard pull.
THE BB WORKER
The BB Worker was launched in 2007 and is registered at the Port of Stavanger. The vessel is an ice-class 1C vessel (DNV+1A1, Tug, Ice 1C, E0, SF, FiFi I, Oilrec), which has an overall length of 37m and a width of 14m.
"The BB Worker was launched in 2007 and is registered at the Port of Stavanger."
The loaded depth is 7.4m with a tonnage of 770 BRT. The main engines are two Wärtsilä Vasa 6R32LN developing 6,120 bhp and the propulsion system is an azimuth stern drive (Azimuth CPP) (supplied by Wartsila Propulsion).
The auxiliary generators develop 600kW and there is a fire fighting system consisting of two water foam monitors producing 2,800m³ per hour of water.
The tug has two towing winches one with 140t pull/300t brake and the other with 80t pull/300t brake and a 35 t.m. deck crane.
There are two auxiliary engines DI12 manufactured by Scania CV AB, Industrial & Marine Engines. The manoeuvring thruster diesel engine (BF 8 M1015 MC) was supplied by DEUTZ AG. The manoeuvring thrusters pump jet (SPJ 82) was supplied by Schottel GmbH.