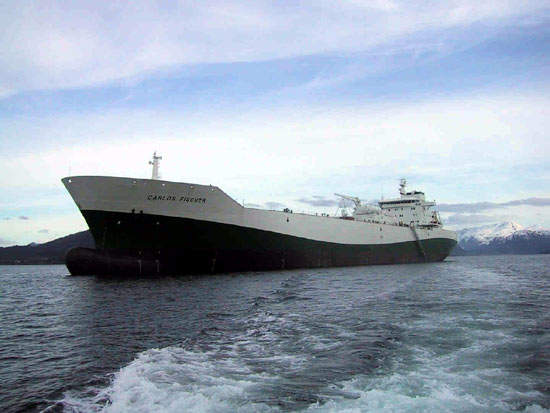 Carlos Fischer travelling from the Kleven Florø shipyard.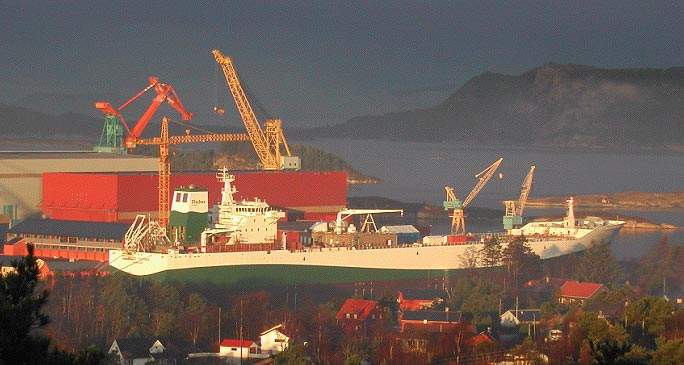 Carlos Fischer under construction. The vessel has been built to carry up to 37,000t of fresh and concentrated orange juice in bulk tanks.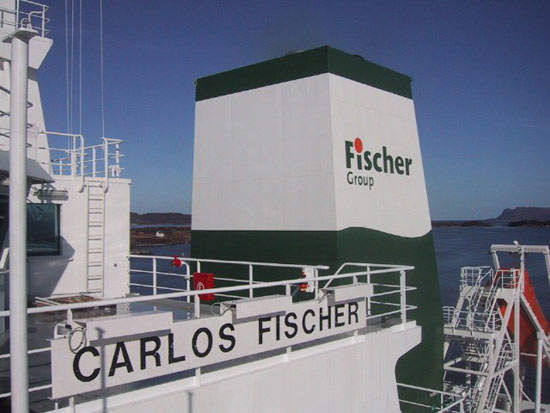 Rear of the Carlos Fischer wheelhouse.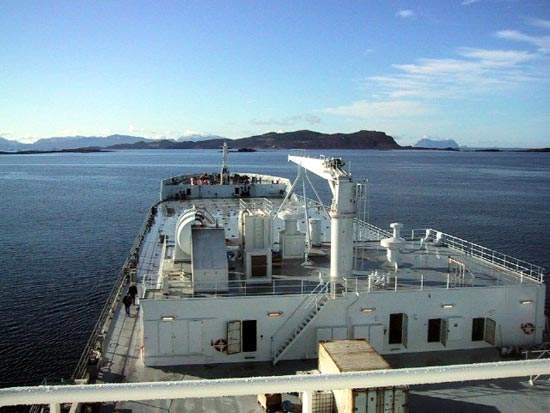 The Carlos Fischer is equipped with a 30-person free-fall lifeboat that launches over the transom stern.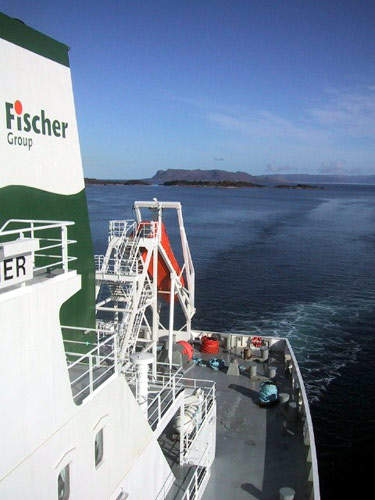 Carlos Fischer stern.
Built to carry up to 37,000t of fresh and concentrated orange juice in bulk tanks, the Carlos Fischer is owned by the Brazilian company Aleuropa, part of Grupo Fischer. This is the first of two sister ships and Kleven Florø delivered the second juice carrier, Premium do Brasil, in October 2004.
The Carlos Fischer is 204.85m long overall, with a length between perpendiculars of 194.25m, a moulded breadth of 32.2m, a moulded depth of 19.2m, a scantling draught of 11.4m and a normal operating draught of about 9.5m.
It is not classed as a tanker, however it is effectively a four-hold refrigerated ship, each hold having four vertical freestanding cylindrical fruit juice tanks. Tanks in the aftermost hold are reserved for natural orange juice which is carried at a nominal 0ºC. 12 tanks out of the total 16, that is those located in the forward three holds, can carry either natural juice or concentrated juice.
The concentrate is loaded and transported at -10ºC and has the consistency of a gruel. Pumping and piping systems are complex and all surfaces in contact with the juice cargo have to be kept in an aseptic condition.
The vessel has accommodation for 30 people. A trim room and a sizeable swimming pool cater for the crew's recreation and fitness.
Cargo system
The bottom of each tank slopes to a definite lower point while the top is slightly conical. Pipe work is connected to the lowest point to ensure that the tanks can be completely drained, while at the top of each tank is a radar tank level gauging system, nitrogen pipes and temperature sensors.
The free-standing tanks have air space all around them. They stand on cylindrical pillars and near the top are braced sideways by girders which also form part of the walkway and ladder system. The boundaries of the holds are insulated using a panel system made up from polyurethane foam slab with a galvanised steel protective jacket on one side and a polished aluminium facing towards the hold. In three of the cargo holds the tanks are arranged with two either side of the centre line.
The refrigerating system is supplied by York and uses ammonia in the primary circuit and brine in the secondary. Three electrically-driven refrigerant compressors are installed in the deckhouse. Brine from the evaporator room circulates through heat exchangers in each hold where large fans lead air to all parts of the insulated holds through strategically placed ductwork.
Engine
A service speed of 20.8 knots was specified with the main engine operating at 94% of MCR including a 5% sea margin and a nominal 1,200kW output from the shaft generator. Power is supplied by a Wärtsilä Sulzer 7RTA 84C main engine giving 38,570bhp at 102rpm. It turns a 7.5m dia. Kamewa Ulstein controllable pitch propeller and a Flender gearbox on the intermediate shaft provides power take-off for a 2,000kW ABB shaft generator.
A Becker flap rudder with Frydenbø steering gear provides the main manoeuvring capacity, assisted by a Kamewa Ulstein tunnel bow thruster.
Navigation and communications
Integrated bridge navigation systems were provided by Litton Systems. These include X- and S-band ARPA 340 radars, a Vision 2100 voyage management system, ECDIS planning station, Leica MX420/2 DGPS system, Litton gyrocompass, autopilot, rudder indicator, magnetic compass and electromagnetic speed log from C.Plath, Skipper echo sounder, Taiyo weatherfax, Furuno Navtex, DEIF watch and unfitness alarm system. Communications include a GMDSS Area 3 system, Sailor Inmarsat C, Nera Saturn B and Sperry/Sailor VHFs.
Mooring, survival and materials handling
The Carlos Fischer is equipped with a 30 person free fall lifeboat launching over the transom stern. This lifeboat with its associated davits system and a man overboard boat are from Schat-Harding. Pusnes electrically driven winches and anchor windlasses cover the ship's mooring requirements while hose handling and general stores transfer is taken care of by Normarine cranes on the deckhouse roof and alongside the funnel on the starboard side
The vessel is classed by Germanischer Lloyd with notation +100A5 fruit juice carrier +MC, AUT, KAZ, NAV-OC, IW.