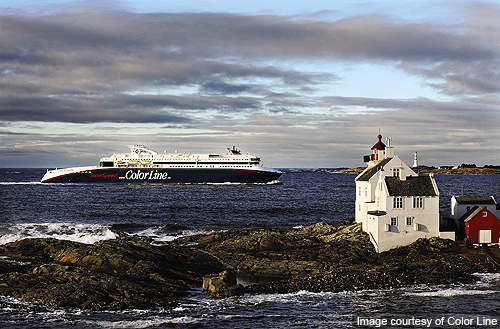 Superspeed 1 was delivered in February 2008.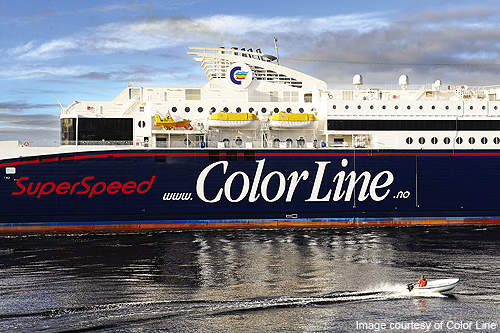 Superspeed vessels are owned and operated by Color Line.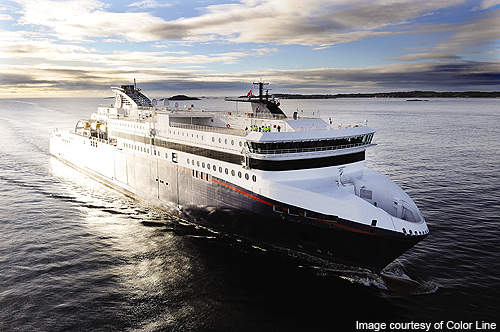 Superspeed 1 can cruise at a speed of 27kt.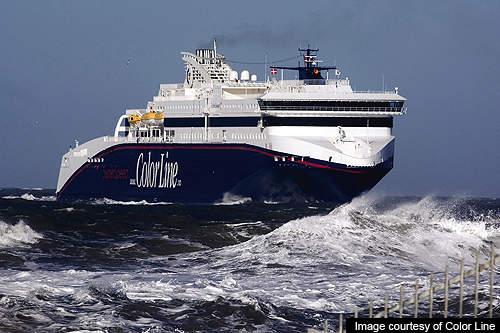 The hull of the vessel has been painted in traditional dark blue.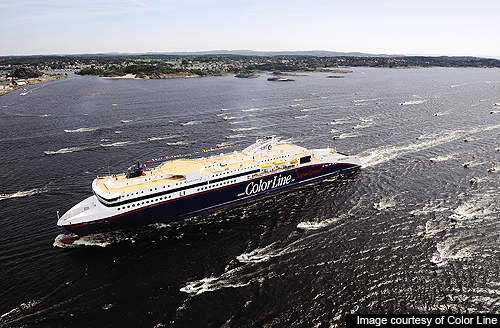 Superspeed 2 has a gross tonnage of 33,500t.
Superspeed 2 was delivered in June 2008.
Superspeed 1 and 2 Ro-pax ferries are the latest addition to the Color Line fleet. Superspeed 1 was delivered in February 2008 and Superspeed 2 in June 2008. These ferries operate between Kristiansand, Norway and Hirtshals, Denmark.
Superspeed 1 takes three hours and fifteen minutes to cover the distance between Kristiansand and Hirtshals, whereas Superspeed 2 takes three hours and forty-five minutes.
Color Line ordered the €250m Superspeed project in December 2005. These vessels were built by Aker Yards (now STX Europe).
Air condition and ventilation systems were supplied by Koja, auxiliary steam boilers and exhaust gas economisers by Aalborg Industries, the central cooler for the main engine by Alfa Laval, fire alarms by Autronica Fire and Security, life boats and life boat davits by Umoe Schat-Harding, passenger and service elevators by KONE Elevators, prefabricated cabins and bathroom modules by Aker Yards Cabins, roro equipment by MacGregor and windows, glass walls and wind screens by Pilkington Marine.
Mobile phone services, known as CellAtSea have been installed by MCP (Maritime Communications Partner).
In June 2010, a €12m contract was awarded to STX Europe for the conversion of Superspeed 1. The conversion was completed in 2011at STX Finland's shipyard in Helsinki.
Superspeed vessel design by Falkum-Hansen
"Superspeed 1 was delivered in February 2008 and Superspeed 2 in June 2008."
The interior, exterior as well as overall layouts of the vessels were designed by Falkum-Hansen Design. Superspeed vessels have a gross tonnage of 33,500t. Their length and breadth are 211.3m and 25.8m respectively.
Their deep-draught is 6.5m. These vessels have a capacity of 1,929 passengers, 71 crew members and 764 cars. They offer 2,000 lane metres of vehicle space.
The shape of the hull allows the vessel to optimise its sea-keeping features and speed.
The bow of the vessel is reasonably high and short. Its circular superstructure has been brought up to the height of the bridge. The relatively long rear of the vessel facilitates a large entry space between the actual rear of the ship and the rear of the superstructure.
Construction of the Superspeed 1 and 2 Ro-pax ferries
The keel of Superspeed 1 was laid in February 2007 and the vessel was floated out in August 2007. Due to technical faults in an auxiliary engine and several other faults, the vessel's delivery was delayed by almost two months.
The Superspeed 1 conversion project ordered in June 2010 included construction of a small galley on deck seven, a two deck high pizza restaurant and 24 new crew cabins on deck ten. Two additional lifeboats were also provided. In order to make the ship lighter, a major portion of its new structures was built using aluminium.
Dining and entertainment facilities on the Color Line fleet ships
Smoke-free restaurants and bars on the Superspeed ships offer several cuisine options onboard. Catch Me If You Can, a buffet restaurant, is located aft on deck eight. The 365 seat restaurant serves Nordic food, children's buffet, soft drinks, beer, wine and coffee.
"Color Line ordered the €250m Superspeed project in December 2005. These vessels were built by Aker Yards (now STX Europe)."
The 340-seater Fly Me To The Moon restaurant is located on deck eight. Here, passengers can find baked goods, salads and vegetable dishes, hot and wok dishes, varieties of pasta and pizza, cakes and desserts. Bluefins Lounge & Bar is located aft on deck seven and eight and can seat 365 persons.
Onboard stores include a Color shop, a fashion shop, perfume and cosmetics, a duty free market and a deli.
The duty free market, including Color shop, is located on deck seven. At Color shop, one can find children's clothing, jewellery, watches, music, films, cameras and other electronic products. Tax-free market also sells products such as wine, liquor, beer and chocolate. The fashion shop and perfume and cosmetics shop are also located on deck seven. A varied range of meat products and delicacies are sold at deli shop.
The Business Class lounge with seating for 93 people and Voyager Class lounge with seating for 261 people are located in the aft section of decks eight and nine. A screen with free TV and internet access is fitted on the back of each chair. There is an extra sitting lounge on deck nine.
The vessels have three main stairways and five elevators. A multideck car deck complex and storage rooms are located on deck six. The entire provisioning of the vessel is handled through a crane installed on the top deck.
Superspeed 1 and 2 Ro-pax ferries propulsion and engines
Superspeed's diesel-mechanical propulsion system consists of four nine-cylinder Wartsila 9L46 main diesel engines, each capable of generating 9,600kW at 500rpm. The vessels are fitted with Rolls-Royce Kamewa-type, twin controllable pitch propellers.
For safe manoeuvring, they are installed with two 2,400kW bow thrusters and a 1,200kW stern thruster supplied by Rolls-Royce. The vessels are also installed with four six-cylinder Wartsila 6L32 auxiliary engines, each generating 3,000kW at 750rpm.
A common-rail fuel injection system allows the vessels to cruise with lower exhaust emissions. The vessel's cruising speed is 27kt.