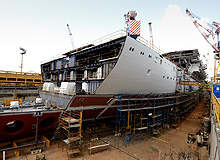 Costa Diadema (also known as Costa Tiara) is a new cruise ship built by Fincantieri at its Marghera shipyard in Venice. Construction of the vessel commenced in 2012. The new cruise ship was delivered to its owner Costa Cruises in October 2014 and is the tenth ship delivered by Fincantieri to the owner.
The vessel was christened at a naming ceremony held in Genoa in November 2014.
"Costa Diadema is the largest cruise ship to fly the Italian flag."
Costa Diadema is the largest cruise ship to fly the Italian flag. The vessel sailed on its maiden voyage in October 2014 from Venice to Savona. Its itineraries include Rome, Florence, Barcelona, Palma, Majorca, Civitavecchia and La Spezia.
The estimated construction cost of the vessel was €550m ($734.5m).
Dimensions and capacity of Costa Diadema cruise ship
Costa Diadema has a length of 306m and a breadth of 37.2m. The vessel is capable of accommodating 4,947 passengers and 1,253 crew members. She has a gross tonnage capacity of 132,500t.
Cruise ship construction
The first block of the vessel's hull was laid in December 2012. The building block measured 29m in length, 15.7m in width and weighed about 504t.
Approximately 3,500 workers and 400 contracted suppliers were involved in the construction of the ship.
Costa Diadema cabins, suites and facilities
Costa Diadema features 1,862 cabins to accommodate its guests. The cabins include 130 in the wellness area, 756 with a private balcony, and 75 suites. A private balcony is also included in 64 suites, while 11 suites are located in the wellness area.
"The vessel is capable of accommodating 4,947 passengers and 1,253 crew members."
A major attraction of the vessel is the Samsara spa covering an area of approximately 7,800m² on four floors. The Samsara spa features a gym centre, spa, sauna, thalassotherapy pool, Turkish bath, steam room and solarium.
The ship features three swimming pools including one with a retractable roof, a multisport pitch, eight hot tubs and an outdoor jogging track.
An outside promenade extending more than 500m on Deck 5 offers breathtaking views of the sea. The vessel also features a library, a shops gallery, Squok Club, and a baby pool.
Restaurants and bars
The new Italian cruise ship features seven restaurants including the Tappanyaki restaurant, Pizzeria Piazza Pizza, Samsara restaurant, Sissi restaurant, Scudo restaurant, and Club Restaurant Diadema.
The Samsara restaurant provides free dinner and lunch for Samsara cabin guests.
The vessel is equipped with 15 bars including Brewery the Flame, the Vinoteca Huit-Huit, the Proseccheria Bubbles Bar, Gelateria Amarillo, and Grand Bar Orlov.
Entertainment facilities aboard Costa Diadema
The cruise ship features a 4D cinema hall, theatres on three levels, a casino, disco, country rock club and internet point. The vessel also features a videogame area on two decks with laser game, laser shooting and video games.
The exclusive Country Rock Club allows guests to relax, listening to classical rock music from international artists, while the Star Laser entertains guests on-board with spectacular laser shows. The 80m² area also hosts birthday parties, private events and celebrations including karaoke and DJ nights.
The entertainment facilities for kids include a Grand Prix race-car simulator, video arcade and an open-air kid's area for children below three years of age.
Other attractions include a pool deck with retractable glass roof and giant screen.
Propulsion and engines
The ship is equipped with six Wärtsilä 12V46 main engines with an output of 75,600KW.
General Electric (GE) supplied six alternators for the electrical generation system and high-voltage switch-boards with a power capacity of 11kV, including transformers and thruster motors for the propulsion system.
The company also supplied four transformers, converters and two low-speed propulsion motors.