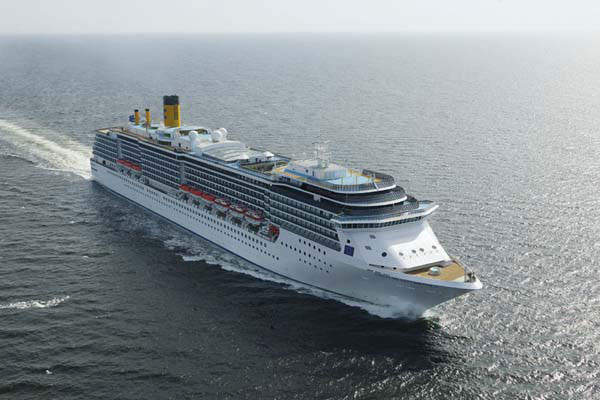 The Costa Mediterranea at sea.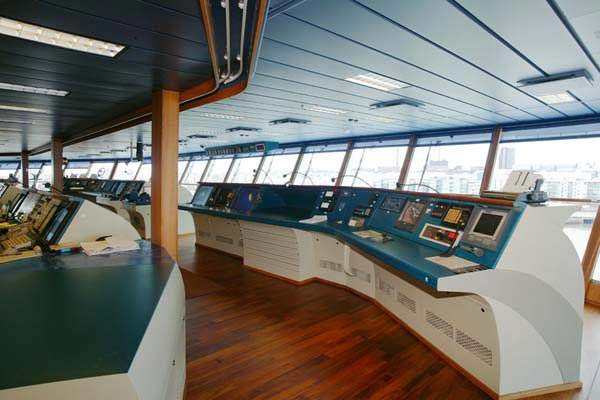 The bridge of the Costa Mediterranea.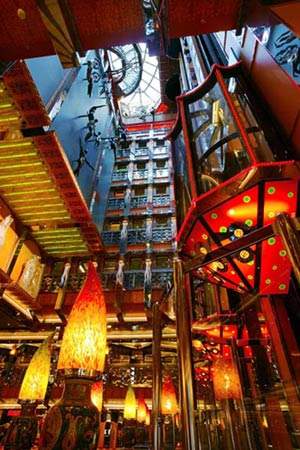 The Atrium - Marchera d'Argento Hall - stretches over ten decks.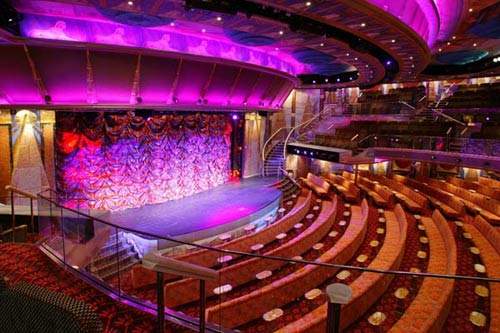 Teatro Osiris is three decks high and seats 1,170 guests.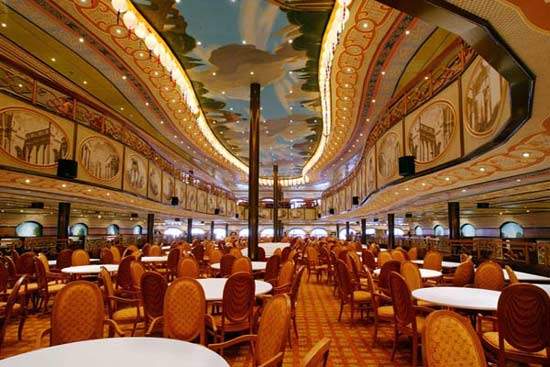 The main restaurant, Ristorante Degli Argentieri, is two decks high and seats some 1,300 guests.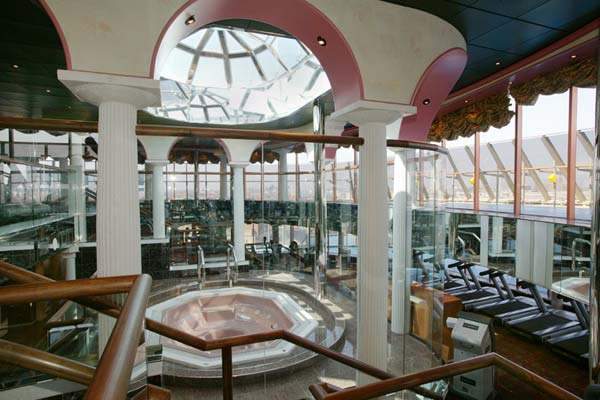 The Gym Olympia on the Costa Mediterranea.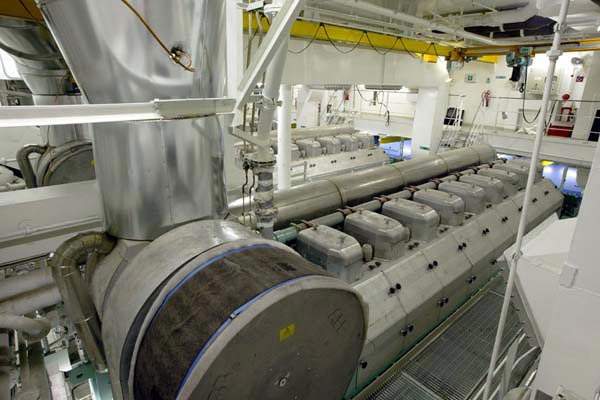 The main engine room of the Costa Mediterranea.
The Panamax size cruise ship Costa Mediterranea was built at the Kvaerner Masa-Yards' Helsinki shipyard for Costa Crociere.
The Costa Mediterranea has an overall length of 292.5m and a maximum breadth of 38.8m. Its draught, is 7.8m.
PASSENGER CABINS AND DECKS
Costa Mediterranea carries a total of 2,680 passengers (2,114 passengers, based on double occupancy) in a total of 1,057 staterooms. The crew capacity is 902 in 509 crew staterooms.
Compared to earlier cruise liners of Panamax-size, the relative number of outside passenger staterooms and staterooms with balcony is very high; 80% of all the 1,057 passenger staterooms face the sea and 70% are fitted with a balcony. This is achieved, compared to the Panamax-ships built in the 1990s, by adding one passenger cabin deck to a more narrow superstructure.
In all, Costa Mediterranea features 12 passenger decks plus four decks below for machinery and crew space.
CRUISE SHIP FACILITIES
At the heart of the ship, the Atrium – Marchera d'Argento Hall – stretches over ten decks. The main lounge, Teatro Osiris, is three decks high and seats 1,170 guests. A new design feature for this series of ships is the location of the show lounge/night club, here the Salone Giardino Isolabella, underneath the main lounge. The main restaurant, Ristorante Degli Argentieri, is two decks high and seats altogether some 1,300 guests.
In order to achieve this, the galley was positioned below the restaurant using escalators for service. The Club Medusa is a supper club located at the top of the ten-deck-high atrium and housed under a glass dome.
The Perla del Lago and Posillipo Pizzeria behind the main pool area are casual Lido-areas with a variety of special dining areas.
There is a two-level health and fitness centre, the Ischia Spa, four swimming pools, one featuring a retractable dome, five whirlpools, a large casino and more than ten themed bars, lounges and public areas for activities and entertainment. In addition, there is a shopping area, a wedding chapel and large facilities for children and youngsters. There is also a library, a conference centre and a cascading water slide.
POWER AND PROPULSION
Costa Mediterranea has a diesel-electric machinery, consisting of six Wärtsilä NSD 9L46D diesel engines with a total power of 62,370kW, each connected to an alternator producing electricity to the ship's main electric network. The propulsion units consist of two azimuthing electric Azipod propulsion units with a power of 17.6MW each. Costa Mediterranea has three 1.91MW tunnel thrusters in the bow. The service speed is 22 knots. Her main dimensions are length overall 292.5m, maximum breadth 38.8m (over the bridge wings), breadth at dwl 32.2m and draught at dwl 7.8m.
The classification society of Costa Mediterranea is the Italian R.I.N.A., and she sails under Italian flag.
R.I.N.A. GREEN STAR ENVIRONMENTAL STANDARD
Costa Mediterranea, as with her sisterships, fulfils R.I.N.A.'s Green Star environmental standard, consisting of two voluntary RINA class notations, CLEAN SEA and CLEAN AIR, setting strict requirements on the ship's design and operation, in order to protect the environment and keep the sea and air clean.
The CLEAN AIR notation sets limits on SOx and NOx emissions from the engines. There is a 3% limit on sulphur content in fuel that can be burnt. R.I.N.A. also sets requirements for refrigeration gases and their containment in the event of an accident and sets controls for incineration plants.
The systems include two 1,400kW incinerators and a food waste system with vacuum transportation from feeding stations in all galleys and food preparation areas, as well as processing for burning in the incinerators and a recycling and storage system for glass, metal, ash and paper, including a new automatic ash transport and packing process.