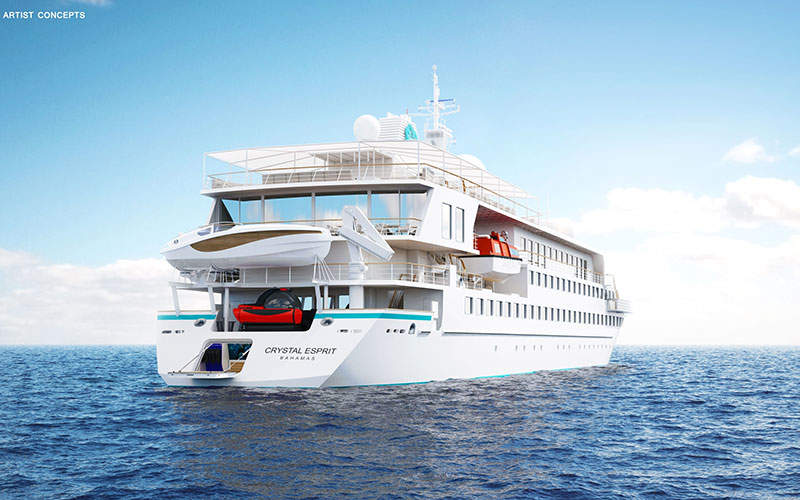 Crystal Esprit is a new class of luxury yacht launched in December 2015. Image courtesy of Crystal Cruises.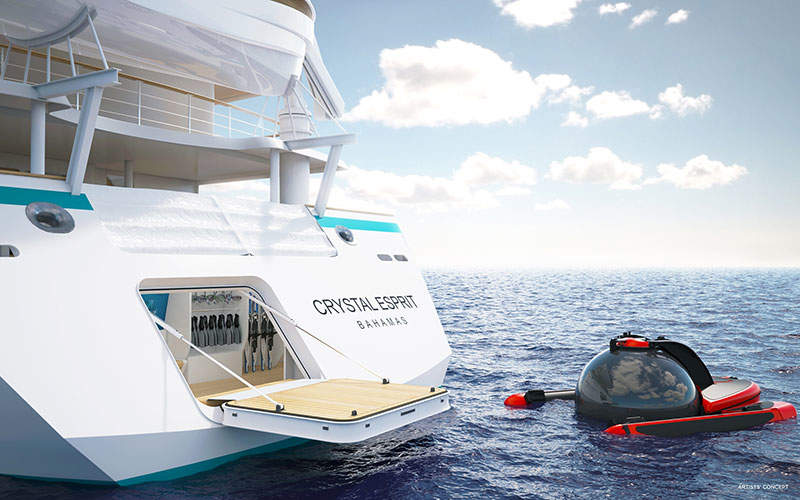 The luxury yacht carries a small submarine that will offer 30min rides to two passengers. Image courtesy of Crystal Cruises.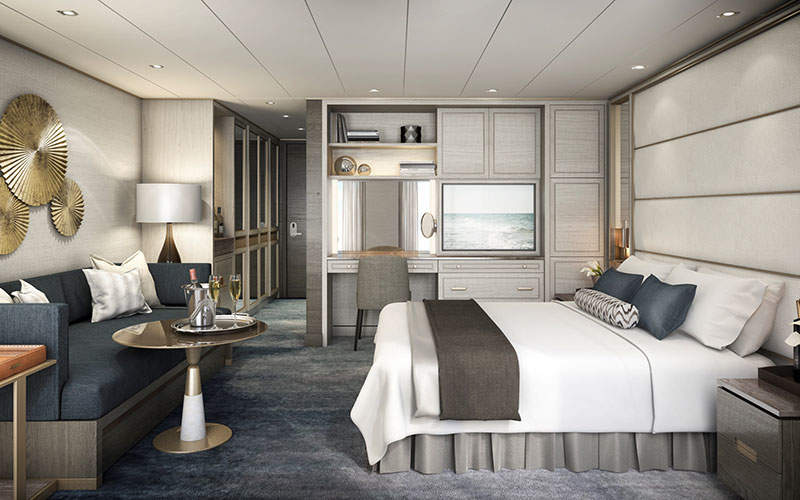 Yacht suites aboard Esprit offer queen-size beds. Image courtesy of Crystal Cruises.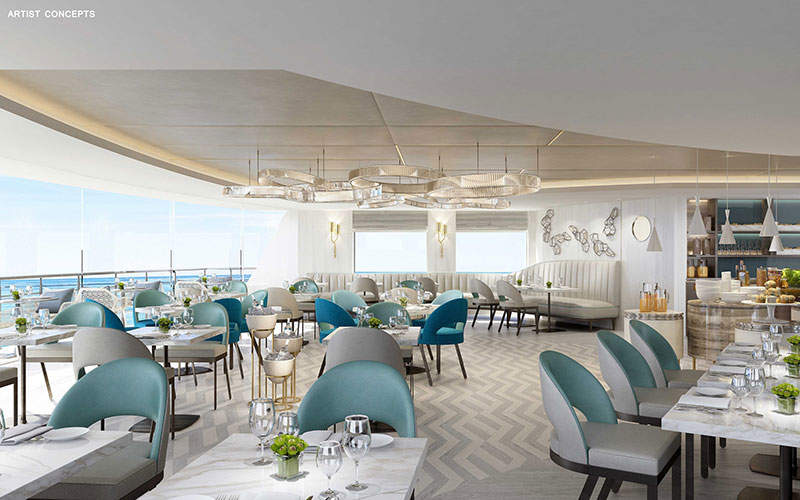 The patio café on Deck 4 offers creative salads, cheeses and pastries. Image courtesy of Crystal Cruises.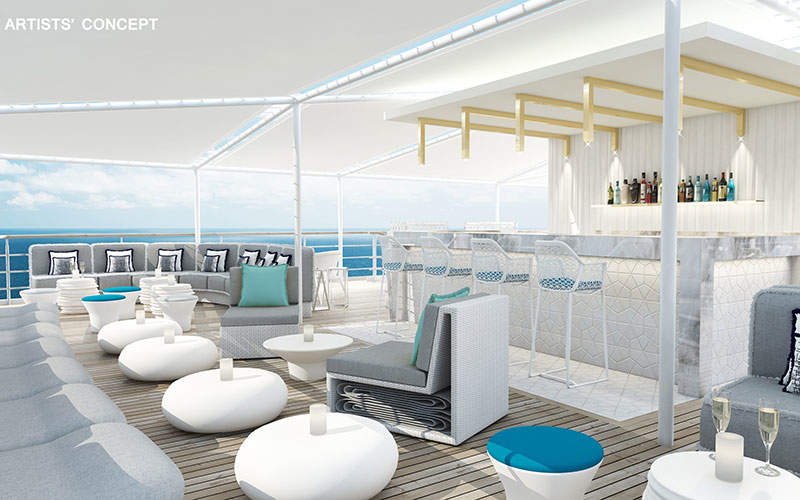 The yacht's top deck features a Sunset Bar. Image courtesy of Crystal Cruises.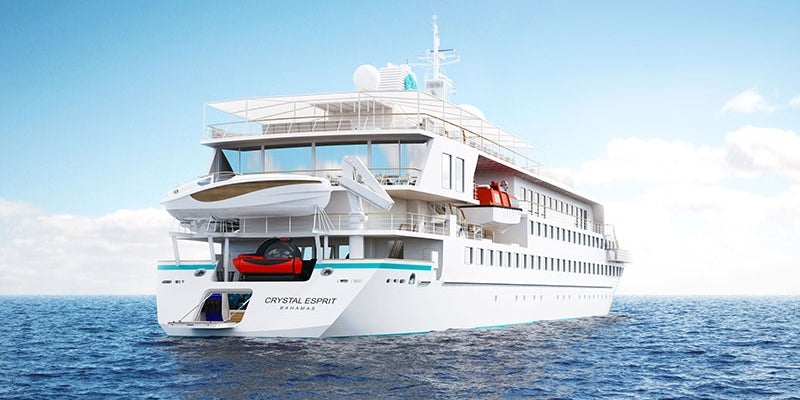 Crystal Esprit is the first ultra-luxurious yacht launched by Crystal Cruises, a cruise operator based in the US. Introduced as a part of the Crystal Yacht Cruises programme, the luxury yacht was christened in December 2015 at Eden Island Marina in Mahé, Victoria, Seychelles.
The vessel marks the beginning of one of the most significant brand expansions announced by Crystal Cruises in July 2015. The expansion will introduce three new classes of cruising, including Crystal Yacht Cruises (December 2015), Crystal River Cruises (2016) and Crystal Exclusive Class Ocean Cruises (2018).
The 3,300t yacht was extensively redesigned by Genting Hong Kong (GHK), the line's parent company, to reflect the stylish elegance and to cater the world travellers seeking an ultra-luxurious and exclusive cruise experience.
Crystal Esprit cruise ship design and features
The yacht features a shallow draft, which allows it to reach secluded harbours, coves and islands that are not accessible to larger cruise ships.
In addition to high-end finishes and modern technology, the vessel features a two-passenger submarine, four ten-passenger zodiacs for special excursions and a 12-passenger super yacht tender for special boating adventures.
Deck plan
The luxury yacht features four decks. Deck 2, also called Seabreeze deck, houses owner suites, yacht suites, pantry, reception, compass room and submersible platform. Deck 3 or Horizon deck features only yacht suites, a spa, doctor's cabin and a casino.
Crystal deck or Deck 4 doesn't have any accommodation facilities, and features a Yacht club, restaurant, patio cafe and a cove. Deck 5 or Sunset deck, which is the top deck, features a sunset pool and deck, sauna, gym, sunset grill, and a bar.
Accommodation aboard Crystal Esprit
Crystal Esprit has a total of 31 guest suites with a total of 62 berths, on Decks 2 and 3. Two types of suites are available namely Owner's suite and Yacht suite.
The owner's suite is a 515ft² facility with a living room, bedroom and bathroom, and can accommodate two adults. Living room facilities include metal screen with integrated TV, sofa with two end tables and two chairs. The bedroom features a king-size bed, custom bench at foot, flatscreen TV and a chair with side table.
Other facilities include bar with under-counter built-in fridge, four-seat dining table and a custom closet, bedside iPad, internet connectivity, and an USB port.
Two categories of Yacht suites are available; category-1 offers 280ft² facilities, while category-2 has 223ft² rooms. Both offer similar facilities except for a few differences in bed sizes and other facilities.
"The vessel marks the beginning of one of the most significant brand expansions announced by Crystal Cruises in July 2015."
The suites come with a bedroom and bathroom. The bedroom features a seating area with a sofa, lounge chair, mini-bar fridge, custom closet and a king-size bed. The other category of suites provides a queen-size bed. Other facilities include night stands, flatscreen TV, interactive iPad and internet connectivity.
The yacht can accommodate a crew of 91 members, has a guest space ratio of 53:9 and guest to crew ratio of 47:1.
Restaurants onboard the luxury yacht
Crystal Esprit offers a variety of dining facilities mostly on Decks 4 and 5. The Yacht Club Restaurant on Deck 4 offers contemporary and classic specialities along with innovative menus prepared using local ingredients. The restaurant serves breakfast, lunch and dinner.
The Patio Cafe on Deck 4 serves regionally-inspired dishes in small plates, salads, pastries and cheeses. It offers breakfast and lunch in both indoor and outdoor settings.
The Sunset Grill on Deck 5 is another dining place, which serves quick bites such as burgers, wraps and location-specific global street food.
Deck 2 features a Pantry which is a self-service bistro and a wine bar, which will be open 24h a day. It offers selective coffees, vintage wines, light snacks and freshly baked pastries.
In addition, complimentary wines, champagne and premium spirits, an open-bar service, are available throughout the yacht. Non-alcoholic beverages such as bottled water, coffee drinks, soft drinks, fresh juices and afternoon tea service are also available.
Entertainment facilities
Destination leaders will provide a cultural insight depending on the location. Cove lounge on Deck 4 plays movies, conducts sporting events and more. Evening entertainment at the lounge includes piano player / singer. Special activities such as yoga, meditation, photography, even drone flying are available under expert supervision.
One special feature of the vessel is the submarine, which has the capacity to hold three people including the captain. It goes as deep as 1,000ft underneath the water and enables the passengers to experience deep sea life, which is not possible through snorkelling or diving. The yacht offers 30min excursions in the submarine.
Adventure activities include both cultural and soft / extreme adventures, depending on the port. Marina / watersports include a variety of amenities and sports equipment. Two ten-passenger Zodiacs and a wide variety of aquatic equipment, including water skis, wake boards, kayaks, jet skis and snorkel equipment, are available.