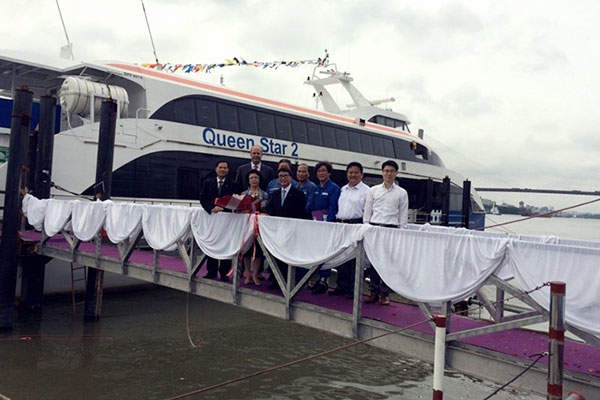 The DFFe 4010 is a new fast ferry series developed by Damen Shipyards. Image courtesy of Seaworld Express Ferry Co. Ltd.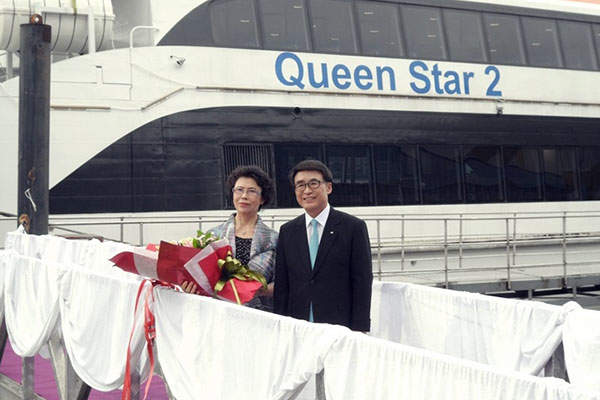 The fast ferry can carry 450 personnel onboard. Image courtesy of Seaworld Express Ferry Co. Ltd.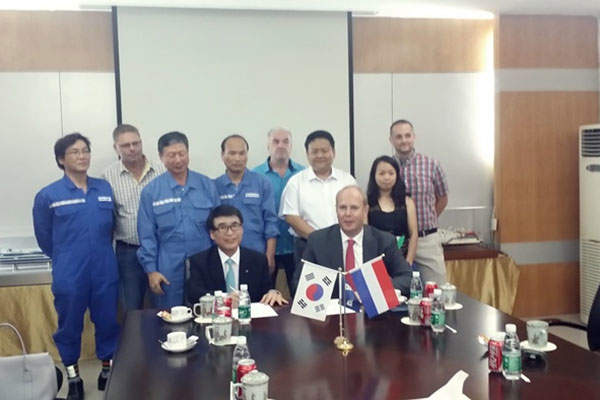 The first DFFe 4010, Queen Star 2, was handed over to Seaworld Express Ferry in August 2015. Image courtesy of Seaworld Express Ferry Co. Ltd.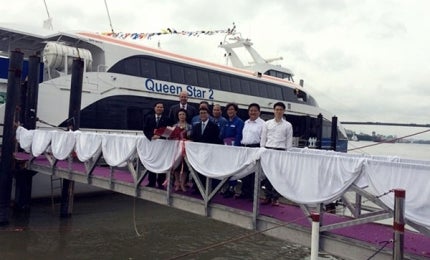 The Damen Fast Ferry 4010 (DFFe 4010) is a new series of passenger ferries developed by Damen Shipyards Group. The fast ferry complements Damen's ferry product line-up, which includes DFFe 4212, DFFe 3609 and DFFe 3209.
Queen Star 2, the first vessel in the DFFe 4010 series, was delivered to South Korean firm Seaworld Express Ferry in August 2015. The vessel sails for a three-hour itinerary between Usuyoung Port and Jeju Island via Chujado Island.
DFFe 4010 design and features
The DFFe 4010 is a customised fast ferry design based on proven hull design and in-service experience gained by Damen. The ferry exceeds the demands of passenger comfort and speed. Its hull and superstructure are made of aluminium.
---
---
Ampere (formerly ZeroCat) is a groundbreaking ferry constructed for Norled by the Norwegian Shipyard Fjellstrand.
---
The ferry's interiors are designed to meet local conditions and requirements. The colours and livery of interiors, floor coverings, seat trim and arrangement, as well as external seating can be customised according to the customer requirements.
The DFFe 4010 has a length of 39.95m, beam of 10.70m, depth of 3.80m and draught of 1.5m. It complies with the 2000 HSC Code to assure the passenger and crew safety.
The fast ferry has the capacity to carry 450 personnel onboard including crew and passengers. It allows the carriage of 5kg in luggage per passenger. The tankage aboard the vessel can store 10,000l of fuel, 1,500l of fuel, 1,500l of sewage and 300l of bilge.
Accommodation facilities
The DFFe 4010 accommodates 350 passengers on main and upper decks. The comfortable seating, with a lifejacket under each seat, offers superior luxury and safety. The vessel incorporates 12in/32in TV screens and a DVD player for onboard entertainment.
The storage spaces are positioned close to exits and sanitary places and furnished with stainless-steel apertures. The onboard air-conditioning system is designed for local summer and winter conditions. The entrance doors include air curtains.
"Queen Star 2, the first vessel in the DFFe 4010 series, was delivered to South Korean firm Seaworld Express Ferry in August 2015."
The ferry is also furnished with stainless-steel railings, pillars and handgrips, and a bar/kiosk for hot and cold refreshments. The kiosk integrates controls for the entertainment system. The boat has six toilets for guests and a single washroom for disabled passengers.
The fast ferry can be equipped with an entertainment system, electrically controlled boarding gangways, upper deck kiosk, aluminium racks for stowage of overhead luggage, DAMOS planned maintenance system, onboard ticketing and destination indicators.
Navigation and communications
The ferry is fitted with a modern and ergonomically designed wheelhouse console integrating HSC 2000 cat A. electronic equipment, GMDSS A2 Nav Com equipment, three seats for helmsman (centre line), captain (SB) and engineer (PS), as well as sun roller screens and wing control stations at both SB and PS.
The onboard navigation and communication systems include JRC JMA-5312-6 X-band radar, JRC JMA 5332-12 S-band radar, Alphatron Alpaminicourse gyro compass, Alphatron Alphachart T electronic chart display and information system (ECDIS) and Alphatron CONS voyage data recorder (VDR) F1.
Propulsion of the fast ferry
The ferry is powered by two MTU 16V4000 M63L diesel engines. Each engine drives a marine jet power (MJP) waterjet via a ZF 9350 non-return valve gearbox. The propulsion system develops a total power output of 4,480bkW at 1,800rpm.
The DFFe 4010 is also available with Servogear controllable pitch propellers. The shipboard electricity is produced by two Caterpillar C4.4 generators, which have a rated power of 86KWe each.
The vessel features a spacious unmanned engine room and an efficiently designed pump room. The propulsion offers high power and superior efficiency, while causing low noise and vibration levels. The simple propulsion layout ensures easy access for maintenance.