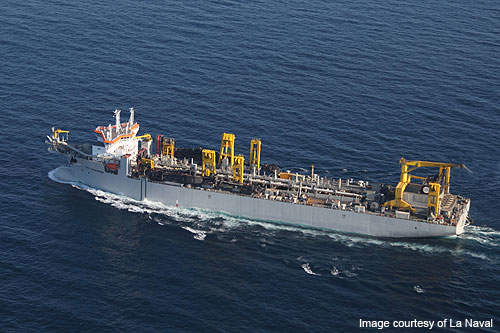 The fully loaded vessel can cruise at a speed of 18kt.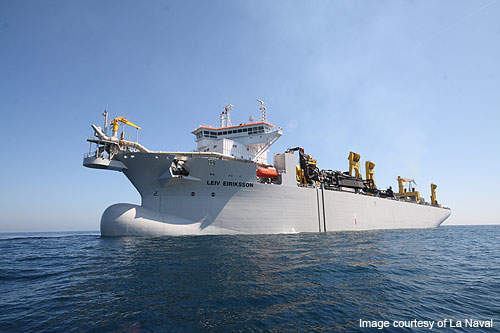 With a hopper volume of 46,000m³, the vessel is one of the largest dredgers in the world.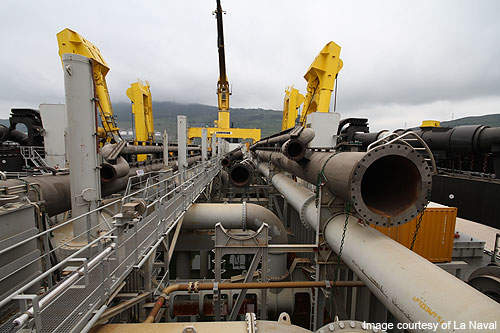 The vessel is fitted with two suction pipes and two electrically driven shore discharging dredge pumps.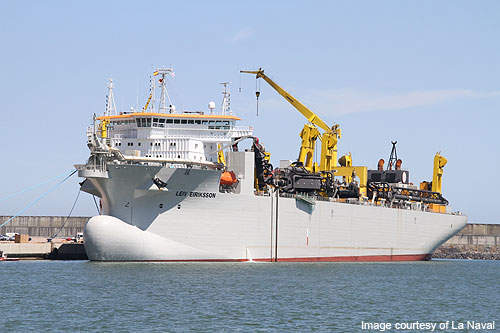 Leiv Eiriksson can dredge sand and rocks to a maximum depth of 142m.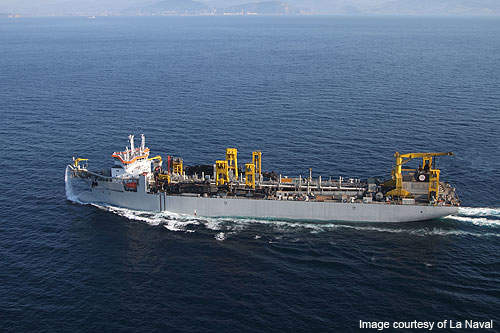 The deadweight of the vessel is 78,000t.
Leiv Eiriksson is a trailing suction hopper dredger (TSHD) that was delivered in May 2010. With a hopper volume of 46,000m³, it is one of the largest dredgers in the world. Its sister ship Cristobal Colon, launched in July 2008, is the world's largest TSHD.
Ordered by Dredging and Maritime Management, a subsidiary of Jan De Nul (JDN) Group, the vessel was built by Construcciones Navales del Norte in Spain. Indar Electric supplied two main generators, two jet pumps, two submersible motors, three tunnel thruster motors and two shore discharging pumps for the vessel. Ingeteam Marine installed an advanced diesel-electric propulsion system. Side-thrusters were supplied by Wartsila Iberica.
Leiv Eiriksson design
The 78,000t deadweight vessel has an overall length of 213m and breadth of 41m. Length between perpendiculars is 196m, loaded draught is 15.15m and depth is 20m. The fully loaded vessel is capable of cruising at a speed of 18kt. A total of 46 persons can be accommodated on the ship.
With a diameter of 1,300mm, the two suction pipes fitted with electrically driven underwater dredge pumps allow the vessel to dredge sand and rocks to a maximum depth of 142m. Dredged material is discharged by two electrically driven shore discharging dredge pumps.
The total trailing pump power is 13,000kW (2 x 6,500kW), while the total discharging pump power is 16,000kW (2 x 8,000kW).
TSHD construction
Built at La Naval shipyard in Sestao, Spain, the vessel was ordered as part of JDN's newbuilding programme of 27 capital dredgers. The keel-laying ceremony was held in August 2008. By August 2009, the hull was completed and the ship was outfitted with pumps, winches, gantries and cranes.
The vessel was launched in September 2009 and, for further completion, it was berthed at the outfitting quay of the shipyard.
"The 78,000t vessel is 213m in length."
Installation of hydraulic systems, electric cables and piping work took place after the completion of steel work. Painting, fuelling up, rigging, fastening and team-building were done in late winter 2010. Systems and sub-systems were started and the vessel's components were also checked during this period.
Sea trials took place in April 2010 with 140 people on board. After the completion of sea trials, the vessel was dry docked at the old port of Cadiz for cleaning, trimming and re-painting. Dredge trials were carried out in May 2010 at the port of Bilbao.
Vessel propulsion
The vessel is fitted with two MAN 16-cylinders, vee-configuration type 48/60B medium speed main engines and complete propulsion trains. Each rated 19,200kW at 514rpm, the two engines provide power for both working and propulsion functions. The two controllable pitch propellers are driven through single input and output shaft reduction gears. In addition, the engines drive two 18,500kW shaft generators that in turn generate electricity required for working functions during dredging operation.
"Suction pipes fitted with electrical dredge pumps dredge sand and rocks to a maximum depth of 142m."
Hotel load for the crew members is covered by a nine-cylinder, in-line MAN Diesel generator set of type 27/38 engine, rated 2,970kW at 720rpm.
The MAN Diesel 48/60B medium speed engines were chosen because of their robust load acceptance characteristics. Offered in 6, 7, 8 and 9-cylinder in-line and 12, 14, 16 and 18-cylinder vee-configuration versions, these engines have a standard rating of 1,200kW per cylinder at 500 and 514rpm respectively.
The two main engines use heavy fuel oil and each has an overall length of 13,100mm and dry mass of 236t. The engines feature single input/single output reduction gears.
In order to achieve smooth manoeuvrability, the vessel is fitted with three side thrusters, two of these are installed forward and one aft. Driven by an INDAR electric motor, each of these side thrusters has its own hydraulic and control system.
Navigation and communications
For safe navigation and smooth communication the vessel is equipped with a magnetic compass, two gyrocompasses, rudder angle indicator system, two depth finders, Doppler speed log ship security alert system, electronic chart display and information system, voyage data recorder system, two wind sensors and a telecommunications system.
The vessel is also equipped with two radars, two satellite navigation systems and automatic identification system.
The dynamic positioning system includes two control stations on the navigation console and one on each lateral bridge console, two variable reluctance sensors and two uninterruptible power supplies.