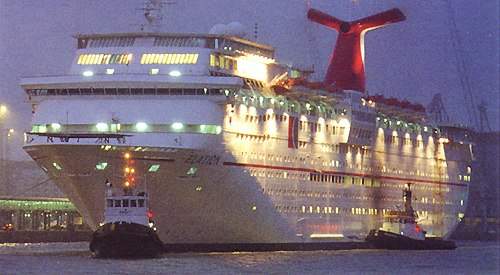 Elation departing for sea trials.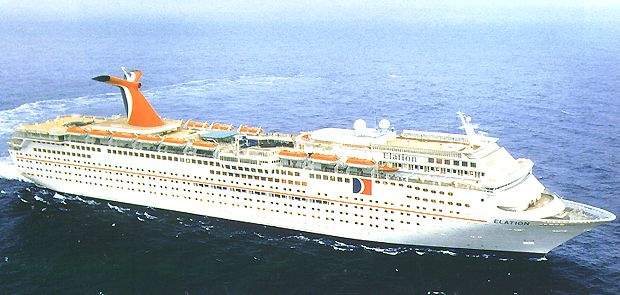 Elation's turning circle diameter at full speed, reduced by approximately 30% over previous fantasy-class vessels.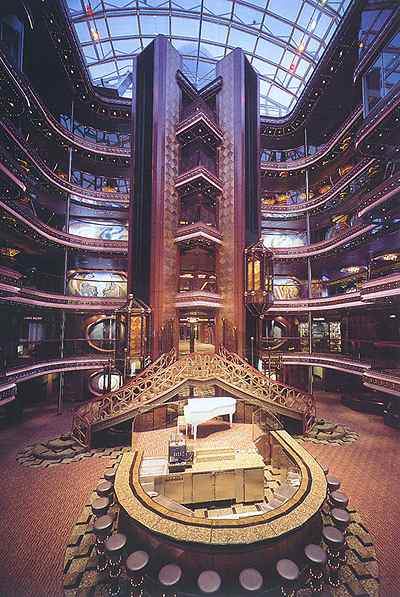 Impressive elevators within Elation.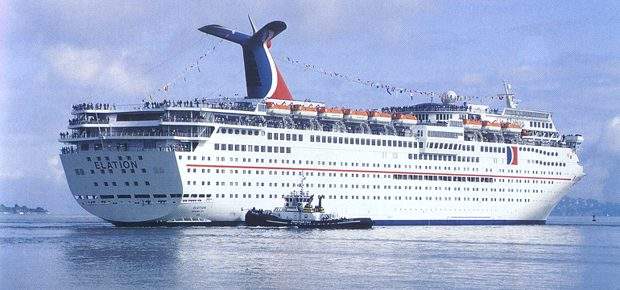 A view of Carnival's Elation cruise liner from the stern.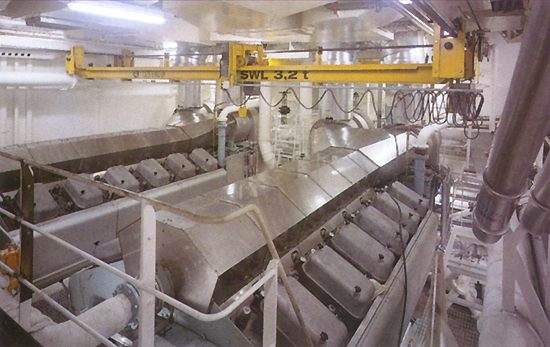 The main engines are six Wärtsilä 12V38 medium-speed diesel engines.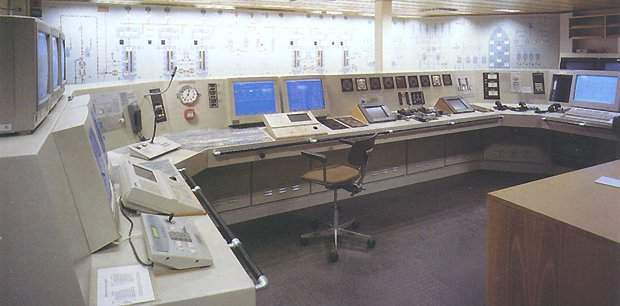 The machinery control room.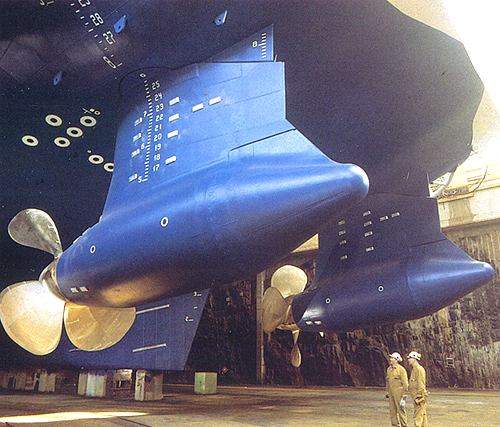 The Azipod propellers.
The $300m Elation is one of a series of Carnival Cruise Lines Fantasy cruise liners, of which eight vessels were constructed at the Kvaerner Masa Yard in Helsinki, Finland. These fantasy-class vessels form the longest single series of cruise liners ever built. Elation was delivered in 1998.
The Elations' sister ships include the Fantasy (delivered 1990); Ecstasy (1991); Sensation (1993); Fascination (1994); Imagination (1995);Inspiration (1996); and Paradise (1998). The vessel currently sails on four and five-day itineraries to Baja, Mexico, from its home port in San Diego, California.
DESIGN
Carnival's Elation was the world's first cruise ship to feature the unique electric azimuthing Azipod propulsion system which, unlike conventional propulsion, pulls a ship through the water rather than pushes it. During sea trials, the Elation achieved an 8% increase in propulsion efficiency versus Carnival's existing Fantasy class ships, which has resulted in fuel savings of approximately 40t per week. A dramatic improvement in manoeuvrability was also noted, with the vessel's turning circle diameter at full speed reduced by approximately 30% over previous fantasy-class vessels.
FACILITIES
The general layout of the vessel follows that of previous ships in the series, with crew accommodation, stores, and machinery spaces below Deck 4. Decks 4 to 7 are passenger cabin decks. Total passenger capacity is 2,594 with 920 crew.
The vessel has 1,020 staterooms, including 28 outside suites; 26 outside demi-suites; 564 outside twins; 383 inside twins; and19 inside upper and lowers.
The ship's vast six-deck atrium and promenade were embellished with floor-to-ceiling columns and finely crafted classical reliefs. On Deck 7 (empress deck) is the main passenger entrance to atrium plaza. The ground level of the six-deck high atrium, with panorama elevators, is covered by a glass dome at sun-deck level (Deck 13). On the ground plaza is the plaza bar.
On the Atlantic deck are the two main dining rooms: the imagination restaurant (forward) and the inspiration restaurant (aft), separated by a galley. The two-deck main show lounge, the mikado, seats more than 1,200 guests. Also on the same deck are Duke's piano bar, the Mark Twain library, a card room and the galleria shopping mall. There is also a conference room with a 100-guest capacity.
A children's world has now been installed on the sports deck (Deck 12), and was expanded to offer youngsters a spacious, engaging activity centre with computer and video games, playground equipment and crafts.
Other facilities include the Beauty Salon; Spa Carnival and Gym; deck jogging track; and Casablanca casino.
PROPULSION
Elation is fitted with two 14MW Azipod propulsion units. The Azipod propulsion unit azimuths through 360° and incorporates an electric AC motor, located inside the propeller pod. The Azipod propulsion system was developed by Kvaerner Masa-Yards and ABB Marine. In addition to savings in weight, space and construction hours, Azipods eliminate the need for rudders, long shaft lines, conventional drive units and stern thrusters, thus occupying less overall space on-board the vessel. They are also designed to make a cruise ship easier to steer and manoeuvre, while achieving fuel savings through improved hydrodynamic efficiencies.
The diesel-electric power plant on the Elation features six Wärtsilä 12V38 medium-speed diesel engines, with a total power output of 47,520kW (64,600hp). These are placed in two separate engine rooms. Each diesel drives an ABB 11,000kVA AC alternator, supplying electric power to a main electric high-voltage bus bar of 6.6kV 60Hz, three phase, from which the main propulsion motors and other large consumers are supplied. The power for the two 14MW synchronous electric AC motors located in the propeller pods of Azipods are controlled by cycloconverters supplied by ABB.