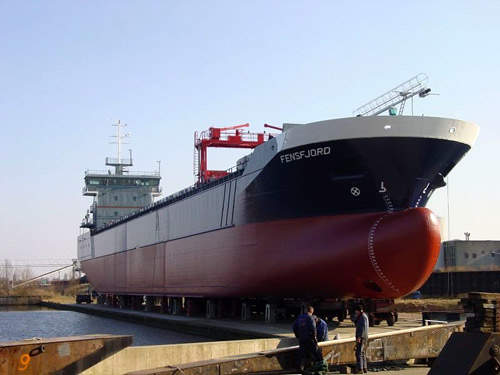 Fensfjord is a general cargo vessel built by Peters Shipyard.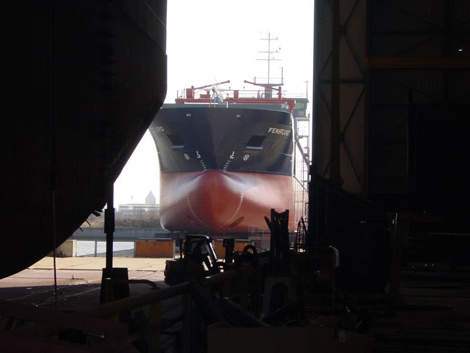 The ship being fabricated.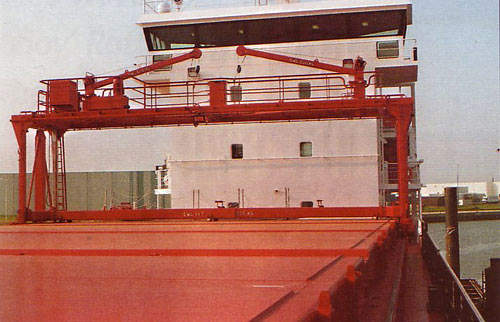 The holds are covered by hatch covers, handled by a crane.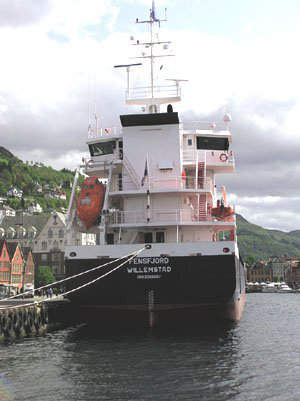 The ship has a four-bladed controllable pitch propeller.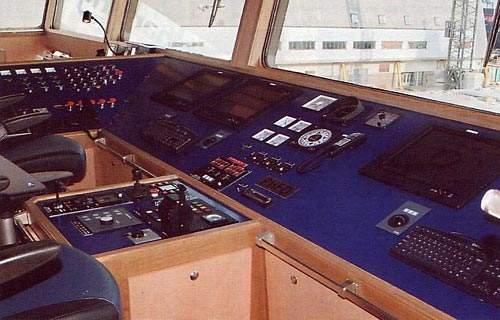 The bridge features a digital integrated navigation system supplied by Radio Holland.
Fensfjord is the sixth of a series of general cargo vessels built by Peters Shipyard in the Netherlands for Norwegian owners Fonnes Shipping. The fleet is managed by Wagenborg shipping. The sister ships include Altena, Cito, Cora Jo, Navitas and Sirocco. The design and equipment of the vessel is fully compliant with the Finnish and Swedish Ice Class 1B.
DESIGN
The Fensfjord is a single deck vessel, with a forecastle deck and flush main and poop decks. It has an overall length of 111.4m or 107m between perpendiculars. The ship has a 13.4m breadth, a 9.1m depth and a draught of 5.7m. It registers 3973 gross tons, has a net tonnage of 1564t and deadweight of 6000t. The total container capacity is 252TEU, of which 108 are carried on the deck.
The ship has two box-shaped holds, separated by a bulkhead with ventilation and access shafts. The cargo hold section has a double bottom with 1m spacing between the skins, with the aft tanks used for heavy fuel oil and the centre tanks used for water ballast.
The forward hold measures 18.7m by 11.2m by 9m, while the aft hold measures 59.9m by 11.9 by 9m, giving a total hold volume of 7923m³. There are two removable grain bulkheads with flush sides. Four fans provide ventilation, allowing six total air changes per hour.
"The design and equipment of the vessel is fully compliant with the Finnish and Swedish Ice Class 1B."
The holds are covered by Roden Stal pontoon-type hatch covers which are handled by a travelling Van Wyck hatch cover crane. The steel top is capable of withstanding cargo loads of 15t/m³. A Locopias loading computer is used to calculate stability, grain stability and longitudinal strength. Using automatic tank readings, it allows the ship to be loaded with maximum stability and trip.
PROPULSION
The propulsion is based on a Wartsila four stroke diesel engine type 6L26 A. This gives a maximum continuous rating of 2025kW at 1000revs/min. The engine is linked to Flender GRS600 AP gearbox (with a ratio of 4.52:1) via a flexible coupling. This is connected to a KaMeWa four-bladed high skew 791/4 controllable pitch propeller.
This has a diameter of 2,950mm. Control of the engine and propeller is carried out by KaMeWa control systems located in the wheelhouse and engine room. The design gives it a speed of 11.7 knots and loaded draught. The ship design gives it low fuel oil consumption.
Steering is carried out by a Barkemeyer flap rudder and there is also a Veth bow thruster unit for manoeuvring in port. The anchoring is carried out by two 1845kg Pool-type anchors with 467m of 38mm-diameter anchor chain. These are handled by a Hatlapa windlass which features two nest sheaves. There is also an electric capstan at the aft of the ship.
Power is provided by two generator sets as well as from a power take-off located on the main engine. The two gensets consist of 150kW Sisu diesel engines driving Stamford generators. The PTO shaft generator is a Stamford HCM 534D unit which delivers 435kVA of power. There is also an emergency system consisting of a 70kW Sisu 420 DSG diesel engine and a Stamford Generator.
The bridge features a Blue Line digital integrated navigation system supplied by Radio Holland. It consists of a track and route pilot. There are also Furuno radar scanners.
The Fensfjord is registered by Lloyds under the notation 100 A1 LMC UMS Strengthened for Heavy Cargoes, Container Cargoes in holds and on hatch covers, Finnish Swedish Ice Class 1B FSCA. It complies with the Netherlands shipping inspectorate Solas II regulation 54, unrestricted service.