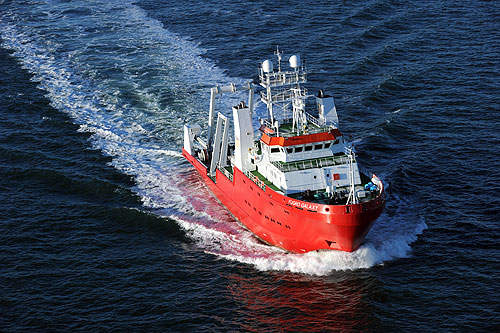 Fugro Galaxy is a DP1-class geophysical survey vessel.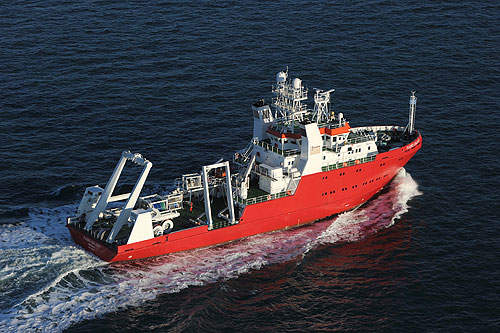 Fugro Galaxy commenced its operations in March 2011.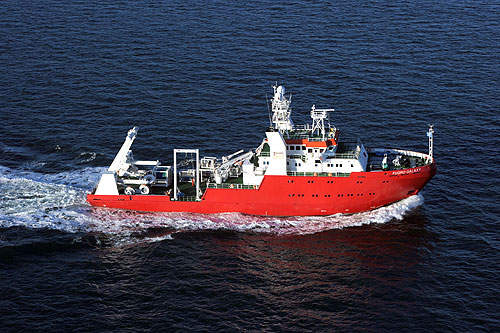 The vessel is among the most advanced survey vessels of its kind.
Owned by Fugro Group, Fugro Galaxy is a DP1-class geophysical survey vessel that started its operations in March 2011. It is the second vessel in the Fugro Standard Survey Vessel (FSSV) 65 series. The first, Fugro Searcher, was delivered in March 2010. The two vessels are amongst the most advanced survey vessels of their kind.
The vessel was built by Fassmer Shipyard in Bremen, Germany, and is operated by Fugro Survey of Aberdeen, UK.
Fugro Galaxy has been built as the company plans to remove older vessel from its fleet.
Fugro Galaxy design
The vessel is based on FSSV 65 series. Vessels built to this design have an optimised hull shape and specially designed propulsion system, which allows the vessel to cruise quietly and use less fuel. The designed cruising speed is 10kt, while maximum speed is 13kt.
The vessel was designed in such a way that it can concurrently carry out analogue and digital survey operations, and AUV operations. Due to its permanently mobilised geophysical and hydrographic survey spreads, the vessel can be rapidly deployed.
The 1,929t vessel is 65m long and 14m wide. Draught including gondola is 5.2m and deck load varies is between 70t and 75t. Fuel storage capacity is 375m³, while fresh water storage capacity is 165m³.
Fugro Galaxy construction
An agreement for construction of the vessel was signed in 2008. The hull was built and delivered from Maritm SY yard, based in Poland, in May 2010. The vessel was launched in November 2010 in Bremen and was delivered in March 2011. Its hull and superstructure are made of A-grade steel.
"The 1,929t vessel is 65m long and 14m wide."
Accommodation
Up to 42 people can be accommodated in double and single cabins. These are fully air-conditioned, have bathrooms with showers and are fitted with a TV. The mess hall includes leisure area, and there is a gym on board. Internet access is also available.
Propulsion
The vessel has diesel electric propulsion system. Two rudder propellers of 1,100kW each are driven by three diesel generator sets, each of which is capable of generating 910kW. One 400kW electric bow thruster helps in smooth manoeuvring. For emergencies, there is a 166kW emergency generator set. Clean power is provided by one L3 UPS of 40kVA.
Navigation and communications
The fully networked vessel is fitted with dual Differential GPS (DGPS) and a HiPAP acoustic underwater positioning system. Control and navigation equipment includes propulsion control autopilot, DP system as well as backup DP system, two radars, two electronic chart, one magnetic compass, two gyros, a speedlog, an echosounder, an automatic identification system, navigational telex and a voyage data recorder.
Communications systems include Sailor 5000 MF/HF, two TT3000 Inmarsat C, twoRT5022 VHF, Motorola CM340/GP330 UHF, V-SAT and CCTV.
Equipment
"The ship is specially designed to cruise quietly and use less fuel."
The vessel is equipped with a knuckle boom crane with a safe working load of 3t and outreach of 12m. A 20t safe working load Hydraulic A-frame crane is located aft and another 7.5t safe working load hydraulic A-frame crane is located starboard. The vessel also has two 2.5t sliding booms.
The vessel will carry out its survey operations with the help of EA400 single beam echo sounder, EM710 multibeam echo sounder and Topas PS40 sub-bottom profiler.
This equipment is mounted on the vessel's hull. The vessel also has Edgetech 4200 digital side scan sonar and towed low frequency Chirp Profiler. Digital seismic recording is done by NTRS2 144. For gun source arrays, the vessel is equipped with six Sercel Mini G Guns with 140 cubic inch array. Seabed sampling is carried out by 3/6m gravity corer grab sampler.
Other survey equipment includes a motion reference unit, two sound velocity probes, a hydrophone streamer, digital logging, a gel-filled 6.25m streamer and depth controllers.
Safety equipment and accessories include a rescue/MOB boat, four life rafts, 42 survival suits, 100 life jackets and 12 work vests.