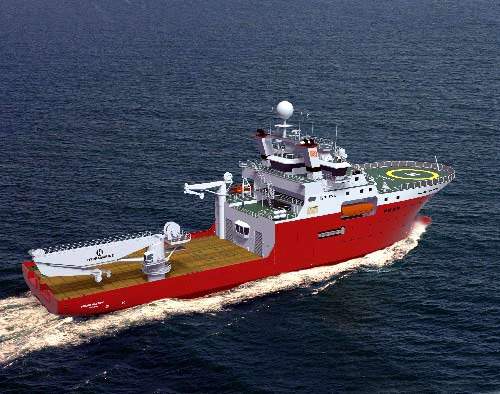 The Fugro Saltire on sea trials.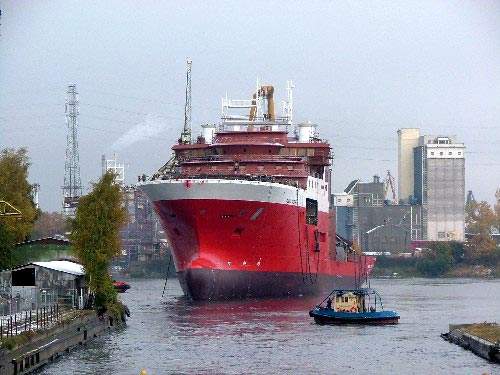 The Saltire leaving the Bergen Mekaniske Verksted shipyard.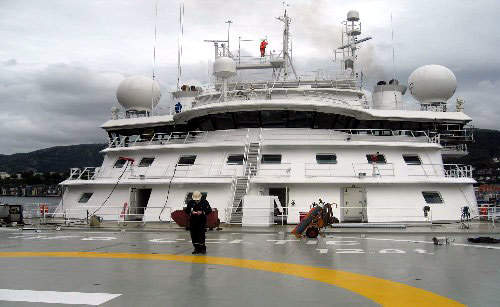 The bridge of the Fugro Saltire.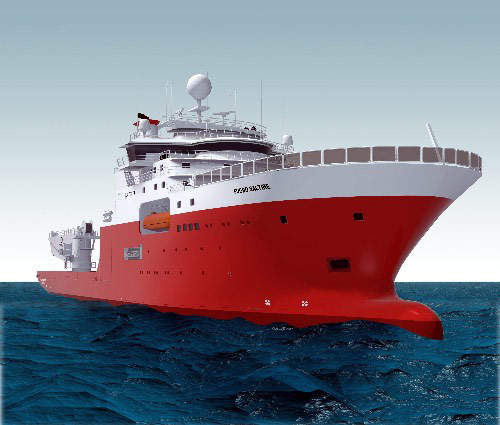 The Saltire is designed to provide ROV support.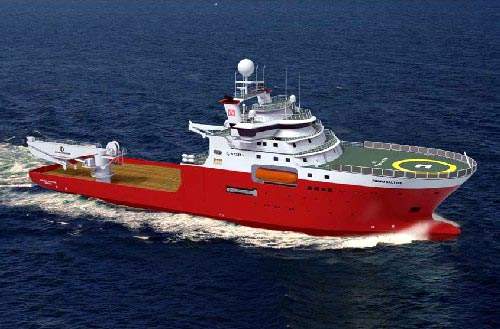 The vessel can spend 50 days at sea without having to put into port.
Fugro is a technical consultancy providing subsea surveying and data interpretation services for the oil and gas industry. Fugro-Rovtech Limited, a division of Fugro, provides remotely operated vehicle support vessel (ROVSV) services for third party ships, mobile offshore drilling units and its own DP2 vessels.
In May 2006, Fugro signed a contract and long-term charter for a new ROVSV – the Fugro Saltire. The vessel is owned by E Forland Shipowners and Fugro-Rovtech and will provide offshore construction and subsea support services alongside Fugro's FCV 3000 remotely operated vehicles (ROVs).
The ship provides support, inspection, repair and maintenance services. The agreement has an option for the vessel to be purchased after 2013.
At 6,500t, the craft is 111m long and 24m wide. It is the sister ship of Fugro's Geo Celtic seismic vessel.
The Fugro Saltire was constructed at the Bergen Mekaniske Verksted shipyard in Bergen, Norway, and delivered in May 2008.
SALTIRE SPECIFICATION
The Fugro Saltire is a DNV+1A1-class vessel, and is equipped with a Simrad SDP21 system interfaced to the Fugro SeaSTAR DGPS, two Simrad HiPAP 500 USBL acoustic systems, a Seapath 200 and a Fanbeam laser system.
There are also numerous 500kVA power, fuel, water and air points around the 1,100m² deck area for contract work use. There is also a helideck designed for a Sikorsky S61 / S92 helicopter with a maximum load of 12,800kg.
ENGINES
The ship is equipped with four Rolls Royce 4,160kW diesel engines and two auxiliary engines (CAT 3408 39kW and CAT SR4 462kVA). The bow is equipped with one 1,400kW azimuth and two 2,000kW tunnel thrusters. There are also two 1,400kW azimuth stern thrusters. The cruising speed of the ship is 16k.
CONSTRUCTION
Norwegian Deck Machinery supplied anchor winches with cable lifters, chain stoppers with local control and capstans with warping heads.
The ship has cabin space for 105 crew (37 single and 34 double cabins). Facilities include a fitness centre gymnasium, three client offices, conference rooms, a 50-seat amphitheatre, an internet café and full air conditioning. There are also on-line (12m × 12m) and off-line (12m × 7m) survey rooms.
ROV
The deck is equipped with two work-class ROVs that provide inspection surveys, positioning services and construction support. Fugro will build eight new ROVs.
"The Fugro Saltire has increased the company's range to provide support, inspection, repair and maintenance services."
The ROVs will be launched using two Hydramarine AHC over-side launch and recovery systems from the central vessel hanger. The ROV systems (stored in ROV hangars on either side of the ship) will be equipped with control consoles integrated alongside the vessel's survey on-line systems.
A Hydramarine 150t knuckle-boom heave compensated crane is being installed as part of the deck equipment in addition to a 10t Hydramarine auxiliary subsea crane. The crane will be able to operate in water depths of 3,000m.
The ship also has a moon pool (7.2m x 7.2m), which will be used for module handling. The vessel features under-deck chemical tanks to provide storage and discharge capability for pipeline commissioning chemicals.