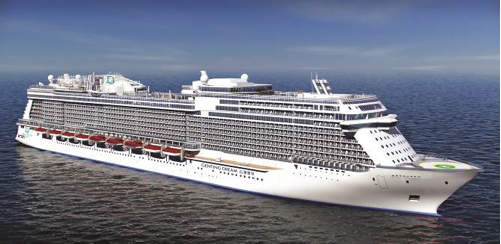 Genting Dream is the first premium-class cruise ship in the Dream Cruises line. Image courtesy of Genting Hong Kong.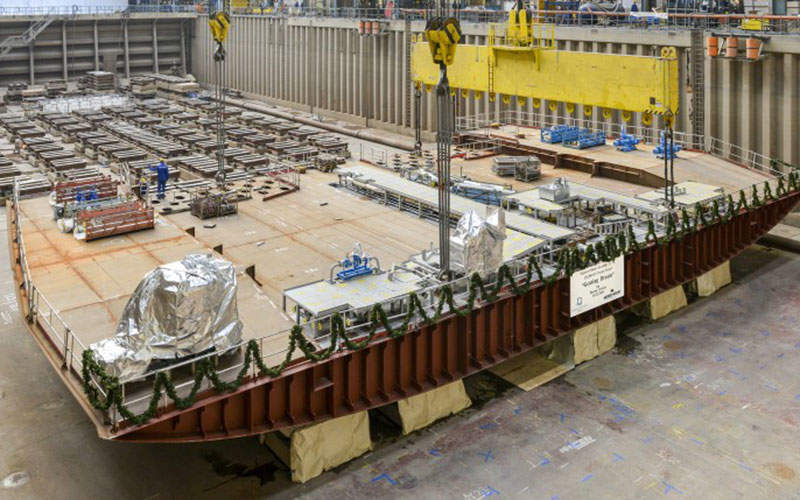 The keel laying for Genting Dream was held at Meyer Werft's shipyard in Papenburg, Germany. Image courtesy of Meyer Werft GmbH & Co. KG.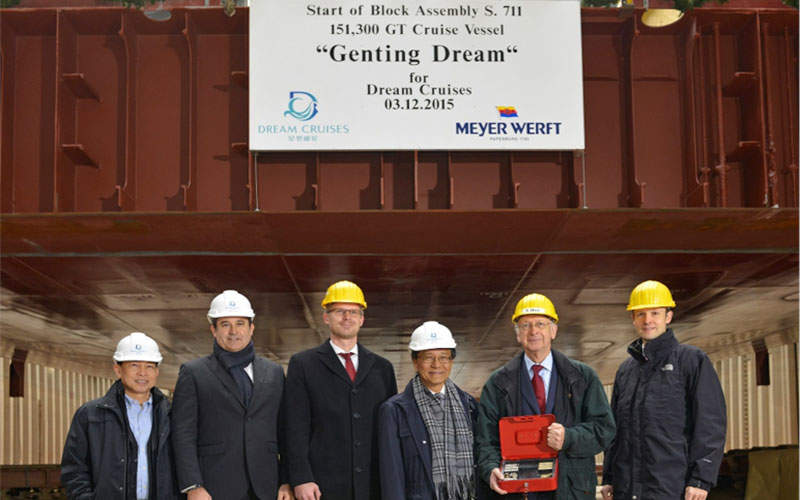 Block 2 was lifted into the building dock during the keel laying ceremony of Genting Dream. Image: courtesy of Genting Hong Kong.
Genting Dream is the first ship built under Genting Hong Kong's premium cruise line brand Dream Cruises, which was launched in November 2015 and became the first Asian brand to offer premium cruise services. Genting Hong Kong is a global leisure, entertainment and hospitality company based in Hong Kong.
Genting Hong Kong placed an order for two custom-built cruise ships to serve the Asian market, specifically China. With the new brand Dream Cruises, the company concluded its mission to have a separate brand for each of its cruise market segments. The other two are Crystal Cruises for the luxury segment and Star Cruises for the contemporary segment.
Genting Dream debuted in November 2016, while her sister ship World Dream was launched in November 2017.
Genting Dream has three homeports in Guangzhou (Nansha Port), Hong Kong and Sanya and target the residents of the Pearl Delta and Hainan and passengers flying to the airports in Guangzhou, Shenzhen, Zhuhai, Macau, Hong Kong and Sanya.
Genting Dream cruise ship construction
Genting Hong Kong placed an order for Genting Dream, the biggest among its existing fleet of ships, with German shipbuilder Meyer Werft in October 2013.
The keel laying ceremony of the ship was held at the builder's shipyard in Papenburg, Germany, in December 2015. The event marked the official beginning of the block assembly of the ship, when block number two, one of the 92 blocks required to construct the 151,300t ship, was lifted into the building dock.
Design details of the premier cruise ship
The vessel is designed to accommodate the rapidly developing Asian cruise market. It has a total length of 335m and width of 39.7m. The 76,800kW-capacity engine enables the ship to operate at a speed of 23.44k.
The 19-deck cruise ship can accommodate 3,400 passengers and 2,000 crewmembers, a planned crew-to-guest ratio of 1:1.7, the highest in any Asia Pacific cruise ship.
Accommodation aboard Genting Dream
The German-built cruise ship is designed with spacious interiors and is claimed to become one of the world's biggest and most spacious cruise ships. With 1,680 cabins, 1,278 outdoor cabins and 3,360 passenger cabins spread over two exclusive floors, the ship offers a variety of accommodation options for guests.
The suites measure between 32m² and 183m², with approximately 70% of the staterooms featuring a private balcony and more than 100 connecting rooms, convenient for extended families. Services to the suites include European butler service and special privileges.
Food and dining facilities
"The 76,800kW-capacity engine enables the ship to operate at a speed of 23.44k."
Genting Dream features 35 restaurants and bars, offering a wide choice of dining experiences for guests. The restaurants offer regional cuisine, with an emphasis on Asian and Chinese dishes, as well as international flavours such as Japanese, South East Asian, Italian, and more.
A 610m wrap around the promenade forms a special dining location, offering seaside dining and lounging throughout the day in a variety of themed venues.
Recreation venues and other facilities
A variety of recreation venues are available on-board, including multiple pool types, six water slides, play rooms, a rope climbing course, a bowling alley, mahjong, card rooms, and duty-free shopping.
Health and wellness facilities include state-of-the-art Asian and Western spas, a beauty salon, barbershop and health club enhance the guest experience. Other regular activities include wine tasting and inspirational speeches to enrich the guests' time at sea.