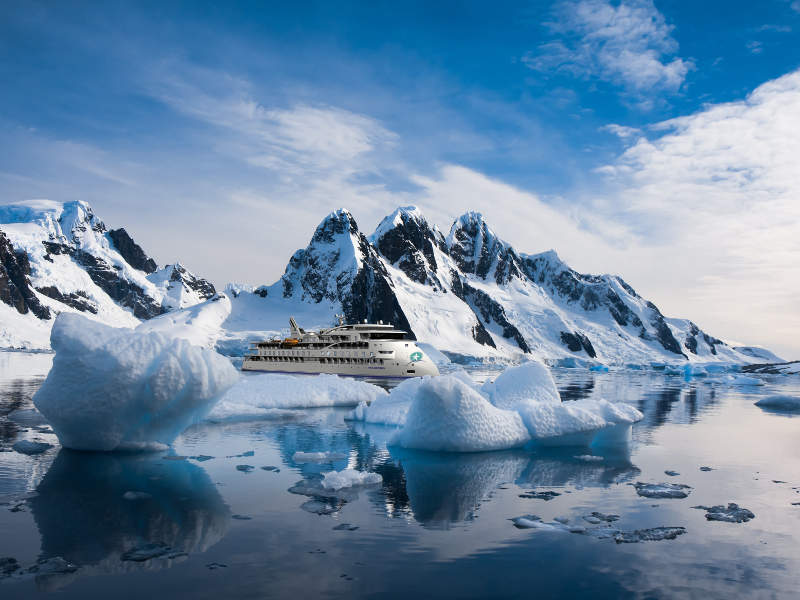 Greg Mortimer is scheduled to enter service in 2019. Credit: Aurora Expeditions.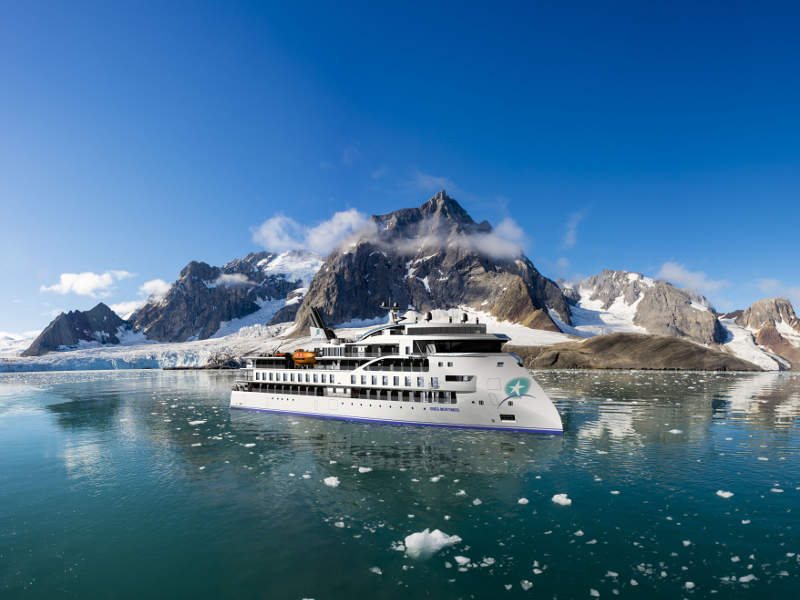 The 104m-long polar cruise vessel will sail in Arctic and Antarctic regions. Credit: Aurora Expeditions.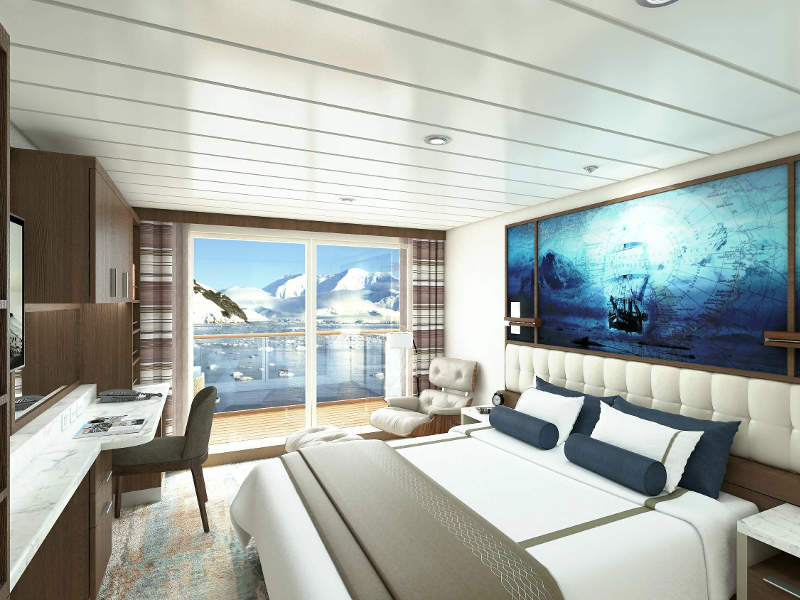 Interior view of the captain's suite aboard Greg Mortimer. Credit: Aurora Expeditions.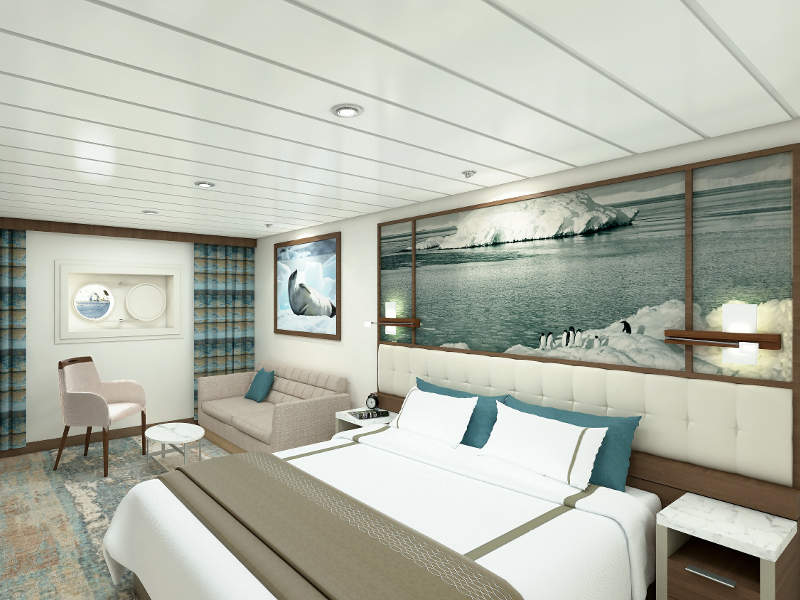 The Aurora stateroom of the expedition cruise vessel. Credit: Aurora Expeditions.
Greg Mortimer is a new polar expedition cruise ship to be introduced by Aurora Expeditions for exploring remote destinations across polar regions.
The steel-cutting ceremony of the ship is scheduled for the second quarter of 2018, with the vessel expected to be launched in 2019.
The ship will sail on a series of expedition voyages in Arctic and Antarctic regions.
Greg Mortimer polar ship design and features
The vessel will feature a reinforced hull complying with the Ice Class 1A rules. It will integrate the Ulstein X-Bow design to achieve reduced slamming loads and wave-induced vibrations.
The polar cruise vessel will be 104.4m-long with a breadth of 18.2m, a draught of 5.3m and maximum tonnage of 7,400t.
Classified by Bureau Veritas (BV), the expedition ship will feature a Rolls Royce stabiliser system and will comply with the Polar Code 6 and latest SOLAS requirements.
The ship will integrate the latest return-to-port technology for the safety of the passengers. It will also have virtual anchoring and dynamic positioning to safeguard the delicate sea floor in the polar regions.
Greg Mortimer will feature hydraulic viewing platforms that allow passengers to observe passing marine life and seabirds. It will also be equipped with zodiac launching platforms to allow passengers to board the vessels for shore excursions.
The spacious preparation and loading platform aboard can be used for activities such as kayaking, diving, climbing and ski touring. The vessel will also carry an on-board fully stocked medical centre manned by a trained medical team.
Deck plan of Greg Mortimer
Greg Mortimer will have a total of eight decks including six passenger decks. Deck 3 will house Aurora staterooms along with a changing room, zodiac boarding platforms, activity launching platform and medical centre.
"Greg Mortimer will feature hydraulic viewing platforms that allow passengers to observe passing marine life and seabirds."
Decks 4 and 5 will accommodate balcony staterooms, balcony suite and captain's suite, while Deck 6 will feature balcony staterooms.
Deck 7 will feature a sun deck, a gym, a sauna and wellness centre, a library and a photography and art room.
Deck 8 will be the uppermost deck with an observation lounge, a top deck, bars, a Jacuzzi and plunge pools.
Accommodation details
The Greg Mortimer polar expedition ship will be able to accommodate 120 passengers in fully-serviced accommodation units.
The staterooms aboard will offer basic amenities including private bathrooms, ample storage and international power outlets. Approximately 80% of the rooms will feature private balconies and large floor-to-ceiling windows, offering panoramic views of the surroundings.
The vessel will also feature interconnecting staterooms designed for families or groups. It will include a 35.9m² Captain's suite which will be the biggest among the staterooms aboard.
Other stateroom categories will include the 30.1m² junior suites, 25.4² to 26.1m² balcony suites, 16.5² to 20.7m² balcony staterooms, and the 23.2m² Aurora staterooms.
Each stateroom will be furnished with twin or double-size beds, a private en-suite bathroom, a full-size window, a 42in flat-screen television, a private balcony, room-controlled thermostat, a desk, and wardrobe space.
Dining and entertainment facilities onboard Greg Mortimer
Greg Mortimer will feature a large dining room and restaurant offering family-style dining. The cruise ship will offer 24 hours complimentary coffee, tea and snack facilities. It will also offer a wide range of house wine, beers and non-alcoholic beverages.
A special farewell four-course dinner and cocktails will be served for the passengers on the last day of their trip.
The observation points aboard the ship will include a 180° view lounge, an outdoor 360° open deck and a 270° open sundeck. The on-board entertainment venues will encompass a lecture room for presentations, bars and lounges, a spa, a gym and a library.