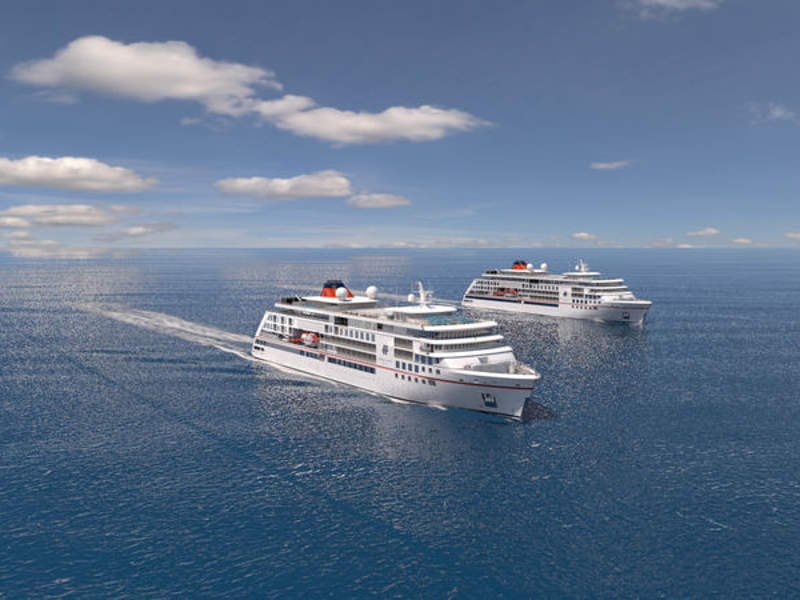 Norwegian shipbuilding firm Vard is building a class of two identical expedition ships, HANSEATIC nature and HANSEATIC inspiration, for Hapag-Lloyd Cruises, a subsidiary of Germany-based travel and tourism company TUI Group.
The ships will be used to transport passengers on various routes in Arctic regions during the European summer and Antarctic regions in winter, upon commissioning. In addition to polar waters, the ship can also conduct cruises to tropical destinations such as Amazon and the South Seas.
HANSEATIC nature will serve German-speaking passengers, while HANSEATIC inspiration will cater to both English and German-speaking guests.
Construction details of HANSEATIC nature
Construction on the first expedition ship HANSEATIC nature was started in May 2017 and the keel was laid in June 2017. The launching ceremony and maiden voyages are scheduled for April 2019.
"The maiden voyages of the ships is expected to take place in October 2019."
Steel-cutting and keel-laying ceremonies of the HANSEATIC inspiration were held in October 2017. The maiden voyages of the ships is expected to take place in October 2019.
The ship's hull will be constructed at Vard's Tulcea shipyard in Romania and the interior fit-outs will be performed at the Langsten shipyard in Norway.
Design and features of HANSEATIC nature and HANSEATIC inspiration
 The interior and exteriors of both HANSEATIC nature and HANSEATIC inspiration expedition vessels are designed by German architect Oceanarchitects with 'inspired by nature' design concept.
Each ship measures 138m-long and has a beam of 22m and draught of 5.4m. The gross weight of the ship is 15,540t.
The hulls are optimised to achieve high fuel-efficiency for the propulsion system and reduce overall bunker fuel consumption. The onboard selective catalytic reduction (SCR) converter is expected to reduce nitrogen oxide emissions by approximately 95%.
The vessels also feature infrared (IR) ice detectors with infrared camera for safer voyages in low-light or night conditions.
HANSEATIC nature deck details
The HANSEATIC nature expedition ship will be manned by a crew of 170 people and can accommodate up to 230 people across seven passenger decks out of nine. The maximum passenger capacity of the ship for Antarctic expeditions is 199.
The vessel features 120 cabins and suites in seven different types, including a 28m² balcony cabin with 6m² of private balcony, outside cabin, a 23m² French balcony cabin, a 22m² panorama cabin, a 43m² junior suite with 6m² private balcony, and a 71m² grand suite with a 16m² private veranda.
The passengers will be able to experience 180° panoramic view of the sea from the terraced outdoor observation lounge on deck 8 through binoculars. The Central Lounge with state-of-the-art technology enables the guests to perform different activities.
Walkway at the bow on deck 6 provides wildlife views. In addition, two glass-floored balconies and cabins on deck 8 offer breathtaking views.
The ship is operated from the wheelhouse on deck 7.
Dining and entertainment facilities
Hapag-Lloyd Cruises' new expedition vessels will feature three five-star restaurants and two bars to offer multiple varieties of food. Situated on deck 4, the main restaurant offering 180° rear view can house 178 people.
The bistro restaurant is located on deck 5 with indoor and outdoor spaces. It can accommodate 84 guests inside and up to 100 outside. Seating capacity of the specialty restaurant on deck 4 is 44.
The generous bar is located in the central lounge on deck 4, while the pool bar with sun deck is placed on deck 8.
The fitness facilities aboard the ship will include a 215m² spa complex with light-filled wellness landscape, a 100m² fitness area with modern equipment and a separate classroom, large pool area, and knowledge studio.
The vessel will offer expedition trips ashore by a total of 16 zodiacs, featuring eco-friendly electric drive systems. The water sports marina at the rear of ship allows guests to enter or exit zodiacs.
Equipment installed on the marina includes stand-up paddle boards, kayaks and snorkelling equipment.
 Propulsion and performance
HANSEATIC nature and its sister ship will be powered by diesel-electric propulsion system.
The propulsion unit includes a Rolls-Royce Promas rudder integrated with a specially-designed propeller, which combines the benefits of improved low-speed manoeuvrability and lower emissions. Cold ironing is also provided to further reduce the fuel consumption and air pollution.
Built to the Polar Class 6 ice class standard, the vessels can navigate safely through polar waters.