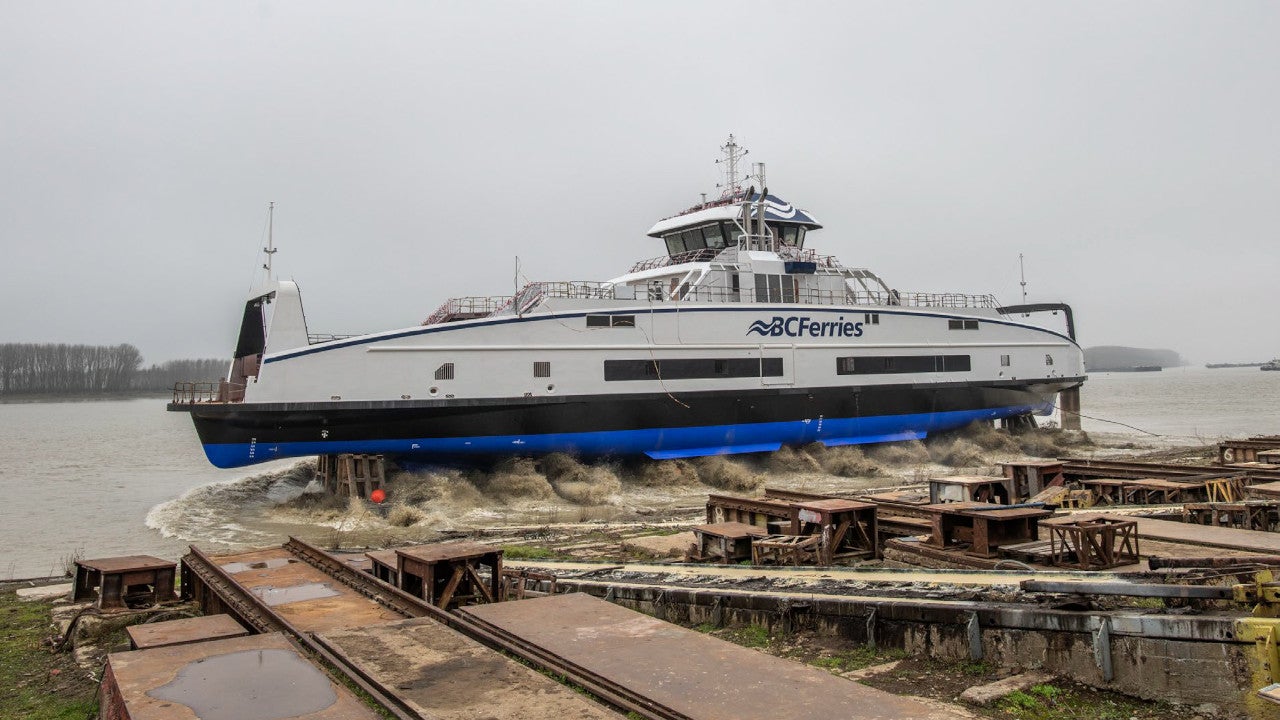 Island-class hybrid-electric ferries are operated by BC Ferries. Image courtesy of British Columbia Ferry Services Inc.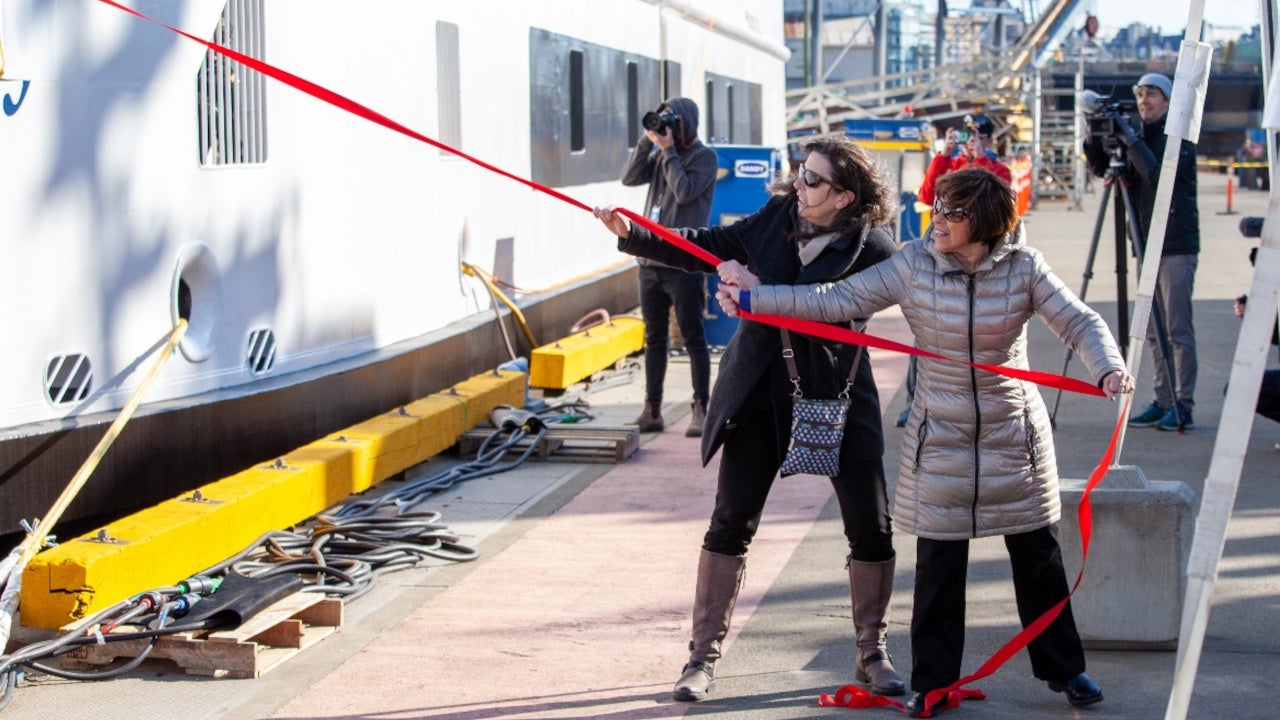 The christening ceremony of the first two Island-class vessels was held in February 2020. Image courtesy of British Columbia Ferry Services Inc.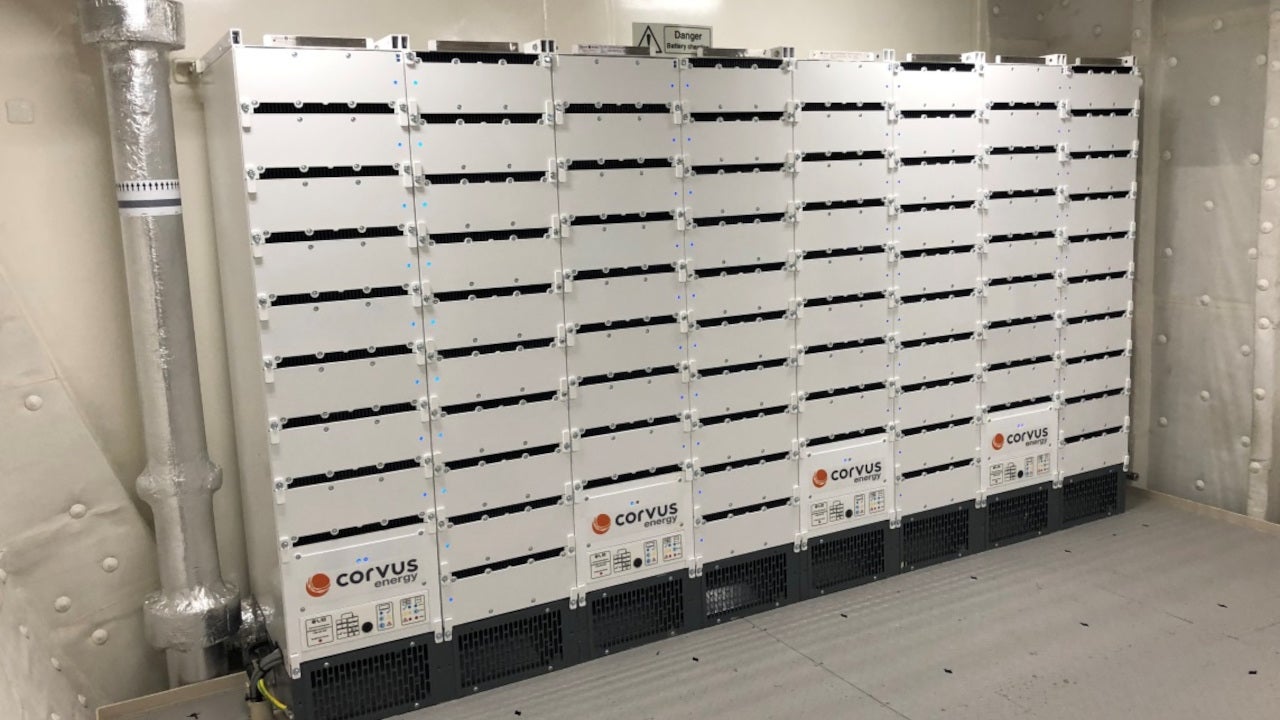 The vessel has a battery energy storage capacity of 800kWh. Image courtesy of British Columbia Ferry Services Inc.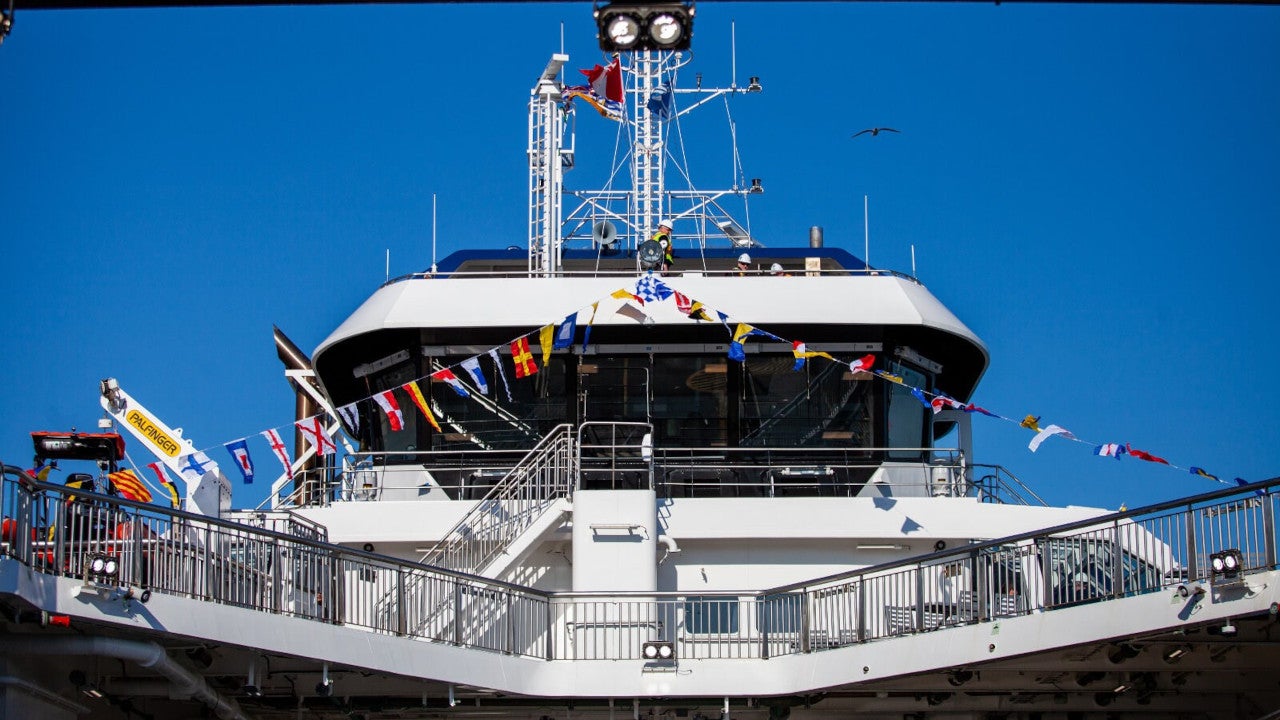 Island-class is based on Damen's 81m Road Ferry 8117 E3. Image courtesy of Damen Shipyards Group.
The Island-class ferries are a series of six next-generation hybrid-electric vessels being built for Canadian operator BC Ferries.
Two of the vessels have already entered service, while four are being built by Damen Shipyards Group at Damen Shipyards Galati in Romania.
The new battery-powered vessels are intended to offer inter-island ferry services between Vancouver Island and Vancouver in Canada's British Columbia province. The ships will improve service frequency and increase passenger capacity, while reducing vehicle line-ups and emissions.
The new vessels are part of BC Ferries' fleet renewal programme, with two of them intended to replace the 59-year old North Island Princess and the 53-year old Quadra Queen II.
The company intends to operate the vessels as all-electric ferries using clean energy upon the availability of an effective electric charging technology. The ships will be operated using on-board low-sulphur diesel hybrid system in the meantime.
Island-class vessels development details
BC Ferries contracted Damen Shipyards Group for building two first-in-class hybrid-electric ferries in June 2017. It awarded another contract to Damen in November 2019 for four more hybrid-electric vessels, which are expected to enter service in 2022.
The estimated cost of the four additional vessels, including financing and project management costs, is C$200m ($152.1m).
The first two Island-class ferries, Island Discovery and Island Aurora, entered service in June 2020. The Island Discovery operates on the Powell River-Texada Island route, while the Island Aurora serves the Port McNeill-Alert Bay-Sointula route.
BC Ferries launched the third Island-class ferry in October 2020, while the fourth vessel entered the waters at Damen Shipyards Galati in December 2020.
The third and fourth vessels will serve the Campbell River-Quadra Island route, while the fifth and sixth new ships will serve the Nanaimo Harbour-Gabriola Island route.
Island-class vessels design and features
The design of the vessels is based on Damen Road Ferries 8117 E3, in which the E3 denotes efficient operation, economic viability, and environmental friendliness. The vessel design will help in reducing both emissions and underwater radiated noise. The hybrid fuel concept will help in transitioning to fully-electric mode in the future and will also reduce operational costs.
Island-class vessel has an overall length of 80.80m, moulded beam of 17m, depth of 5.70m, draught of 3.30m and gross tonnage of 2,277t.
The electric ferry is designed to carry at least 47 cars and between 300 and 450 passengers and crew members based on configuration. The ferries will feature wide vehicle lanes, dedicated pedestrian paths, and space for bike parking.
The vessel draws heat from a heat recovery system that uses waste thermal energy, while oceanographic sensors will enable the monitoring of the marine environment. The low-friction and biofouling-resistant hull coating helps reduce fuel usage.
Island-class vessel deck details
Deck one is the mechanical space and is used by the crew members. Deck two, the main deck of the vessel, houses passenger lounges and washrooms. The lounge areas feature a range of seating choices, charging stations, covered pet areas and vending machine.
Deck three is the gallery vehicle deck with 16 spaces and a 99m-long car lane. The fourth deck offers views and features a sundeck with seating and windbreaks. Decks five and six are crew-only areas.
Tank capacity
The ferry has storage tanks capable of holding up to 65m³ of fuel oil, 9m³ of lube oil, and 30m³ of fresh water, sewage water as well as technical fresh water each.
Propulsion and performance
Island-class vessels are powered by two electric twin-propeller thruster units that can generate a power of up to 900kW.
The battery energy storage capacity of the vessel is 800kWh, which can be upgraded to a maximum of 2,000kWh.
The propulsion system allows the vessel to cruise at a speed of 14kt.
Contractors involved
Damen Shipyards awarded a contract to Corvus Energy to provide energy storage system (ESS) for the four new Island-class ferries in February 2020.
Damen is collaborating with Point Hope Shipyards for providing technical and warranty support for the new vessels.