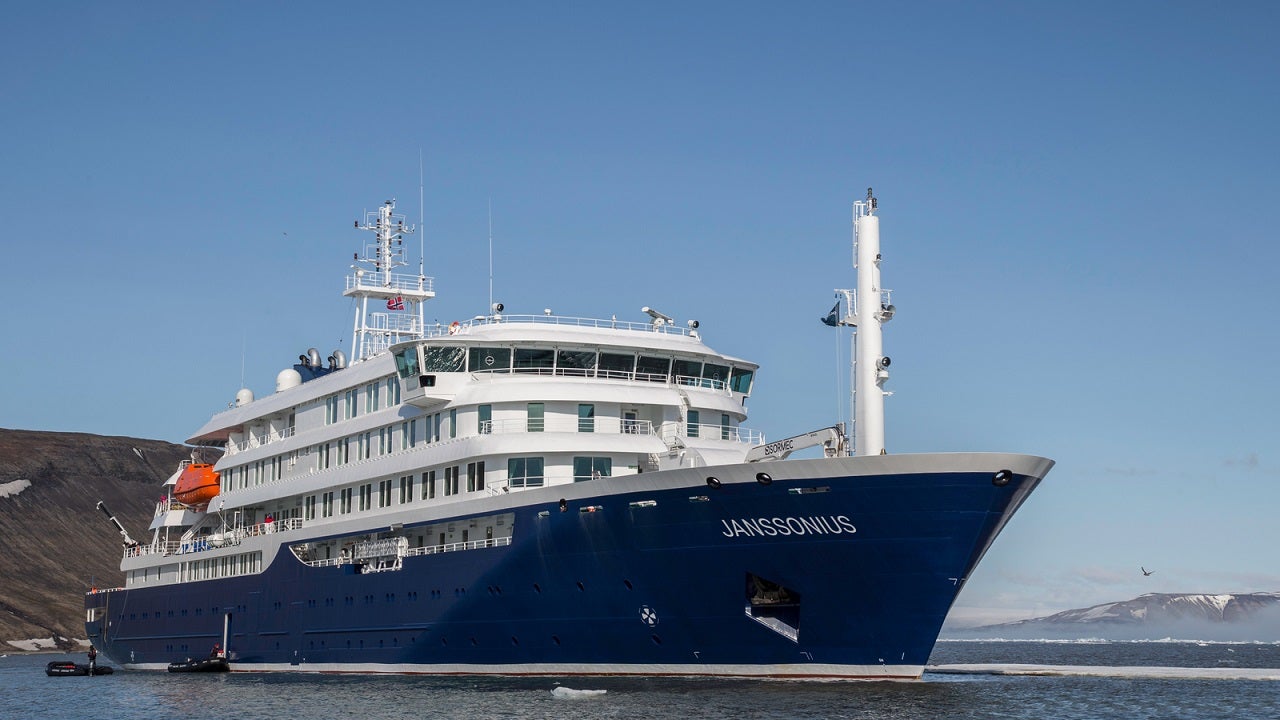 Janssonius is a new polar class 6 vessel expected to be delivered in 2021. Credit: Sara Jenner.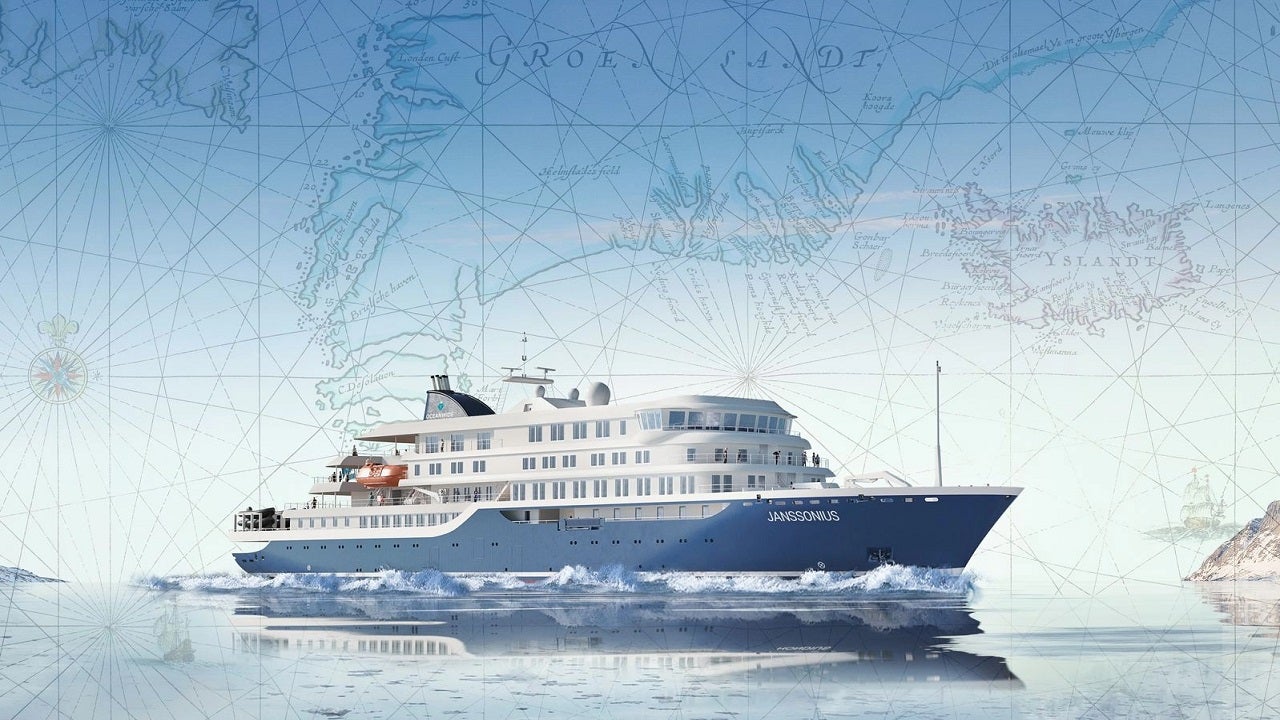 The ship can accommodate 170 passengers along with 72 staff and crew. Credit: Oceanwide Expeditions.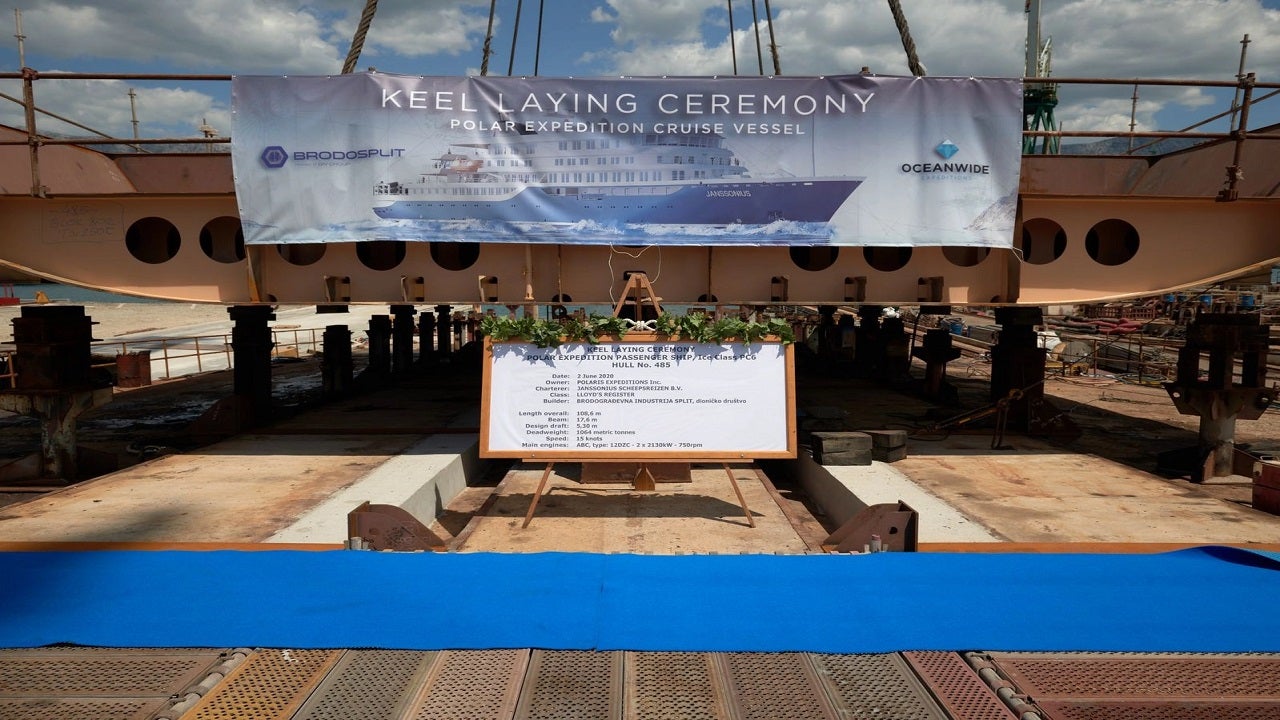 The polar cruise ship's keel-laying ceremony was held in June 2020. Credit: Oceanwide Expeditions.
Janssonius is a polar class 6 cruise vessel being developed for Dutch vessel operator Oceanwide Expeditions. It is the sister ship to the company's Hondius cruise vessel, which was launched in 2018.
The ship is named after the historic Dutch cartographer Johannes Janssonius. The polar class 6 will be equivalent to the 1A Super class and will exceed the requirements of the International Maritime Organization's (IMO) international code for ships operating in polar waters (Polar Code).
Janssonius cruise ship was announced in June 2019 and the steel cutting ceremony was held in December 2019. Its keel-laying ceremony was held at Brodosplit shipyard in Split, Croatia, in June 2020. Brodosplit was previously contracted for the construction of Hondius.
The vessel will join Oceanwide's fleet, including Noorderlicht and Rembrandt van Rijn and motor vessels Plancius, Ortelius, and Hondius.
The polar vessel will begin its first expedition season in Antarctica and will later embark on polar voyages across the Arctic, and the sub-Antarctic. The ship will sail on its maiden voyage to South Georgia in November 2021.
Design and features of Janssonius
The 107m-long, 17.6m-wide cruise ship will have a gross tonnage of 5,590t and achieve maximum speeds of up to 15k.
The ship will feature 80 classic mid-century modern style cabins that will accommodate 170 passengers and 72 staff and crew. Balconies will be available on six suites and eight superior cabins. The accommodation categories will also include 19 twin deluxe cabins, 31 twin porthole cabins, 14 twin window cabins, two triple porthole cabins, and four quadruple porthole cabins.
Janssonius' spacious layout will include ample outdoor viewing areas and a dedicated observation lounge with a lecture room, which will host workshops, exhibitions and performances for guests.
The ship will be equipped with a fleet of rigid-hull inflatable Zodiac boats for fast and safe landing operations. It will also have a protected indoor Zodiac loading area for sea-based activities such as kayaking, as well as two separate gangways for ship-to-shore operations.
The stern and bow thrusters will allow the ship to drift or remain stationary. The vessel will be equipped with several advanced systems and features specifically designed for safe and adaptable voyages.
Sustainable features
Janssonius will minimise fuel consumption and CO₂ levels by using LED lighting, bio-degradable paints and lubricants, and steam heating.
It will also include superior power management systems and technology to reuse waste heat to produce fresh water.
Propulsion of Janssonius cruise ship
Janssonius will be powered by two ABC main engines delivering a total power output of 4,200kW and advanced stabilisers. The propulsion system will comprise an adjustable pitch propeller, flexible power management, and a shaft generator. Schottel will supply the main and auxiliary propulsion units.
The main propulsion system will integrate a Schottel Controllable Pitch Propeller type SCP 109 4-XG. The SCP will be ice-strengthened according to Polar Class 6 and will have a propeller diameter of 3.6m. A Schottel Transverse Thruster type STT 1 CP (440kW) at the bow and a Transverse Thruster type STT 2 CP (500kW) at the stern will ensure the ship to attain superior manoeuvrability.
The main propulsion units are designed to reach propeller speeds of 160rpm with the help of a twin-in single-out gearbox.
Hondius and Janssonius will be the first vessels in the world to be built in line with the latest Lloyd's Register requirements for Polar Class 6 vessels.