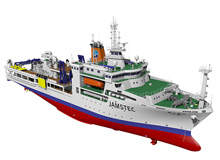 Kaimei is a new research vessel constructed by Mitsubishi Heavy Industries for Japan Agency for Marine-Earth Science and Technology (JAMSTEC), which conducts marine science research and development.
It was developed as the world's most advanced research vessel to perform full-scale three-dimensional (3D) seismic survey Japanese waters.
It has been constructed to conduct research into the distribution of submarine resources, as well as mineral and ore deposits. It is also used to investigate climate changes and the oceanic crust.
The Kaimei's christening and launching ceremony was held at Mitsubishi's Shimonoseki Shipyard in Japan in June 2015. The name, which means clarification and elucidation in Japanese, was suggested by a member of the public.
The vessel was delivered to JAMSTEC in March 2016.
Kaimei design and accommodation details
The vessel is 100.5m long, 20.5m wide and 9m deep. It has a draft of 6m and a gross tonnage of 5,747t.
The Kamei offers accommodation facilities for 65 personnel, including 27 crew members and 38 researchers.
Research equipment aboard Kaimei
The Kaimei is the first research vessel to capture 2D and 3D images of a subject's internal structure. The vessel can perform research using a three-mode, multi-channel seismic system, which allows it to conduct high-resolution 2D and 3D surveys.
Surveys are carried out using four 3,000m-long streamer cables, and enable 3D visualisation of the deepest core in the Earth's structure for studying marine geological structures.
High-resolution seismic surveys are performed using 300m-long streamer cables, and used to research earthquakes, coastal geology, landslides, and ore deposits.
Sampling equipment on-board Kaimei
The research ship extracts rare metals from ferromanganese crusts on sea-mounts located in the north-western Pacific Ocean, as well as ore deposits off the coast of Okinawan.
It is equipped with a boring machine, which can bore up to 3,000m-deep in water and 30m-deep into the core.
The on-board equipment includes a clamshell bucket sampler and a power grab sampler with a six-finger basket. The systems are capable of extracting 1m³ samples at a water depth of 6,000m.
The vessel also features a 40m-long piston corer with a 12,000m-long high-strength fire rope to gather methane hydrate and rare earth mud. The corer eases reconstruction of paleoenvironment at inaccessible depths, and helps researchers to reveal the history of earthquakes in the area.
A 36-bottle CTD / water sampler with a volume of 12l highlights the causes of diminishing submarine resources and the impact of the environment. The 12,000m-long, high-strength fibre rope attached to the water sampler helps reach deeper in the water to collect samples for studying the effects of climate change on marine life.
"The vessel performs research using a three-mode, multi-channel seismic system, which allows it to conduct high-resolution 2D and 3D surveys."
The Kamei also offers a remotely-operated vehicle (ROV) capable of diving 3,000m into the water. Researchers can study the seabed with a camera on-board the ROV, which also collects biological and mineral resources samples.
The vessel is also equipped with a 12kHz / 50kHz multi-beam echo-sounder, a 38kHz /150kHz acoustic doppler current profiler, a container laboratory, a transponder, a shipboard gravimeter and magnetometer, analytical and experimental equipment, meteorological and atmospheric observation equipment, and anti-rolling and wireless LAN systems.
Three additional laboratories for analysis, research and equipment have also been built on the vessel.
Kaimei research vessel propulsion
The vessel is fitted with two 2,400kW electric motors driving two azimuth thrusters. It has a speed of 12kt and a range of approximately 9,000nmi.