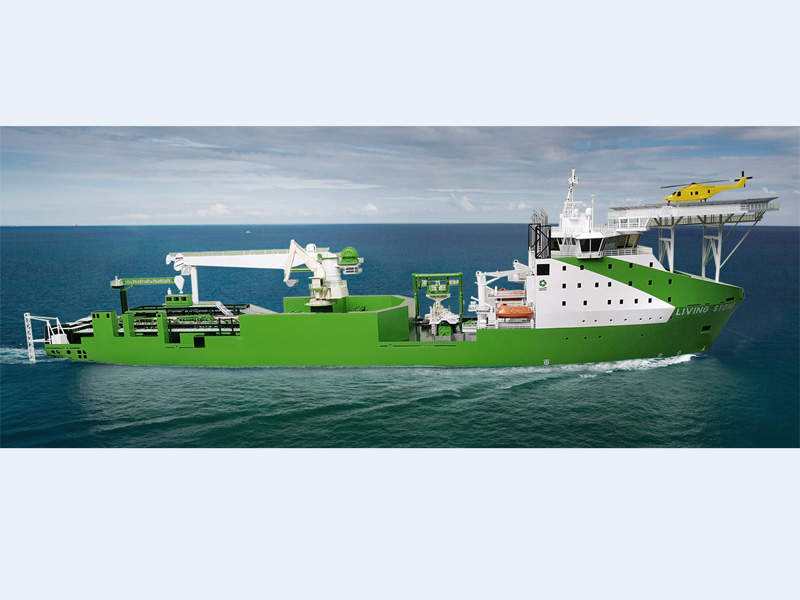 Living Stone is a multi-purpose vessel built by Spanish shipyard LaNaval. Image courtesy of DEME.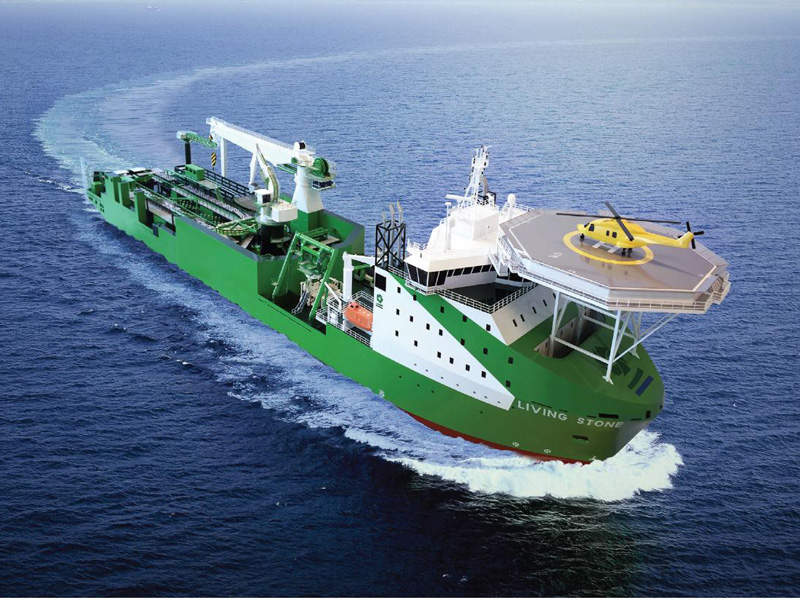 Living Stone can be optionally installed with a 400kW CBT 1100 Trencher. Image courtesy of DEME.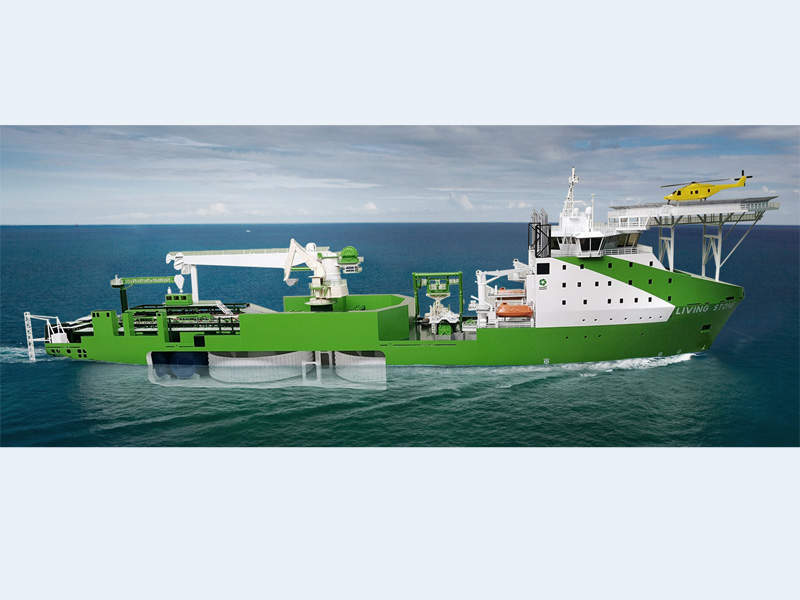 A heli-deck is fitted on the Living Stone to house a single Silkorsky S92 helicopter. Image courtesy of DEME.
Living Stone is a multi-purpose vessel built by LaNaval for marine construction company DEME, which placed the shipbuilding contract with the shipyard in January 2014.
The keel for the ship was laid at LaNaval's shipyard, off the coast of Bilbao, Spain, in January 2016. The vessel was launched in September 2016 and entered into service in July 2018.
The state-of-the-art multi-role vessel is capable of performing cable, umbilical and rock installation, trenching, offshore transport and installation works.
DEME secured a design and build cable installation contract from DONG Energy to deploy Living Stone at the world's biggest offshore wind farm, Hornsea Project One. The cable installation was completed in December 2018.
Upon completion of Hornsea Project One, the vessel will be moved to Modular Offshore Grid (MOG) project of Elia to conduct cable installation works.
Living Stone is one of the world's most advanced and biggest subsea cable-laying vessels.
Living Stone multi-purpose vessel features
The cable-laying vessel has an overall length of 161m, moulded breadth of 32m, draught of 6.5m and deadweight of 13,185t.
Living Stone includes solar panels and wind turbines on board. It utilises biodegradable grease and oil in addition to heat recuperation to decrease fuel consumption, as well as minimise CO₂, NOx and SOx emissions.
A heli-deck has been built on the vessel to accommodate a Silkorsky S92 helicopter. The vessel offers accommodation facilities for 100 people in 52 single and 24 double cabins.
Deck equipment and systems
The vessel features a double main deck measuring 112m long and 32m wide. The main deck offers a total area of 3,600m² and a deck load capacity of 20t/m². The moonpool of the multi-purpose vessel measures 7.9m long and 7.9m wide.
The vessel includes a 600t crane for the installation and removal of subsea structures. It can be optionally installed with a 65t SWL A-frame (SS5) and twin wire lift 1,000m umbilical winch at the stern. The A-frame also includes a 2m telescopic docking frame and a winch with slack motion compensation. The A-frame is powered by twin 150kW hydraulic power units.
Living Stone is installed with Kongsberg K-POS DP3 dynamic positioning (DP) system, which includes a triple-redundant DP system controller unit and three identical operator stations. The DP system is capable of providing a direct interface to the vessel's propulsion system.
Cable-laying equipment onboard Living Stone
The vessel features two 5,000t cable carousels from Maats Tech. The two wheel tensioners have a capacity of 3t each, whereas the two winches on board have a load-bearing capacity of 10t each. The linear product loading speed at the centre core area of the cable carousels is 1,200m an hour.
"Living Stone is one of the world's most advanced and biggest subsea cable-laying vessels"
Living Stone is optionally installed with a CBT 1100 Trencher, powered by two 400kW electro-hydraulic power packs and to include 1,750mm-wide heavy-duty track gear to minimise ground pressure.
It also features a TSS dual-track cable tracking system and heavy-duty chair cutter system, which is capable of cutting up to 2.3m-deep trench at 4m minimum bend radius. The trencher is fully instrumented to conduct a post-lay burial survey.
Propulsion and performance
The vessel is powered by two 2,880kW and two 4,320kW dual fuel engines, primarily utilising liquefied natural gas (LNG) fuel.
The propulsion system includes two 3,400kW main azimuth thrusters, two 2,000kW retractable azimuth thrusters, and two 1,200kW bow thrusters.
The propulsion system enables the vessel to sail at a cruising speed of 13.4k.