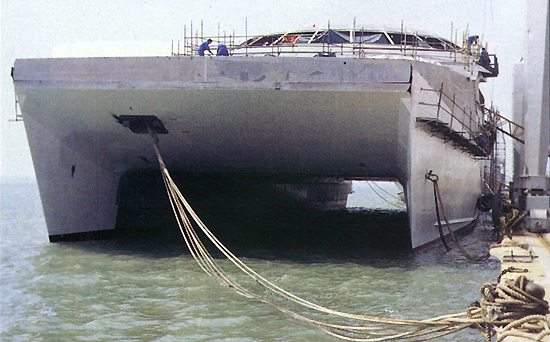 The Luciano Federico L is a high-speed B60 design catamaran ferry, which can carry up to 450 passengers and 52 cars. It is operated by Buquebus on a route across the River Plate between Buenos Aires, Argentina, and Montevideo, Uruguay. Its journey time on the 110-mile trip is just over two hours. The vessel was built in 1997 by the Spanish shipbuilder, Izar.
DESIGN
The Luciano Federico L is a B60 design, largely based on Advanced Multihull Designs (AMD) type 1130 catamaran. It has an overall hull length of 77.32m, a beam of 19m (excluding fenders) and a full load draught of 2.15m.
The hull shape was designed to accommodate a larger waterjet diameter for higher operating speed. A model testing programme to optimise the hull form was carried out at the HWA Zhong University in China. A larger model of the final hull form was then built and tested in the El Pardo Towing Tank in Spain to verify the performance.
Once this was finalised, Izar's Foran CAD/CAM system was used to develop a full technical design.
An MDI Vosper Thornycroft ride control system specially designed for the Luciano Federico L uses a pair of active trim tabs on the stern. Tests on the Luciano Federico L verified the predicted speed of the vessel and confirmed a full-load speed in deep water of not less than 57 knots. On the last leg of the delivery voyage to Argentina, however, the vessel broke the 60-knot barrier, recording speeds of up to 60.3 knots. These sea trials highlighted how critical hull roughness is at these high speeds. During subsequent dry-docking, the surface was treated with a coating of International's Intersleek anti-fouling.
FACILITIES
The Luciano Federico L consists of three decks – the main deck, passenger deck and bridge deck. A total of 52 cars up to 4.5m-long can be carried on the ferry's main deck, the aft end of which is not enclosed. The vessels board and disembark over the stern between the two hulls using a shore ramp. The traffic is routed in a drive-round arrangement by a single lane on either side of a central public area. This central area contains 69 tourist-class seats, supplied by Aviosystem, as well as a large supermarket style duty-free shop.
The passenger deck is located above the car deck. At the forward end of the main passenger deck is a first-class lounge containing 92 seats, supplied by Geven. Aft of this is a 289-seat second-class lounge and a salad bar. The interior was designed by Arquitecto Ortega and supplied by Artemar.
PROPULSION
Propulsion power is provided by a pair of ABB Stal GT35 gas turbines. Each of these can develop 16.1MW of power at 3,250rpm in an ambient temperature of 25°C. Each of the engines drives a Kamewa 112511 steerable waterjet through a flexible coupling and Renk AU5 135 reduction gearbox. The ABB CT35 light industrial gas turbine offers a number of advantages over the aero-derivative gas turbine, including long intervals between overhauls and the ability of the turbine to use cheaper IF30 fuel instead of high-grade distillate fuels.
The electrical and control systems were also supplied by ABB. These are based on elements from ABB's Advant system. Approximately half of the vessel's electrical power demand is produced by two 200kW ABB shaft generators. These also function as starter motors for the gas turbines. Each of these starting motor/shaft generators are located at the turbine's cold-end axial extension.