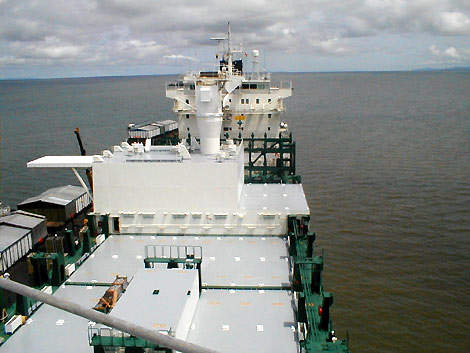 The Luzon Strait can accommodate 220 40ft containers with 200 reefer plugs or a total of 440 TEUs on deck.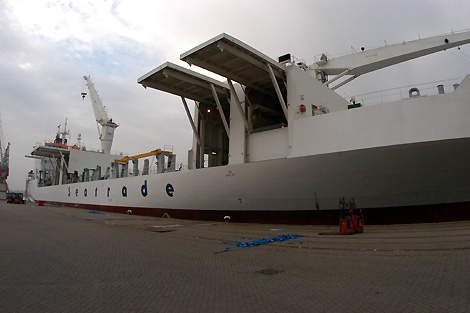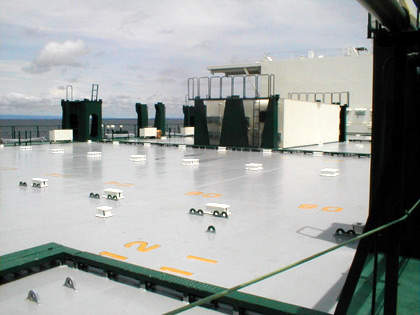 Side entry doors allow access to the cargo and weather protection during unloading.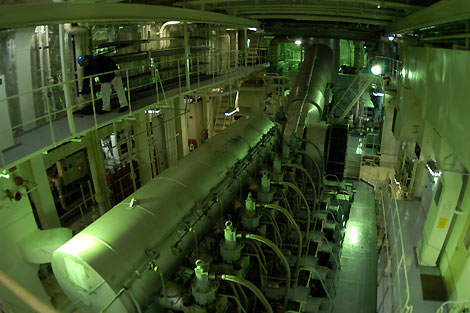 The Luzon Strait, along with its sister ship the Lombok Strait, was delivered to the Dutch-based shipowners Seatrade Groningen BV at the China Shipbuilding Corporation (CSBC)'s Keelung shipyard in Taiwan.
The Luzon Strait has an overall length of 167m and a length between perpendiculars of 1.7m. Its moulded breadth is 25m and the depth to the main deck is 13.4m. It has a design draft of 8.7m and a scantling draft of 9.3m. It registers 14,413t. It has a displacement of 21,900t, a lightweight of 8,300t and a deadweight of 15,890t.
This reefer is principally designed to carry refrigerated cargoes in pallets or cages. The 626,010ft³ / 7,341m³ vessel has an under deck capacity for 5,600 standard pallets.
REEFER LOADING AND UNLOADING
An important aspect is the unloading, which requires speed and flexibility during handling of perishable cargo. A principal characteristic of the Luzon Strait is therefore its side-access pallet/trolley/cage handling system. This automated system was designed by TTS Norlift and the Greek based Enterprise Shipping and Trading.
Access to the cargo is provided by side doors which hinge upwards to afford weather protection during unloading. There are also side curtains. There are a total of four side port systems each with automatic trolleys. This system is able to handle up to 7,000 cartons of fruit per hour.
Pallet cages/trolleys have a capacity for eight pallets each (12.5t payload). The pallet handling system operates through two large deckhouses which are located on the upper deck. There are two trolley systems in each deckhouse. Each of the systems is fitted with two pontoon type topside hatches which can be accessed by either of the two cranes. The cranes are TSS Norlift electrohydraulic cylinder luffing units that can lift approximately 45t SWL each. There are four cargo holds.
WEATHER DECK TRANSPORTATION
In addition to the loading in either break bulk or pallet form, the vessel can also transport containers on the weather deck. The pallet cages are hoisted by automatic trolleys and the process is controlled by a single person.
The Luzon Strait can accommodate 220 40ft containers with 200 reefer plugs or a total of 440 TEUs on deck. The containers are arranged in a maximum of four tiers of ten rows.
REFRIGERATION AND BRINE REEFER PLANT
There are three York refrigeration units which are used to cool the 15 cargo departments. These are arranged in eight independently insulated temperature control areas. Each has an independent fresh air supply and circulation.
The state of the art and environmentally friendly brine reefer plant provides a temperature range from -25°C to +15°C. An important feature is the integrated nitrogen gas plant, enabling full controlled atmosphere conditions. In addition a modified
atmosphere system is provided for deck containers.
PROPULSION
The propulsion is enabled by a single MAN B&W S60MC-C main engine. Manufactured by Hyundai heavy industries, it has a total output of 21,490bhp at a speed of 105rpm. This is linked to a single six bladed nickel aluminium bronze propeller, which was manufactured by Nakashima. This fixed pitch propeller has a diameter of 6,200mm and is driven at a speed of 105rpm.
For manoeuvring in port the vessel also has a single 800kW Kawasaki bow thruster. Electricity is derived from four diesel driven alternators, each producing 1,500kW of power while rotating at 720rpm. The vessel also has an Aalborg/Sunrod boiler.
The vessel is manned by a complement of five offices and 15 crew. The bridge is laid out for a one-man operation. The vessel has a J.R.C. radar system and a Unitor fire detection system.