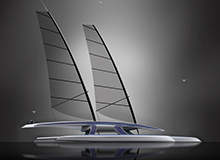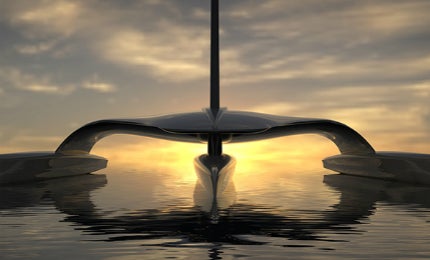 Plymouth University in partnership with Plymouth-based autonomous craft specialists MSubs and yacht designer Shuttleworth Design launched a project to design and build the world's first, fully autonomous, unmanned research ship called Mayflower Autonomous Research Ship (MARS), in July 2015.
MARS will carry various drones and act as a research platform to conduct scientific experiments across the Atlantic Ocean. It will also be used as a test-bed for new navigation software, renewable energy and propulsion systems for marine vessels.
The project, which involves a multi-million pound investment, is part of Plymouth University's 'Shape the Future' fundraising campaign.
---
---
The new vessel operates globally and provides an opportunity to researchers to focus on some of the world's most serious environmental concerns.
---
The university, MSubs and the ProMare Foundation are providing initial funding, whereas remaining funds will be raised through corporate and private sponsorship.
The project will position the university and Plymouth as pioneers in marine research and shipping invention. It will make a major contribution to the local economy by providing commercial opportunities in marine technology and will also create a large number of internship opportunities for students at the university.
Construction of the ship is expected to take more than two years, followed by a one year testing phase. The launch is scheduled in 2020 that will mark the 400th anniversary of the original Mayflower sailings from Plymouth to the North America.
The design concepts are being finalised by Shuttleworth Design, which will test scale models in the university's Marine Building.
Design details of Mayflower Autonomous Research Ship (MARS)
MARS, the first full-size unmanned research ship, will have an overall length of 32.5m, beam of 16.8m, draft of 0.875m and sail area of 159m². Its hull will be made of glass/aramid/foam composites, while the deck will be built using carbon/Nomex materials.
"The project, which involves a multi-million pound investment, is part of Plymouth University's 'Shape the Future' fundraising campaign."
A trimaran design integrating a multi-hull structure will be adopted for the ship to enable low-speed motoring. The hull configuration is designed to reduce windage and wave impact. The centre hull will have a lower silhouette, while the wings and deck will be separated and raised above the struts.
The arrangement will allow waves to break through the vessel, resulting in a significant roll reduction. Outer hulls will be designed to skim the water for reducing resistance by 8%.
The ship will feature a two-masted soft sail rig, designed to work with either of the sails or both sails hoisted, leaving three sail combinations to be used for different wind speeds. Each sail will be controlled by a single sheet, and the sails can be tightly packed into the deck to save space.
The arrangement will ensure reduced windage when sailing and eliminate shadows cast over solar cells on the deck. It will also allow the masts to stay standing to carry navigation lights.
Shuttleworth Design is responsible for the exterior styling, naval architecture and structural engineering of the vessel.
Propulsion of the MARS vessel
The vessel will be powered by renewable energy sources, including wind and solar power and will require more solar cell area for effective motoring and sailing. A folding wing system will be incorporated in the vessel's deck design to increase the solar cell area by 40%.
The rig design will enable MARS to sail at a top speed of approximately 20kt, while its electric motoring speed will be 12.5kt.
World's first unmanned ship missions
MARS will carry one or more modular payloads into which various mission equipment will be integrated. The vessel will support all types of meteorological, oceanographic and climate-related data gathering and research tasks.
It will also be used to conduct research on software for automated and autonomous operations for extended duration, advanced satellite communications and co-operative behaviour between nested automated and autonomous vehicles operating below, on and above the water simultaneously.
The ship will be capable of making the Atlantic crossing between seven and ten days with optimal wind conditions. The voyage can easily be extended to seven and ten months depending on the mission to collect voluminous data.