The Mercury cruise liner.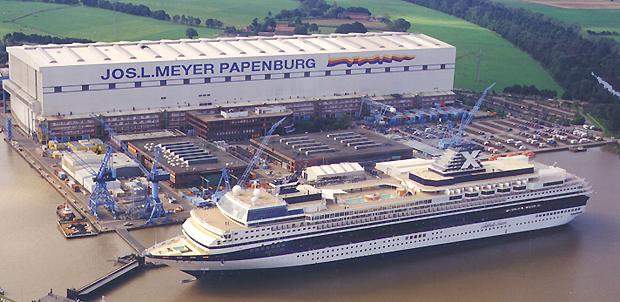 The Mercury is 865.59ft in length and has a moulded breadth of 105.62ft.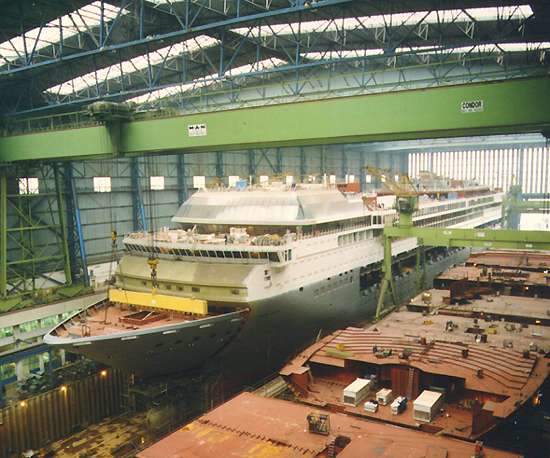 Mercury was built under the survey of Lloyd's Register of Shipping to 100A1 Passenger Ship IWS LMC, UMS.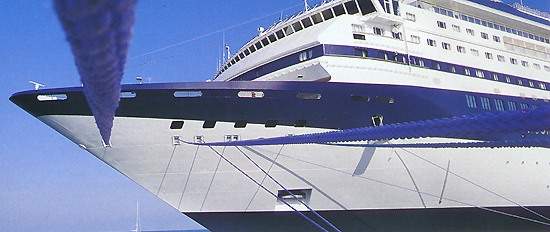 The Mercury cruise liner lying at anchor.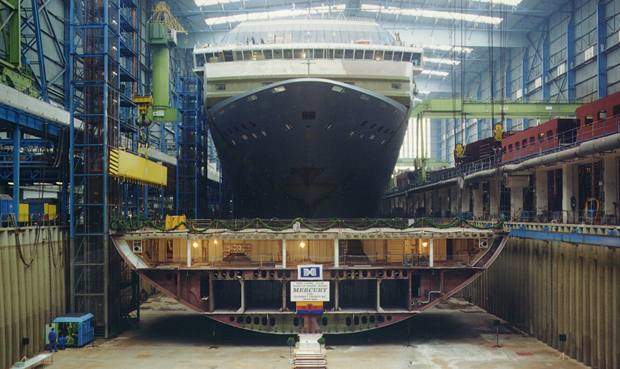 Keel laying of the Mercury at the Meyer Werft yard.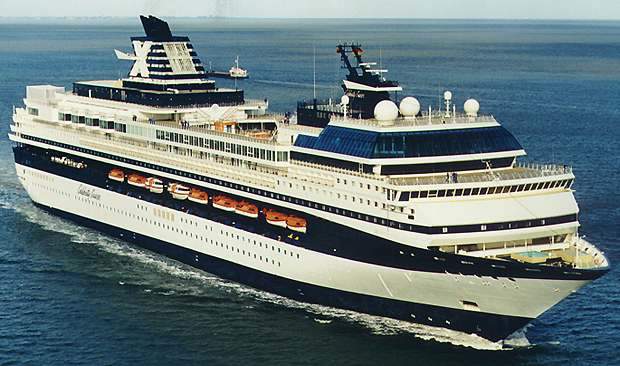 Mercury has 935 staterooms, of which 639 overlook the ocean and 296 are inside staterooms. The average stateroom is 172ft².

Mercury is fitted with the NACOS 45-2 integrated navigation and command system.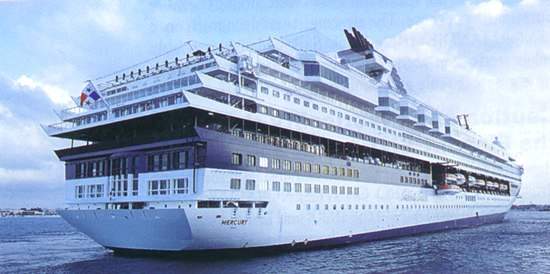 A view of the Mercury cruise liner from the stern. Mercury offers amongst other luxuries grande-luxe dining.
The MV Celebrity Mercury is a century-class vessel owned by Celebrity Cruises. Built at the Papenberg shipyards by Meyer Werft of Germany, the vessel had its maiden voyage on 2 November 1997. The 77,713GT liner has a variety of luxury facilities spread over 12 decks. The Mercury will offer cruises to Alaska during May to October 2008. The ship will then transfer briefly to the Hawaii route before beginning the line's first season in Australia and New Zealand in December 2008.
DESIGN
The Mercury is 865.59ft in length and has a moulded breadth of 105.62ft. The depth to bulkhead deck: 34.44ft. It has a draught of 25.26ft, a deadweight of 6,500t and a total tonnage of 77,713GT. The ship has a cruising speed of 21.5kts and has capacity for 1,886 passengers and 909 crewmembers.
In April 2007 the ship underwent a dry dock refit in San Francisco, which saw the addition of 14 new verandas and a new boutique as well as necessary engineering maintenance work on propulsion systems and the hull. The ship was also equipped with new bedding and soft furnishings, carpeting and new gym equipment. There was also a major upgrading of the pool deck.
FACILITIES
The ship has 935 luxury staterooms, with 639 offering ocean views. 296 are inside staterooms. The average stateroom is 172ft². A digital telephone system is provided on-board with 24 satellite channels for telephone calls ship-shore/shore-ship.
The main features of the Mercury include the Manhattan restaurant, which is on two levels and is decorated in the art deco style, and a four-story grand foyer. The 1,000-seat celebrity theatre is on two levels, and features a computer-controlled laser-effects system, based on a 9W argon laser and a 2.5W krypton laser, capable of generating as many as 16 million different colours.
The AquaSpa provides a thalassotherapy pool, sauna, massage room and beauty parlour. There are two outdoor swimming pools, as well as one indoor and four whirlpools. Other facilities include fortunes casino, cyberspace video-games room, rialto galleries shopping centre and dedicated facilities for teenagers and children.
BOUTIQUE BOULEVARD
The Boutique Boulevard added a Celebrity Beauty. cosmetics store, stocking many well-known brands and offering consultations and demonstrations for guests. There is also a new Boutique C jewellery store and clothes shop everyday wear, fitness wear and evening apparel (Blue Collection).
PROPULSION
The vessel is propelled by four MAN B&W L48/60 non-reversible, four-stroke engines. Two have an output of 9,450kW and two of 6,300kW at 500rpm. Each gearbox is additionally provided with a power take-off for a 5,200kW shaft generator for electric power supply during the voyage. Depending on the required ship's speed, different propulsion modes can be operated. The engines are connected to the Renk gearboxes via flexible Vulkan-Rato couplings. The engine speed is controlled by digital, redundant, freely programmable engine governors that work together.
The vessel has two controllable pitch propellers, three bow thrusters, two stern thrusters and two active rudders that are operated by a joystick. For the ship's propulsion and manoeuvring operations, an integrated redundant, computer-aided, decentralised system is used, which is connected via field bus to the automation system. Each propeller plant, transverse thruster and rudder has its own self-sufficient process station, connected by a redundant bus with the bridge station. For seakeeping, installed stabilizers are capable of reducing the ship's rolling motion by 90% at a speed of 18 knots.
Electric power is supplied by four MAN B&W, type 6L40/54 auxiliary diesel generator sets, as well as two shaft generators driven by a gearbox.
AUTOMATION AND CONTROL
Mercury is fitted with the NACOS 45-2 integrated navigation and command system. The main feature of the system is the Multi Pilot, which is capable of working as a radar unit. It provides an electronic chart display (ECDIS) and control instruments for operating the track pilot and the integrated navigation display. In addition, the Multi Pilot provides an overlapped display of radar images and an electronic seachart.
All radar units have high-resolution colour monitors, providing the ship's navigator with advanced means of distinguishing between different symbols. The digital positioning satellite DGPS is supported by reference stations ashore. The nautical equipment is complemented by an integrated navigation display on which all nautical, as well as essential machinery data, is alphanumerically and graphically indicated. The information displayed is provided by sensors, which monitor and record position, course, speed, rate-of-turn, water depth and wind.