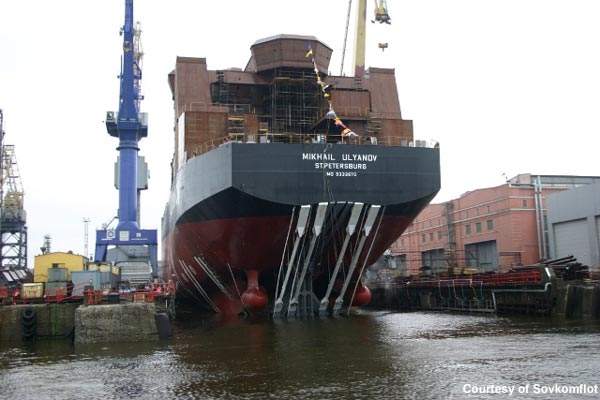 The Mikhail Ulyanov serves platforms in the Arctic.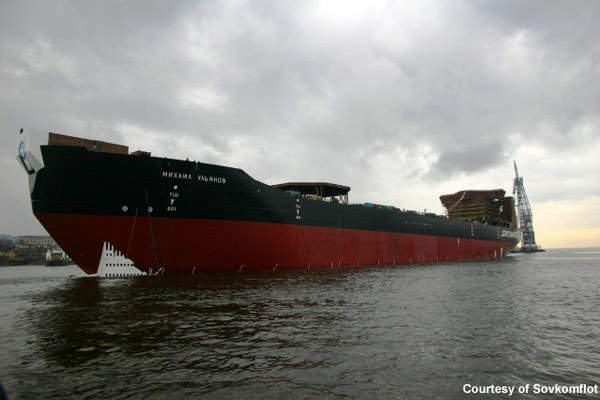 The enhanced hull of the Mikhail Ulyanov can break through ice of around 1.5m thick.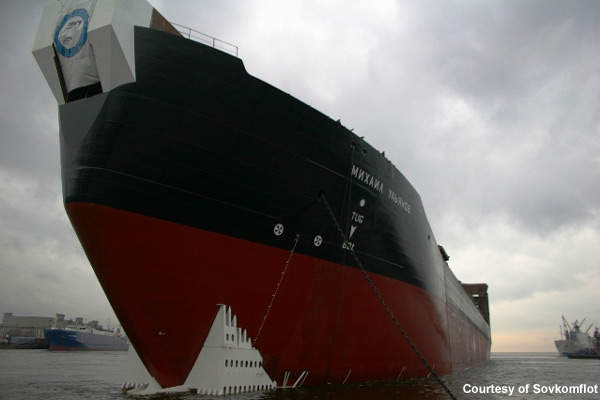 The Mikhail Ulyanov was delivered in February 2010.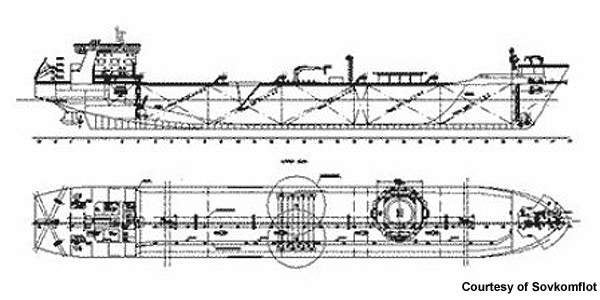 The ship was built by the Russian Admiralty Shipyard.
The Mikhail Ulyanov is a super strength icebreaking tanker that was ordered by Russian shipping company Sovkomflot to transport oil from Prirazlomnoye in the Arctic. The Ulyanov is the sister ship to the Kirill Lavrov (delivered in September 2010,) both of which were built at the Russian Admiralty Shipyard in St Petersburg.
Construction of Mikhail Ulyanov began in 2007 and the vessel was delivered from the Admiralty Shipyard in February 2010.
Design
The tanker was designed by Aker Arctic Technology Inc of Finland to ship oil from Prirazlomnoye (an Arctic oil field operated by Gazprom subsidiary Sevmorneftegaz), in the Pechora Sea, to terminal facilities just outside Murmansk.
The ship has an ice-enhanced hull structure designed in compliance with LU6 (1A Super) ice-class standards, under the classification of the Russian Register of Shipping, and is capable of operating in temperatures of -40°C and break ice up to 1.5m thick without the need of an icebreaker escort.
The Ulyanov is a double action vessel, using a forward bow movement in clear waters and a forward stern movement in ice. The ship can break through 1.2m-thick ice at a stern speed of 3kt. The vessel is designed to carry up to three grades of cargo of around 1.025t/m&#179 density simultaneously, including crude oil, oil products and gas condensate.
Technical
"The ship has an ice-enhanced hull structure capable of operating in temperatures of -40°C."
The ship has a deadweight of 70,000t, and is 257m long and 34m wide. It has a draft of 13.6m and a depth of 21m. There are two 12.5 t/h boilers, a total cargo tank capacity of 86,70m&#179 and separated ballast tanks of 35,200m&#179. The ship's gross register tonnage is 4,986,600t and the net registered tonnage is 2,130,300t.
The electrical centrifugal cargo pumps have capacities of 3/3350m&#179/h and 2/300m&#179/h. The ballast pump has a capacity of 2/2000m&#179/h. The vessel is equipped with a dynamic positioning system, a helideck, and a bow loading facility.
The bridge has been outfitted with state-of-the-art communications and navigation equipment supplied by Transas. The electronics include communication equipment for GMDSS area A4, two radars for extreme temperatures, two ECDIS 3000-I systems, six information displays with Navi-Conning, Automatic Identification System, Voyage Data Recorder, log, and echosounder.
Propulsion systems
The Ulyanov is fitted with four Wartsila 6L 46 C diesel generators (4 x 6,300KW) and one Wartsila 4L 20 (1 x 720KW) as an auxiliary generator. The service speed at 15,400KW and 13.0m draft is 16kt.
"The ship's gross register tonnage is 4,986,600t."
The ship's double action facility allows it to move stern first, using azimuthing electric propulsion units. These are compact, podded thrusters that can rotate 360&#186, eliminating the need for rudders. The pods have an AC electrical drive motor coupled to a short drive shaft that is connected to a fixed-pitch propeller.
The vessel moves through the ice using a pair of 8.5MW Azipod thrusters by the diesel-electric power plant consisting of four main diesels producing a total of 25.2MW. The Azipods are supplied by Finland's ABB Marine which also delivered medium voltage generators, main switchboards, transformers, and frequency converters.