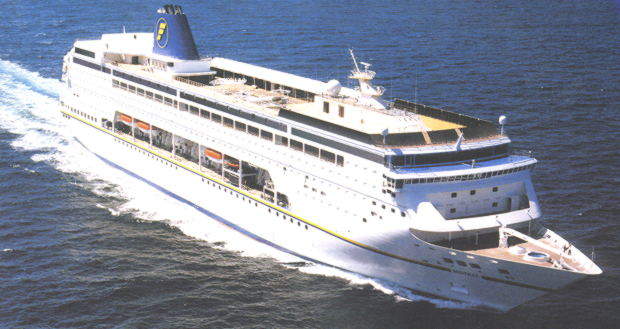 Built by Chantiers de l'Atlantique, Mistral is the first newbuilding to be commissioned into the Festival Cruise fleet and marks the start of a newbuildings programme that has already seen the award of two sister ships to the French yard. These are scheduled to be delivered in 2001 and 2002.
Designed and built by Europeans, the vessel is aimed at the European passenger market and, after entering service in July 1999, will spend four months in the Mediterranean before embarking on a series of winter cruises in the Caribbean, operating out of Guadeloupe.
Mistral is built to the classification of Paris-based society Bureau Veritas, and is the largest French-flagged cruiseship built since the France in 1961.
Dimensions
The 47,900t vessel is 216m long with a beam of 28.8m and a draught of 6.85m.
Systems
Mistral is powered by the latest high-performance diesel-electric propulsion system and has four Wärtsilä 38-series genset engines, which drive the alternators at 600rpm. The 12-cylinder diesels each have a nominal rating of 7,920kW, giving a maximum installation capacity of 31,680kW.
Power is supplied at 6.6kV to the main distribution switchboard, which is divided into two independent parts interconnected through high-current circuit breakers for redundancy reasons.
With a cruising speed of 19.5k, the ship has a maximum speed of 21.5k.
The vessel is equipped with a pair of folding Mitsubishi fin stabilisers.
Passenger and service elevators, provisions stores and associated refrigeration machinery were supplied by MacGregor.
Facilities
The vessel has a double occupancy passenger capacity of 1,196 and carries a crew of 473.
Mistral has 598 cabins arranged over eight hotel decks each of which is named after European towns and cities: Paris, Rome, London, Berlin, Brussels, Athens, Cannes and Madrid. Cabins are split into ten categories mainly dependent on location.
Standard cabins measure 13m² and suites 22m². The 80 suites on deck 10 (Athens) each have a private balcony and bathtub. All cabins are designed to operate as either doubles or twins.
Targeting the European cruise market, Mistral caters for all the main European languages and not only features sign-posting in all languages and multi-lingual staff, but also an interactive television and information system that passengers are able to access in their own language. The euro is the official on-board currency.
The public areas are mostly situated on decks 5, 6 and 11 and, in tune with the borderless Europe theme, have been designed to be as open-plan as possible.
Passengers enter the ship on deck 5 (Paris) into a two-deck-high main lobby and reception area featuring a marble centrepiece with running waterfall. On the same deck is the 600-capacity carrousel show lounge, which spans two decks and has two entrances on each one.
The Saint-Honoré shopping gallery and L'Etoile, Mistral's main restaurant, seating 610 diners, are also situated on deck 5.
Deck 6 (Rome) features the café Greco, overlooking the lobby and aft, the Rialto restaurant which, in summer, offers diners outdoor tables that are partly shaded by a canvas tent. The casino San Remo with roulette, blackjack and slot machines is also on deck 6.
Deck 11 (Cannes) features the ship's sports club and a spacious pool area incorporating a main pool, splash pool and thalassotherapy facilities. The health spa, designed by UK specialists The Syntax Group, is one of the largest afloat. Cannes deck also features a stern cafeteria/tea room, la croisette, which is surrounded by an enclosed promenade offering panoramic views.
Other facilities on offer to passengers include a theatre and discotheque, cigar and card rooms, and facilities for teenagers and children.
The on-board medical centre is equipped with dialysis machines.